Despite Alterations, LFDT Remains Persistent
Throughout its 2021 season, the varsity dance team has faced its fair share of challenges. After placing second at nationals last February, the team returned home more motivated than ever to achieve a first place win, unaware of the many obstacles to come. 
"After finding out the results last year, we were so excited celebrating our hard work and victory, but the returners for the next year immediately got so motivated for the season to come because we knew we had set up a good place for ourselves." said Captain Tess Ivinjack. 
The team returned from Florida and finished out the year with an appearance in the LFHS Talent Show, not knowing it would be their last team event for several months. 
"It's weird to look back not knowing what was coming. I went from training at CROYA almost everyday after school to being stuck in my house and not being able to see everyone.  It all happened so fast", said junior Lauren Milanak. 
In accordance with quarantine guidelines, the yearly April tryouts were indefinitely postponed, leaving the dancers anxiously waiting to hear when they could finally return to the studio.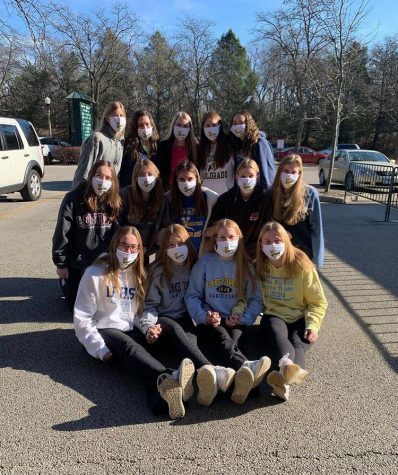 The summer schedule following spring tryouts is typically dedicated to team bonding,including senior choreographed routines, the first group dance of the year, and a collective effort on the bid to UDA Nationals. Commonly the more laid-back portion of the nine-month season, the team learns how to dance as one unit, as a considerable aspect of the dance team is not dancing individually but together. 
However, given the circumstances, none of that was able to happen. 
"Over the summer, we have lots of bonding experiences like UDA camp to prepare us for our competition season, so without that, it was difficult to go into a new season," said Ivinjack.
Instead, the returning members trained in any studio space they could find to try and prepare for any hope of a season. "We all wanted to keep up with our dancing ability; even though we couldn't be with the coaches, we wanted to be responsible and not fall behind," said Considine.  
Using the studios at both Lake Forest's Gorton Community Center and Highland Park's Jenny's Dance Center, the team worked to perfect their skills and stay in shape. 
After months of waiting, the team held in-person tryouts for "contact days" back in September. In this series of contact days, rather than the typical JV/Varsity teams, everyone tried out for one team. According to Considine, the members were overjoyed to get back into their sport after months of waiting. 
"I was really happy to have something official after doing our one thing for so long. It was nice to get everyone together with our coaches," said Considine. 
Finally, in November, coaches Alexis Laurine, Angela McNicholas, and Emily Sokoloski held competition season tryouts to split their dancers into two seperate teams. 
However, not even three days after the new team was formed, IHSA announced all sports would practice virtually until at least the end of November. Disappointed, yet excited to finally have a team, the girls expressed mixed feelings. 
"I was really sad, we had just gotten the new team, maybe had two practices, then it was over. We had waited for so long, and right as it happened, it felt like it was all shut down. A major letdown," said Considine. 
Within those few practices, the team began to learn the jazz choreography for their competition season, fortunately giving them something to work with while virtual.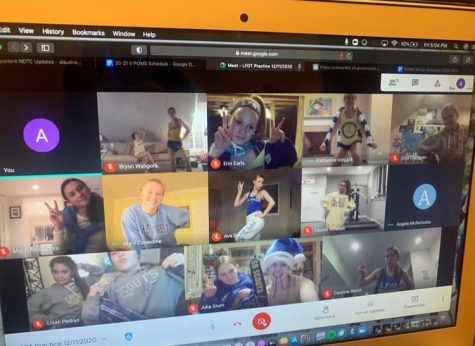 Practicing online came with many challenges, the hardest being the change in atmosphere.  However, the team maintained their positive attitudes and continued to work hard to be prepared for in-person—just as they had done in the summer.
"What was hard to see, as a coach, was any struggle they may have had to stay energized and excited," said assistant coach Angela McNicholas. "Virtual workouts, choreography sessions, and team meetings could be draining and offer less support than being together in the studio. Some weeks felt like months, and even coaches didn't have any information to help dancers see the light at the end of the tunnel. 
"All we could do was stick together as a team and work diligently to be ready for anything," said McNicholas.
"It was tough to stay motivated. We usually are cheering each other on and supporting everyone. It's hard to be alone on a screen when you're used to that," said Considine. 
The focus aspect was challenging with hours of built-up screen time: "After a long day of staring at my computer for school, it was refreshing to see my team on zoom, but it was still hard knowing what in-person practice was like together," said Ivinjack.
Virtual practices continued throughout the middle of January, and IHSA finally allowed dance to be back in person by the end of the month. The team was thrilled to be back at it together after anxiously waiting—again.  
"Coming back to in-person practices from virtual practices felt amazing! Everyone was so excited to be in the same room. It really elevated our dancing, and the energy in the studio was so positive and energized," said Head Coach Alexis Laurine. 
With Nationals still up in the air, the team has now decided to compete at the virtual state-wide competition. Attempting to fit in a regular three-month season into six weeks is no easy task, but the team has taken on the challenge with one goal in mind: to be the best they can be. 
The coaches are grateful to have worked through this with a positive mindset: "When we were given the opportunity to come back in person, we all collectively decided that our competitive season would be spent focusing on the positives and growing as a team. Our goal for the end of the season is to focus on the time we do have together, work hard, and end the season grateful for the chance to do something we were not sure would happen," said Laurine. 
"The girls persevered despite this challenge because they too knew that once we could be together, the joy and excitement would be contagious as it always is. Their optimism and strength has blown me away this year. They have made the best of each pivot from what was "normal" or even tradition, and there are many traditions that had to be paused or skipped. Each virtual practice the girls reminded me to be grateful and keep working hard," said McNichloas. 
Despite such a different year, the team knows what they are fighting to keep for future teams. McNicholas commends the girls for "reaching further and pushing harder."
"Ultimately, I believe the most rewarding season for the 2020-2021 team will be one that allows the team to physically and creatively push their limits so that they can have a competitive presence during virtual competitions. The landscape for competitions looks very different this year, but the approach is the same. This team has and always will hold themselves to the highest standard, and they will do it together," said McNicholas. 
The team is now perfecting their jazz routine for the 2021 season. The next four weeks are full of virtual competitions, performing in the talent show, along with the process of qualifying for state. 
"Despite all of the obstacles we have faced, the team is thriving so far, and I can't wait to see what our finished product is," said Ivinjack.