Returning to the Dance Floor: Marissa Giangiorgi comes back from injury
In December of last year, a member of the Lake Forest Varsity Dance Team Marissa Giangiorgi delivered devastating news to her teammates as they huddled around her, tears filling their eyes.
After being diagnosed with Spondylolysis and Spondylolisthesis (a stress fracture and a slipped vertebrae), Giangiorgi's life completely changed.
Restless nights, a new back brace, a roller bag, countless elevator rides, walking breaks during class, sitting out of practice, physical therapy, icing over five times a day. This was her new life for the next four months.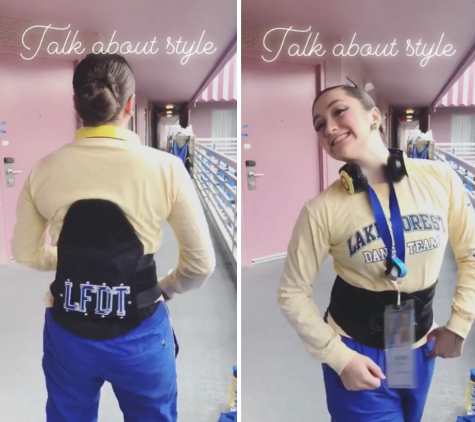 What people saw was only a fraction of what she was experiencing throughout her day. Giangiorgi had to sit on the sidelines as the team prepared for Nationals.
"I feared that I was letting down my entire team because I couldn't dance with them at Nationals," Giangorgi said. "On top of that, I didn't even know if I would ever be able to dance again."
However, the varsity dancer didn't give up her passion for the team and their end goal: meeting their highest potential at Nationals. 
She showed up to practice and Crossfit workouts every day, where instead of dancing, she became the team's new motivator or, as her teammates called her, assistant "Coach Martin." Her role became a big part in the team's intense journey. 
"Everyday, Marissa took notes of the dance and what we practiced that day," teammate Lilia Simeck said. "She also created note cards for each team member with individualized corrections. I don't think we would've improved as much as we did if it wasn't for her extra set of eyes and dedication to the team."
In February, the Varsity Dance Team got on a plane and headed to Nationals in Orlando, Florida. This was Giangiorgi's third trip to this nationwide competition, only this time, she'd be on the opposite side of the stage. 
"I was more nervous to watch everyone perform than I ever was when I was actually performing, because I had no control. I couldn't stop thinking that I should be out with my team, and at times, I felt really isolated," she said. "At the same time, I had to put my full trust in my teammates, because I knew we did everything we possibly could to prepare for the two minutes on the finals floor."
When it came time for the team to compete on the finals floor, it meant shouting at the team constantly while performing to help them keep going.
"When you perform at Nationals, the lights just shine down on you and you can't really let anything else influence you, but I remember hearing her voice screaming at us to give it our all one last time," teammate Lilly Neil said. "I knew I had to dance for Marissa that couldn't dance herself, and I truly think that's what pushed me that extra mile to finish strong."
Getting cleared this past May meant that Giangiorgi was able to do what she loved again for her final year of high school. Now senior and captain of the team, she has big plans for the 2019-2020 dance team. 
"We're back and better than ever," she said, "Our team's motto this year is 'one team, one fight, one dream.' Everyone breathes and dances as one."