Alumni Feature: Michael Kopsick (2007)–SLO Down, a review of Stop Light Observations' TOOGOODOO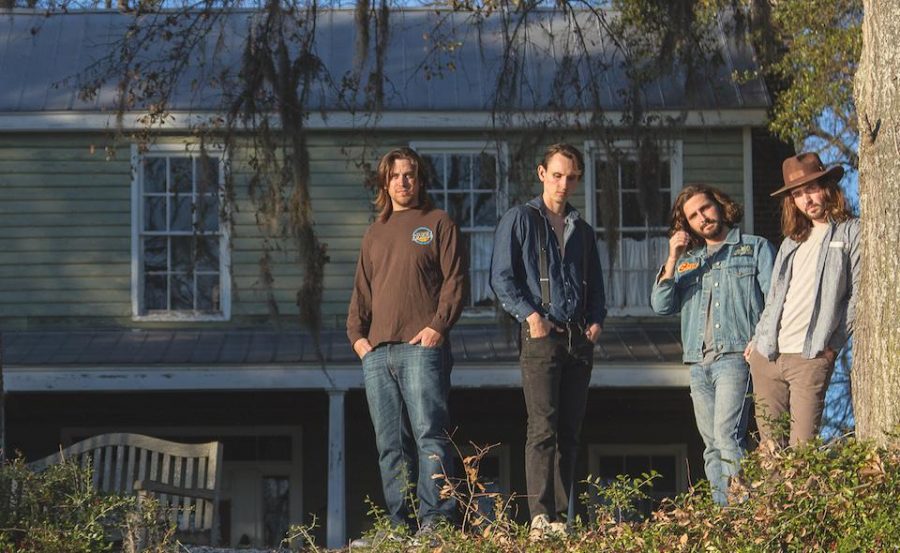 Follow @TheForestScout on Spotify to listen to TOOGOODOO by Stop Light Observations here. 
I can't begin to express the elation and satisfaction I am having as I get the privilege of writing for The Forest Scout for the first time in 9 years. For all of my loyal readers still out there (you know who you are), you probably remember that my last contribution to The Forest Scout was entitled, "Deli Day: The Rolls Royce of Lunch Days". (In lieu of getting me off tangent about Deli Day and all of the fresh-cut, delicious mystique it had (still has), I encourage you, dear reader, to jimmy open the archives and indulge in my historic, yet mouthwatering Ode to Deli Day, the lunch day that escapes us in present day, but lives forever in our hearts.
I would be remiss if I didn't mention that subsequent to submission of my Pulitzer Prize winning editorial, the editor of the paper changed the name of the article from "Deli Day: The Cadillac of Lunch Days", to "Deli Day: The Rolls Royce of Lunch Days", as if I wasn't aware that a Rolls Royce is a nicer and more expensive version of a Cadillac. But what little did he know, nor appreciate, is that a Cadillac, known for its classic mystique, has far more meaning and literary power when used in proper context, just as Texas Hold Em' is referred to as The Cadillac of poker. Perhaps a phone call, email or a mere conversation would have been enough to prevent his mistake and truly reveal my artistic vision. But nay. Seriously though, I'm not mad at all. I officially digress.
---
Do you ever take a few minutes of your day, if not a few seconds, to step outside of yourself and take a look around? Do you ever take a moment of pure appreciation for where you are, who you are with, or all of the positive things going on in your life? Sometimes the most powerful realizations in life happen when you're able to separate yourself from the moment and take in all that is immediately wonderful and spiritually captivating. The band I am about to introduce you to turns the palpable feeling of those moments into music. Ladies and gentlemen, I give you: Stop Light Observations.
Named for the epiphanic moments people have while sitting at stop lights and observing, the down-to-earth yet hard-nosed southern Rock and Roll band, Stop Light Observations, referred to by fans simply as SLO, has been on an unbelievable wave of momentum, especially in the past few months. Recently releasing the highly anticipated album, TOOGOODOO, titled for the river in which the album was live-track-recorded on (nobody does that anymore); TOOGOODOO is SLO's likely last chance to realize their potential—and trust me, their potential is through the roof.
SLO has gone through extreme transformation lately, as their incredible bass and electric-fiddle player, Coleman Sawyer, left the band, as did their ridiculously talented lead guitarist, Wyatt Garrey, who moved on to pursue a solo career. But when one door closes, another is Chuck-Norris-kicked open. As the dust settled, SLO was left with 5 members: drummer Luke Withers, guitarist Louis Duffie, lead singer Will Blackburn, song writer/synthesizer/guitarist/keyboardist/dog-lover John-Keith Culbreth, as well as a new bass player, whose name is currently unknown to the public.
Word to wise- the lead singer's voice is worth the price of admission alone. He is truly one-of-a-kind. His haunting voice transcends time and space, and his vibrato gives you chills.
The Charleston, South Carolina band members have known each other since high school, creating a bond between themselves that derives from unfettered creativity. I truly put SLO in their own category of music, but if I had to compare them, I would say they're a combination of Kings of Leon, My Morning Jacket and The Black Keys, with hints of your electronic bands like GriZ and Big Gigantic. If I were describing SLO in a more visceral, tangible way, I would say they're a mixture of 'That moment when' you get an A on a test when you're expecting a C", 'That moment when it drops", and/or "That moment when' you're in the midst of a time in which you realize you truly have never been happier." They use rock-and-roll as their baseline, adding aspects of electronic synthesizer, saxophone, and mind-numbing, eardrum-crushing guitar solos to truly grab you by the insides and turn your elation inside out and upside down.
The album consists of a wide variety of songs –everywhere from songs that are, "Fully LIT" (As the kids would say) to 'this is fairly chill rn". (Mr. Scott told me to try to sound young. He wanted me to, in essence, stay relevant. That was my attempt.) SLO has a playful knack for building a song up from the basement to the top floor. They start several songs extremely light, tricking the listener into thinking the song doesn't have much energy. But as the song progresses, you truly feel like you are on the peak of Raging Bull at Six Flags inching towards that climactic plunge. Once you think you're about to drop, though, the ride dips down slightly and leaves you hanging before an even crazier cascade into a naughty, nasty ball pit at Discovery Zone filled with dirty Band-Aids and loud music. To properly warn the listener, don't ever think the song will end up doing what you think it will. Keep listening, keep thinking, keep feeling. And in the words of The Last Waltz, perhaps the greatest music DVD of all time, "THIS MUST BE PLAYED LOUD".
Check out a few of my favorites: The hard, energetic buckets-of-cold-water-to-the-face-songs, "Aquarius Apocalyptic", "For Elizabeth" and "Leroy", or if you're feeling fancy, go for the tricked out, harmonizing-ly (not a word) tantalizing "Security" or "Know it Alls". There is, of course, my favorite song on the album, "Idle Hands", which shows off SLO's power, song writing, and crafty extraction of musical nuance. To define this album in a few songs would be criminal. The album truly deserves to be listened to in its entirety. Soak up their weirdness, because there is plenty of it.
From the second I heard my first SLO song, I knew they had something special. I knew the were destined for the big stage, as they combine personality, musicality and sheer effort with the hard-nosed rock and roll sound that could easily terrorize a big city stadium. Throughout the album, they are begging, if not pleading for you to SLO down, take it all in, and soak it up moment by moment. Song by song. Tease by tease. Drop by drop. Note by note. Look out, Scouts. SLO is HERE.
As a final bonus, check out the video below of their most critically acclaimed (and Mr. Scott's favorite) hit, "Railroad Tracks."
About the Writer
Michael Kopsick, Author
Michael Kopsick is a 2007 graduate of LFHS and a former contributor to The Forest Scout newspaper. A once-published journalist (never forget, people),...