Glen Flora CC No Match for the Scouts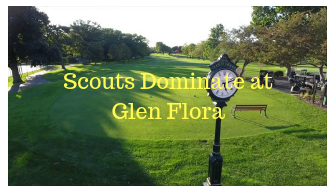 The Varsity Boys Golf team headed out to Glen Flora to face the Zee Bees of Zion-Benton. The historic and beautiful Glen Flora course was no match for the Scouts' talent as they finished the day with a commanding 148-181 victory. Once again, senior Danny Fisher led the way shooting an even par 35. Junior Patrick Moorhead added a score of 36 (+1) to continue his streak of solid performances. Sophomore Charlie Haggerty finished with a 38 (+3), and senior Erik Luedeking shot a 39 (+4) to round out the top four scores from Tuesday's match.
Fisher had this to say about Tuesday, "We played solid; it was really great to get out to a pristine course and test our game. We are trying to build on this win and pick up more momentum heading into the postseason." Fisher and the rest of the team are confident in themselves and plan on carrying their early momentum into the deep parts of the postseason.
The Scouts are away at Sunset Valley today playing against Highland Park, Loyola, and New Trier. This weekend the Scouts will be playing in the McDermand Invitational at Lake Bluff Golf Course against 12 other teams. These next two matches are pivotal to the Scout's season as two big victories could lead to success at the State Tournament in Bloomington.