10 Questions with Lucy Schlachtenhaufen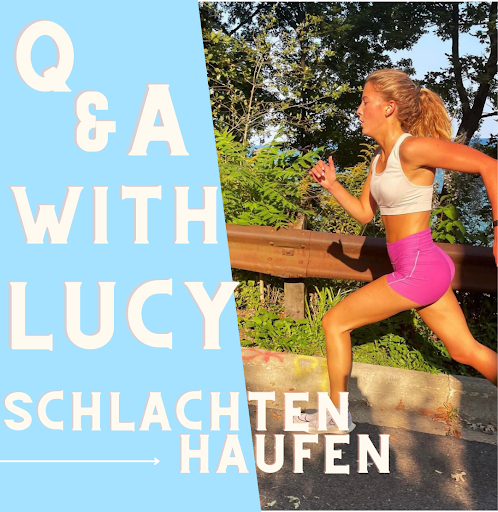 Lucy Schlachtenhaufen, a junior at Lake Forest High School, began her very first Track and Field season last spring and just started her first season running cross country this fall. Although Lucy's main sport is track and field, she is already dominating the Cross Country season and showing lots of determination and dedication towards her running and the XC team! Lucy's older sister, Helen Schlachtenhaufen, an LFHS Alumna, also runs competitively. She is a professional runner and competed in the Olympic trials just last summer. With the fall season beginning to get more serious, let's take a look at what Lucy has to say about the season so far and continuing the running legacy in her family. 
What are you most excited about for the upcoming season? 
For the upcoming second half of the Cross Country season, I look forward to seeing my team thrive as a whole. Everyone at every race so far has brought their all and continued to cheer for each other at every race even after they finish running. We have a very supportive team dynamic and I think that is what made everyone on my team do so well during races, so I really look forward to seeing everyone improve even more! As for myself, since this is only my first time ever running Cross Country, I am excited to push myself to see what I can do as a runner. Between Cross Country and Track, I have definitely faced a lot of challenges that runners tend to have, but I have had so much fun experiencing the feeling of pushing myself, and knowing that I have the support from the teammates and my coaches, so I can't wait to see what I can do.
What helps you prepare for a really important race? What do you do the morning before a race (pre-race routine)?
Getting ready for a really important race the night before and the morning of, I actually have a really weird routine. I wouldn't say I am superstitious to an extreme – but I usually do like to do the same sort of things. I try not to really let myself get too anxious, because otherwise I know I'll have a hard time sleeping so I try to just stay relaxed the whole night. I love carbs, so "carbo-loading" is definitely my favorite part of getting pre-race ready. The night before a race I tend to eat a couple bowls of pasta, and I drink a lot of water on a day to day basis, so I make sure to drink about double the amount. I also take an Epsom salt bath just to make sure my muscles feel refreshed and ready!
What is one thing you wish people knew about running track or cross country? 
Something I wish people knew about running both track or cross country is that a runner's high is a real thing. When you finish running a race, a 10 mile run or even somewhere in between, although you were in pain possibly during the run, you feel so much better after it is over and never regret doing it to begin with. One of the better things about running is that although it is technically an individual sport, (since you run your own race at meets), there is an amazing team dynamic so whether you're all running together at practice or some people are on the sidelines during a race, everyone always supports and cheers for each other.  
What advice would you give to other runners or people who want to start running at LFHS? 
Even if you could never imagine running competitively or if you are worried you won't be able to do well, that doesn't matter because the whole idea of running on a team at LFHS is the opportunity you have to make new friends, that could even be life-long, while also setting your own personal running goals. No one will ever judge you based on how fast you run. The unique part about running on a team is that everyone has their own goals and at the end of the day, everyone runs their own race. However, being on a team you are never alone and you are constantly supported no matter how you do on a race.
What is something you would tell your younger self? 
I would tell my younger self to have an open mindset for possibilities and opportunities that I faced, and that it's important to see the bigger picture in life rather than worry over the little things. 
Who is someone you really look up to either during the cross country season or track season, and why? 
Over last track season and my current cross country season, one of my teammates I have looked up to is Paige Gibbons. Paige has always been my number one supporter about basically everything involving running. She convinced me to join the team and has been by my side since day one explaining to me how XC/track works and always calms me down if I get worried about something. Something I really admire about Paige is that she always views the glass as half full, and she is very honest with herself as a runner.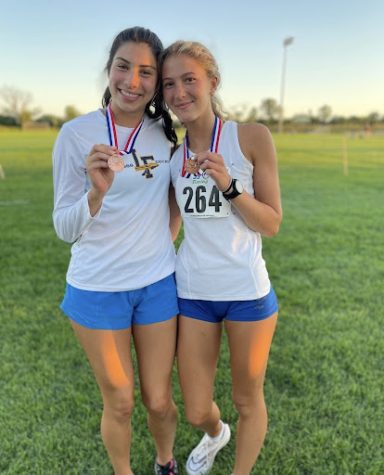 How do you deal with pressure or stress before a big race? 
I tend to get pretty nervous for big races starting even a couple days before the race so I try to practice having a strong mental mindset. I tell myself positive affirmations in order to get myself into the right mindset for racing. One thing that really helps me before a race is laying down or having a quiet moment to myself, separate from everyone else, so that I can control my breathing and not overthink the race. 
What's your favorite track event to run and why?
Last spring I was not totally sure what my favorite event was since I was first getting used to the idea of racing different events (200, 400, 800), but now I would say my favorite event is the 800. I think that this is my favorite event because it feels like the perfect length for me, it is not too short but also not too long. 
If you could play another sport, what would you play and why? 
I don't know if I would play another sport since I just started running track and cross country, but I used to play soccer!
What's the best thing/ your favorite thing about being a part of the XC / Track team?  
My favorite thing about being on the Cross Country and Track Teams is always having people to rely on. I think by far the hardest aspect of Cross Country and Track is that you must have a strong mental mindset in order to be successful. During every race it's super important to be able to control your mindset so that you can let your body push its limits. But once you finish all you want to do is talk to someone who can relate to the feelings, struggles, and things you noticed during the race, and since I am on a team, I have people that can. That is my favorite part of being on XC/track because you always have people to talk to, who know exactly how you feel because they run their own races too, so you always have support.