Girls Cross Country: Young Scouts Team Eyes Strong Sectionals Performance After Taking Second at Regionals
Lake Forest High School, in its modified state, is not the easiest building to navigate.
Up is down, and left is right.
Study hall is in the library and psychology class is in the basement.
Freshmen and sophomores are the guinea pigs for LFHS' ambitious effort to return to in-person schooling.
A number of varsity athletes from the girls cross country team are taking classes in the building.
When they're not focused on following the one-way arrows on the floor, they're trying to avoid tripping on the desks that have piled up outside the Commons.
It surely hasn't been easy.
But a new experience they have made seem easy is the cross country postseason, which they're having no trouble navigating.
With a team of five freshmen and one representative for each for the sophomore, junior, and senior classes, the varsity lineup is as young as it's ever been. But their youth didn't stop the team from showing out with a commanding performance at regionals last Saturday at a challenging Grant course.
Powered by a pair of top-three finishes by senior Skyler Kreunen and freshman Izzy Marsico, the Scouts cruised to a second-place finish, and look poised to make an even deeper playoff push.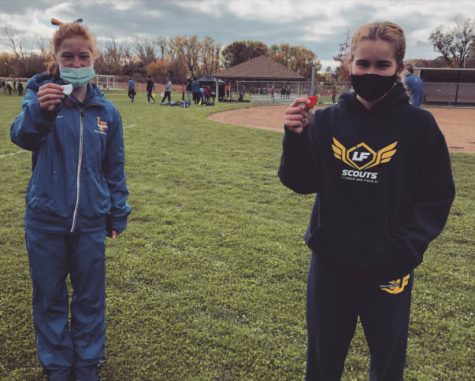 In addition to the pair of top-three individual finishes, freshman Sophia Lane ran her second-best time of the season to take eighth place.
Coming off a fourth-place finish last season, Kreunen said that she anticipated the team would perform well enough to advance to sectionals, but said that she didn't anticipate almost winning it outright.
"I wasn't expecting our team to do so well," said Kreunen. "It's also great to see your hard work pay off at a meet like this, and I'm really proud of the team."
For Kreunen, being the best runner on the team can make an isolated season feel even more isolating, but Marsico has kept her company.
As a pair, Kreunen and Marsico have finished Nos. 1 and 2 for the Scouts all season. With the way they've both been running, there's no indication that the pattern will change.
"It's been great running with Izzy this season," said the senior captain. "In my previous seasons, I didn't really have anyone close to my pace at practice, and it's really nice to have a running buddy."
With the majority of their season run under time trial conditions, the regional meet was just the second time all season that the Scouts had run shoulder-to-shoulder against other opponents.
"Even though the season's almost over, I don't think I've adapted to running with other teams yet," said Kreunen. "Because I was running by myself in the time trials, it became really difficult to get a good start to the race and a fast enough mile."
It's hard to square that with the fact that the Scouts are running better now than they have all season.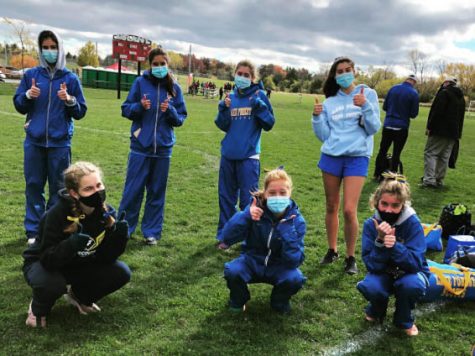 Five runners recorded season-best times at the conference meet on Oct. 17, and two even registered bests on an unfriendly course last Saturday.
The team benefitted from walking the Grant course the Monday before the meet, which helped to assuage concerns about battling a muddy course with a steep hill.
"I definitely think it helped our performance because we knew what to expect with the hill," said Kreunen. "Because the varsity team is mostly freshmen, I thought it was good for them to get up there and know what to expect, and I think it took away some of the nerves."
On Saturday, the Scouts won't have the same luxury of walking the course before the meet; they'll have to run the four-loop Hoffman Estates course sight unseen.
But with a team comprised of mostly freshmen, the Scouts are used to doing things sight unseen.
Whiteside Looks on Bright Side
Though the boys team failed to qualify for sectionals, senior Kaleb Whiteside qualified as the last of five individual competitors to move on to Hoffman Estates.
Whiteside finished 16th overall with a time of 16:42.
Senior Casey Hippel, who clocked 16:59, missed qualifying by one spot.
Whiteside ran at Sectionals last season, and as a sophomore in 2018, he was one of the top runners on a team that made it to the 2A state meet.
Full disclosure: the author of this article is a member of the boys cross country team.