Girls cross country battles mud, wind, and torrential rain for 12th place finish at State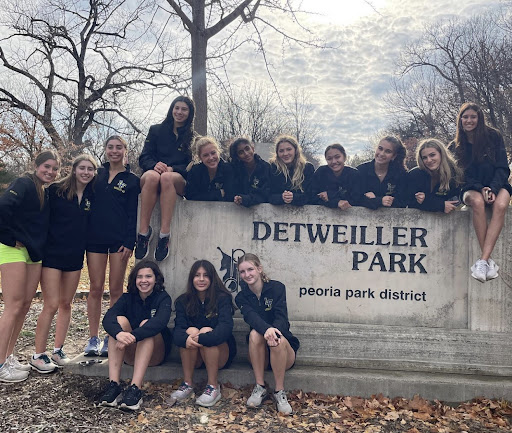 This past Saturday in gale-force winds, rain, and all sorts of mud, the girl's cross country team was down at Detweiller Park in Peoria, racing against some of the best runners in the state. The girls have had incredible performances over the past few weeks with Conference, Regionals, Sectionals, and then State this past weekend, ending their storied season. 
The girls took an impressive 12th overall at State, ending their season against some incredible cross-country teams. 
State Review: Through the mud on this flatter course, the girls took 12th overall as a team, this being one of the first times in a few years that the girls placed as a team. Isabella Marsico led the way again for the Scouts, taking 31st overall at State with a time of 19:06. She was followed by her teammate Sophia Lane who came across 54th with a time of 19:26, and right on her heels was her teammate Lucy Schlachtenhaufen, who came across the line 57th with a time of 19:27. From there, senior captain Alexandra Mower came across the line 141st with a time of 20:34, Paige Gibbons came across at 20:52 which was good for 161st, Shalini Krishnaswamy came across a few seconds behind at 20:53, which ended up having her place 165th, and rounding out the finishes for the Scouts was Olivia Marsico, running a 21:02 which ultimately landed her 177th overall. With an impressive showing for the Scouts at State rounding out an impressive season with many underclassmen running down at the State meet, the future is bright for girls cross country at Lake Forest.