The Forest Scout's 2022 Male Athlete of the Year: Jahari Scott
"Fearless leader" dominated both football and track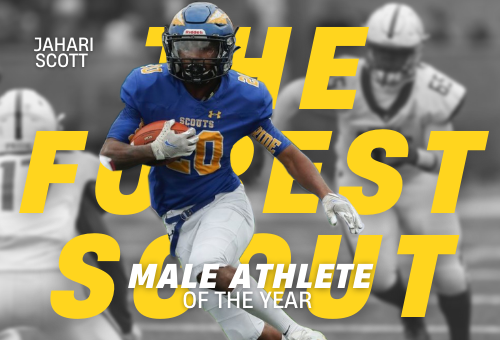 Multiple school records in track and field. Illinois Wesleyan football commit. Track State qualifier six years in a row. Above all, one description of Jahari Scott seems to come up repeatedly from everyone he knows: He s a natural leader on and off the field.
Scott credits much of his athletic drive to having two brothers close to him in age.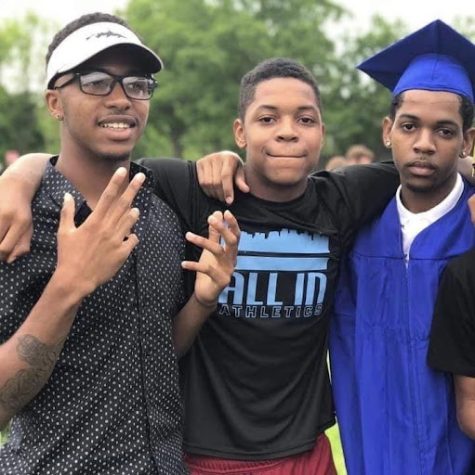 "Competing over everything from the time we could walk, I had to be better than them at everything. It's kind of bad to say but it's true," he said. "We would spend hours everyday playing each other in different sports and I just had to win. When I got to high school it was the same thing but I wasn't playing my brothers anymore, I was playing random people. I just kept [that] 'I need to win' mentality."
And win Jahari Scott has. Most memorably for Scott, he and Wyatt Horvat both qualified for State in the long jump in Scott's junior year. No two track and field athletes have ever qualified for State in the same event and the same year in Lake Forest history.
Scott also recalls two other events that stick out in his career: beating Stevenson in football after being down 21-0 his sophomore year and breaking the school record in the 4×200 relay at UW Madison this year.
"Coach told us that was win or go home, as we [were] 4-4 and needed to win to get in the playoffs. We took that momentum and rolled with it," he said of the Stevenson game.
"[Being the] only Illinois team at a 30-team invite is crazy and to win both the 4×100 and 4×200 relays is crazier," Scott said of the UW Madison track and field invite. "Breaking the school record is cool and all but what made it so good was the whole track team got to bond and get to know each other."
"
Ever since 6th grade he's been that guy that lights the room up but is also the most focused.
— Senior Sebastian Obrzut
After an illustrious high school athletic career, Scott will be keeping his football talents close to home next year, playing for Illinois Wesleyan University.
"Illinois Wesleyan kind of just happened; I went on a visit and my mom fell in love with [the] school," he said. "I got a good deal with my tuition which was a giant part of it."
Staying close to home and continuing to work on his knee, which he injured during the football season, also played roles in Scott's decision.
It is clear that while Scott is not only a team-wrecker in football games and track meets, he is also a natural leader to his teammates outside of games.
"Ever since 6th grade he's been that guy that lights the room up but is also the most focused," senior and track and field co-captain Sebastian Obrzut said. "This year especially, after being named a captain I've seen how much it's meant to him and how he's applied it. He respects all of our coaches and other teammates. He will always put someone in line when they're acting up and people will instantly fix their attitude, just because they have such a high respect for him."
This mutual respect that Scott and his teammates share was also echoed by varsity football coach Chuck Spagnoli.
"Off the field Jahari was a great role model for our younger players," Spagnoli said. "He was a friend to all, and a mentor to those who needed it."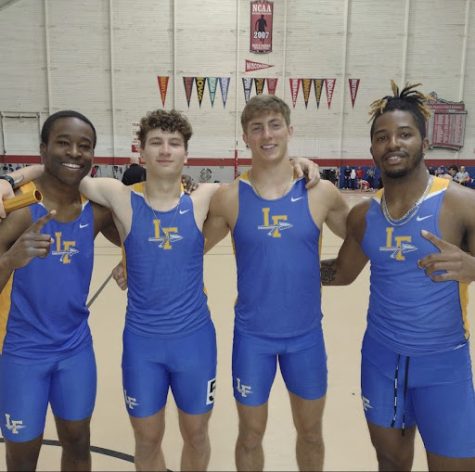 Senior track and field teammate and football co-captain Leo Scheidler called Scott a "fearless leader."
"He's a fearless leader and doesn't back down from anybody…He's such a great competitor in both track and football and there's no one else I'd rather hand the ball off to or baton," Scheidler said.
Above all, Scott is an "everyman."
"Honestly, I think his best attribute is his relatability. People see Track & Field as an individual sport, but you are practicing and competing with your teammates every day," varsity track and field coach John Brumund-Smith said. "He has the ability to relate to everybody on the team. Sprinters, distance runners, throwers, freshmen, seniors, shy kids, outgoing kids, etc. He's an everyman."