Four Baseball Players Officially Sign NLIs
Scouts Baseball Has Now Seen Five Signees From The Class of 2020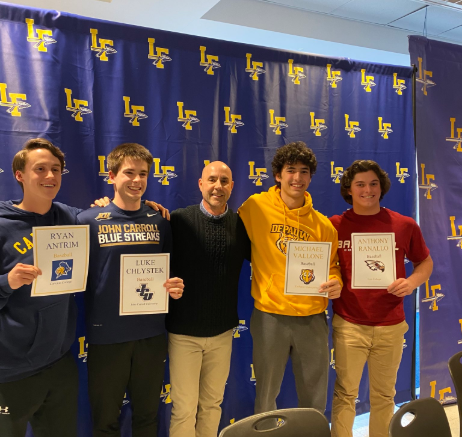 AJ Shaw, Sports Editor
February 6, 2020
LAKE FOREST — Wednesday afternoon was a day of celebration for the Lake Forest Scouts varsity baseball team as four seniors; Ryan Antrim, Luke Chlystek, Michael Vallone, and Anthony Ranallo all signed their National Letters of Intent to play baseball at the collegiate level.
The signings yesterday now give the Scouts five members from this class that will be playing baseball at the collegiate level, the other being Breck Nowik who signed with UIC back in November.
Vallone is expected to take his talents to DePauw University in Greencastle, Indiana. The ace of the Scouts pitching rotation, Michael has had a strong pair of seasons on Varsity and will look to transfer that over to the next level.
"I just liked what [DePauw's] program was doing when I visited," Vallone told The Forest Scout back in December, "It was a perfect fit for me."
Chlystek is expected to head to John Carroll University, a private Jesuit school in Ohio. Chlystek can play essentially anywhere on the diamond, mainly in the outfield and first base. He also can provide help on the bump as a reliever or a middle of the rotation starter.
"I just knew from the minute I stepped on campus, I knew it was the place I wanted to spend the next four years," said Chlystek in regards to why he chose John Carroll.
Ranallo is expected to head to Coe College in Cedar Rapids, Iowa. While the senior Ranallo didn't play much in his junior season, he has shown great potential offensively and defensively as a catcher when he has gotten a chance to play.
"When I was looking at schools, Coe just always stood out to me," said Ranallo, "When I visited there, I just immediately fell in love with the school. I loved the facilities and I liked their coaches and players."
Like Ranallo, Antrim also didn't see much playing time last season, but he is a solid pitcher who can be used in any situation from starting, long relief, middle relief, or even closing out a game. He is a do-it-all kind of guy on the bump and will be a perfect fit at Carleton College in Northfield, Minnesota.
"Carleton stood out to me because of the opportunities that I would receive with their academic programs," said Antrim, "But what I loved as well was that when I met with the team they really made feel at home when I visited the campus."
Congratulations to all of the signees and good luck to them in their future endeavors in college!