Q&A with freshman standout pitcher Callum Morrison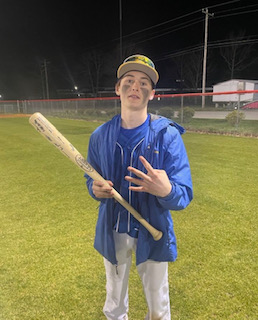 Q: How do you prepare mentally and physically going into a game?
A: Before a game I'm just always thinking about what I can do to be successful and how I'm going to do it. Physically however I don't do anything special, I primarily work on stretches to help loosen up my arm for the game.
Q: What do you think your best pitch in your arsenal is and why?
A: In my opinion my best pitch is my changeup. That's my best pitch just because of the fact that it looks a lot like my fastball with the spin, but is a slower pitch with more movement so it catches batters off balance. 
Q: How do you use different pitches and tempos to keep batters off balance?
A: I use different pitches and tempos in almost the opposite way that the batter would think because it would throw off their timing and swing. For example throwing a slider or changeup in a 2-0 count. 
Q: How do you handle pressure situations when you are on the mound?
A: I handle pressure on the mount by not letting any emotions show on the mound. Even when I am fired up in a good way. I try not to show any emotions when I'm stressed on the mound so the other team can't tell that I am.
Q: What are a couple things you are looking forward to in the rest of this season and into the next couple of years?
A: I am looking forward to the rest of the season and finishing off strong. I am also looking forward to the playoffs and seeing how far we will go as a team.
Q: What has been your favorite memory of the season so far?
A: My favorite memory of the season was the third game during our spring break tournament in Tennessee when I pitched 6 ⅔ innings and then hit a walk off bunt to win the game in the 8th inning against the defending Indiana state champs.