The Forest Scout Female Athlete of The Year 2019: Kiley Rabjohns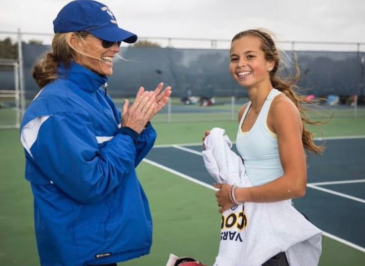 On a chilly weekend during the school year, Kiley Rabjohns found herself at another midwest girls tennis tournament. It's "somewhere in Michigan," she tells me, and "probably around 7th or 8th grade, a few years ago." Another Illinois player, Maria Goheen lines up on the other side of the court. Two years older and more experienced, Goheen has a reason to be confident against the talented but younger Rabjohns.
It's a cold Saturday in October, 2018. In Buffalo Grove, it's windy and snow has even made its way to the tennis courts where Kiley Rabjohns and Maria Goheen are battling it out for the state championship. Rabjohns, the undefeated sophomore, looks to become Lake Forest High School's first ever singles girls tennis state champion. Weather forced numerous matches inside and cancelled the consolation bracket early, but this match had to be squeezed in.
In Michigan Rabjohns would find herself defeated by the older Goheen. Though it's still a loss, these matches bring together the better players from around the midwest to compete and improve their individual ability. Disappointed in the defeat, thankfully she'll find herself matched up against Goheen again.
200 miles away and a few years later, the now sophomore Kiley Rabjohns captured the state championship, capping an undefeated season. To put a cherry on top, the champion led the Scouts to a runner-up finish: the best result for Lake Forest since 2013 when the team finished No. 1. Of the team's 22 points, the top seeded Rabjohns delivered 14 of them through the singles tournament. The Scouts finished a point behind Hinsdale Central and are set up well for continued success in the near future.
While tennis is usually an individual's game, high school tennis is a bit different. Team's come first and players are tasked with performing for a group over themselves for the first time in their careers. Rabjohns handled this in stride; varsity coach Denise Murphy had only positive reviews surrounding this: "when Kiley finished playing a match, she would look to cheer on and support her other teammates who were still playing… The team shared in every success she had because Kiley wasn't out there for herself, she was fighting for the team," the long-time Scouts tennis coach shared.
Rabjohns was untouchable in the state bracket; she did not concede a set nor allow anyone to force a tiebreaker. The sophomore had to adjust her playing style to weather conditions; more slices were hit and a more defensive game hoisted the trophy. When asked about her demeanor on the court, Rabjohns said, "I'm pretty calm. I don't really show a lot of emotion when I'm playing." So while the climate did its best to bring out the emotions, she resisted and you can imagine her composed style combined with a defensive performance is nothing different than you'd expect from the laid-back Rabjohns. Coach Murphy touched on that poise as well, the coach who's in her 12th year with Lake Forest tennis stated, "Kileys quiet confidence is one of her amazing strengths."
Of course, these successes don't come without the work behind the spotlight. Rabjohns is no stranger to that commitment. Senior captain Emily Asmussen, Rabjohns' teammate during the fall, shared that "during season, Kiley would play tennis on her own before or after every practice during the week. She has a genuine love for the sport and an unmistakable drive that separates her from most players."
WIth her dad as one of her coaches, finding that time isn't too difficult. Rabjohns said her dad played hockey but picked up tennis to coach her and her younger sister. After being so successful, it'd be easy for Rabjohns to get cocky. That's not the case though with the state champ; Asmussen said "she never lets her talent get into her head; she undoubtedly is one of the best players in the state but is the most humble player on and off the court." Murphy agreed, the coach shared that "Kiley is our humble warrior. She is a fierce competitor on the court but never flaunts her successes off the court."
While Rabjohns may not have shown it, a rematch opportunity with Goheen definitely crossed her mind. After falling to her opponent a few years back in Michigan, this time around was going to be different for the "fierce competitor." In her head before the chilly, snowy final match, she probably knew the old saying, "revenge is a dish best served cold."
About the Writer
Bobby Winebrenner, Editor
Bobby Winebrenner returns to The Forest Scout as a senior. He spent his summer playing golf with his dad and working as a camp counselor. He plays lacrosse,...