Rabjohns Wins State; Scouts Place Second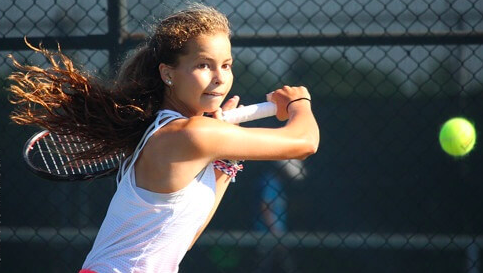 The Scouts took on the final venture of their season last Saturday. Four of the team's best competed in the IHSA State Tournament in Buffalo Grove to potentially win individual and a team titles. Cody Avis, Kiley Rabjohns, Nika Belova, and Olivia Wheldon all qualified to represent Lake Forest in the tournament and were looking to put up points for the Scouts.
The first round showed off the Scout's strength with wins across the board and a lead for Lake Forest. Cody Avis won her first match (6-1, 7-5) but dropped the next two, the last one being a consolation game. This knocked her out of the tournament but not without adding to her team's score. Belova and Wheldon went further in the doubles pairing, winning two of their matches before falling to Macy Zaban & Ashtin Hara of New Trier (6-3, 6-2). The duo went on to win their next two matches and make it to the consolation quarter-finals which scored another two points for the Scouts (six in total).
The 32-0 sophomore star, Kiley Rabjohns, continued her profound success on Saturday to secure her title as state champ. She battled through six matches without dropping a set to give her team a combined 14 points which put them in second place. In her second year competing in the IHSA State Tournament, Kiley surpassed last year's finish of fifth and bested her opponent Maria Goheen of Aurora (6-3, 6-3) for the state title. The rest of the team was there to support her along with others as they gathered the court in celebration after hearing that they were deemed the state runner-ups.
Kiley Rabjohns spoke to The Forest Scout after winning the State Championship
What have you been doing to prepare for this moment?
"I have been practicing really hard and working hard to improve so that I can play better matches."
How has your team supported you?
"I have had the best team. Everyone has been so supportive and today people were so nice to come cheer. I love when they cheer even though I don't usually have a reaction when I'm on the court. They are just so supportive and keep me positive when I am playing."
What was the strongest aspect of your game today/this season?
"Today it was really hard to adjust to the climate because it was so windy and cold but I was able to get used to it and change my game. This season I have just tried to stay focused when I am on the court."
What do you expect for future seasons with the Scouts?
"We have a really good team and the season is always super fun. The rest of the year it's just an individual sport so I love the team aspect."
What is your favorite memory on the court?
"Winning today was a great memory, walking off the court to my teammates cheering for me was awesome. Getting runner-up as a team was also pretty cool."
About the Writer
Brady Christoph, Author
Brady Christoph is a senior at Lake Forest High School who is an active member of the varsity baseball team. He enjoys working out and watching the Cubs....