Varsity girls tennis duo wins state for the second year in a Row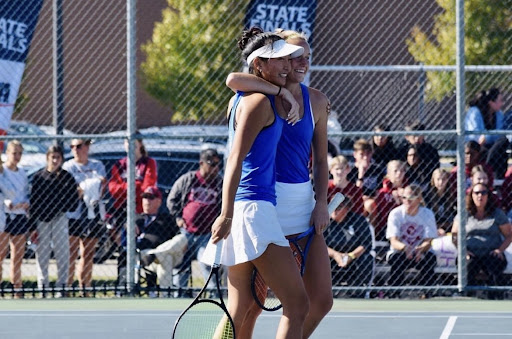 Senior Lainey O'Neil and junior Isabelle Chong repeated as doubles team State champions last week at the State Finals at Buffalo Grove High School. Autumn Rabjohns competed in the singles bracket.
"My emotions were a little different this time considering the circumstances," said O'Neil. "I was still super excited and beyond happy to have won, but I also felt a little relieved because there was definitely pressure on our shoulders going into the tournament and throughout the season since Isabelle and I won last year."
Last year, keeping their focus was crucial to coming out victorious in the challenging tournament. This year, they were able to relax a little bit each match but continued to fight their hardest, only losing 10 out of 76 games in the entire tournament. 
"I would say my emotions from this year were much more lenient and calmer. Last year I wasn't sure me and Lainey could win state but we definitely tried our best and played well," said Chong. 
In Chong's freshman year, she played with O'Neil for the first time and they were a perfect match. Unfortunately, the 2020 tennis year was cut short after a heavily restricted season which did not include the state tournament. During that season, they played in the Sectional Finals against their own teammates, Lili and Clara Goshgarian, and came out victorious. 
This year they had the additional stress of upholding the state doubles title which, before them, hadn't been held since Maddie Lipp and Christina Zordani in 2012. 
As O'Neil graduates this year, Chong plans for the future, deciding if she wants to continue her doubles career with a different partner or go back to her singles roots. 
"I was always a singles player at first but then I changed to doubles my freshman year," she said. "I would like to see how far I go next year in singles."