Varsity Girls Tennis Captain Isabelle Chong is considered "the best of the best." A committed, determined, and powerful tennis player, she is a role-model and idol for many who know her. Accomplishing what all high school athletes aspire to do, Chong exhibits the products of hard work, diligence, and passion.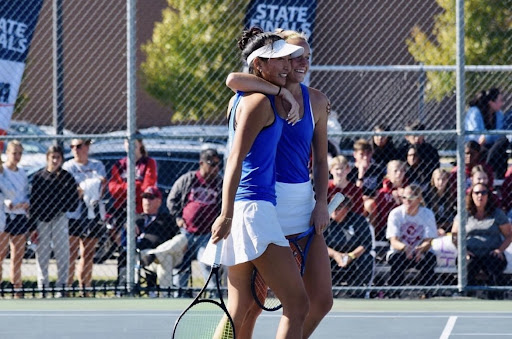 In 2021, Chong attended state as a sophomore with her doubles partner, Lainey O'Neil. Battling through the bracket, the two emerged victorious, claiming the number-one title. The duo dominated during their 2022 season as well, and appeared in the state championship again. Impressing fans throughout the state, they took the title of "two-time consecutive state doubles champions." Later in the year, O'Neil committed to the University of Richmond to pursue her tennis career. Chong, a junior at the time, was left to continue her legacy on her own. 
During this year's 2023 season, Chong achieved an incredible feat of placing fifth overall in the state singles match – an amazing and deserved triumph.
Despite Chong's stellar performance at state, though, transitioning from playing primarily doubles to singles was a dramatic change. Her mentality and attitude required a complete transformation in order to adjust to this new challenge.
"It was much more difficult when I was playing by myself. I didn't have a partner to reassure me or help me mentally. I had a bunch of support from my team and family, but it was definitely a different dynamic from the last few years," said Chong. 
The defining difference between her mentality in singles versus doubles was that she "had to keep a positive attitude constantly," no matter the trajectory of her matches. Chong also reported that she did not experience any overwhelming pressure.
"I feel like this was my year to simply see how well I could do. I know I performed extremely well the past two years so expectations were high, but singles is a much tougher game so I wasn't disappointed in my results," said Chong. 
Despite not feeling extra pressure, Chong still experienced stressors along the way. Throughout her experience, though, she valued the team's effort to eliminate her stress.
"It was mainly my teammates that helped me calm down my nerves. Their cheering helped me to focus, allowing me to persistently keep a high level against my opponents," she said.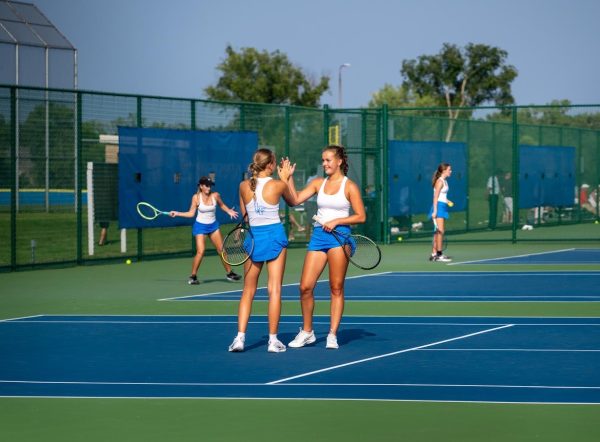 At state, Chong was also accompanied by her fellow teammates, senior Angelina Slomba and junior Nastia Belova, who played doubles together. Slomba and Belova played exceptionally well, too, allowing Slomba to close off her senior season with a bang. 
Both girls admire Chong – as a player, and as a friend – and praise her for her effort and dedication to tennis.
"Izzy is one of the hardest working athletes I've ever met. She is constantly training to get better, and her drive is clear through her work ethic, as well as her results. As a player, she is consistent and never gives up on a point. She has a good mindset that gets her through tough matches, since she is able to zone in and do what she needs to do to get the win," said Belova.
Slomba also expressed her appreciation for Chong.
"Izzy is humble, and she knows everyone. She can lower people's guards, destroy them, and still manage to have them walk off the court without making them feel bad or upset. The amount of smiling girls I see coming off of Izzy's court, despite their losses, is why Izzy is not only a physically talented player, but also mentally," said Slomba.
Chong has announced that she is planning to continue her tennis career in college, and we can only wait with anticipation as to where she will end up. Her parting message is plain and simple, but full of significance: "Don't stress too much. Just try your best and that's enough."