Girls Tennis Team Headed To State
Juniors Autumn Rabjohns and Lainey O'Neil and sophomore Isabelle Chong advance to the state final.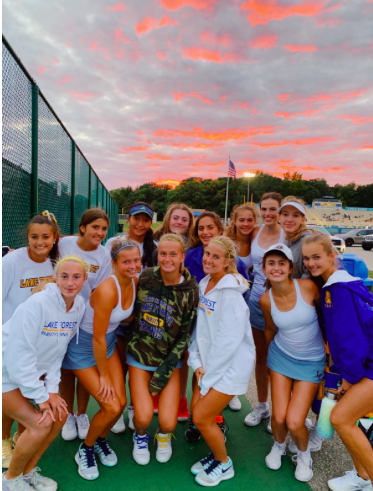 After a nail-biter second place finish at Sectionals last Friday and Saturday, three members of the girls tennis team will be making the trip downstate this week to compete in the state championship from Thursday through Saturday.
The Scouts finished sectionals with 26 points, losing to Stevenson by a mere two points. Despite the close loss, juniors Autumn Rabjohns, Lainey O'Neil, and sophomore Isabelle Chong advanced to state. 
Rabjohns will be competing in the one-singles spot with previous state experience under her belt, having competed in the tournament when she was a freshman. The state tournament was cancelled last year due to Covid, but Rabjohns would have played at number two singles, behind only her older sister Kiley at number one. 
With such a strong team last year, both Rabjohns sisters ended up playing each other in the 2020 Sectionals finals, as did both LFHS doubles teams. 
"It's been a great season! Lainey, Izzy and I are very excited to have the opportunity to play at state which we did not get last year. We have been working very hard so we can't wait to go represent LFHS!" Rabjohns said.
Lainey O'Neil and Isabelle Chong will have each other to lean on, competing in one-doubles.
"Lainey is a great sport and such a good partner to lean on when the match is tough," Chong said. "She also pumps me up and brings up the mood. We have a great partnership."
"Going to state is really really exciting, there's no other word for it!" O'Neil said. "To be able to represent the school in such a prestigious tournament is just an honor. The whole team has worked so hard all season and we really want to do well this weekend for the team, program, and school."
Although senior captains Louise Brickman and Sofia Falls won't be playing this year, they're remaining as supportive as ever of their teammates.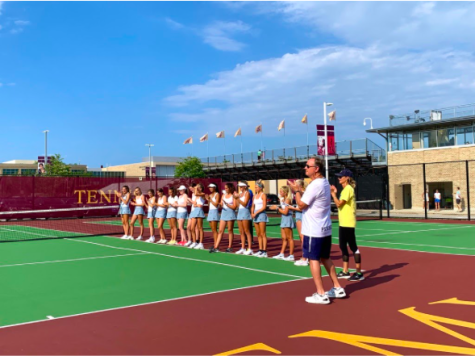 "I'm so excited to go support Autumn, Lainey, and Isabelle in state this week. They literally blow my mind every day in practice with how good they are," Brickman said. "I've known them all since they were freshman and now to see them representing our school at state is such a proud moment. They are some of my best friends off the court as well so I am so excited to see all of their hard work pay off."
"Our team is very special in that we come together, bring high energy and support our teammates competing in the tournaments and we are all definitely very excited to be supporting our qualifying players," Falls said. "Coming back to the state tournament as reigning state champions is an exciting feeling, especially because this is a very competitive year with many strong teams and players. We are thrilled coming off of a successful season and we cannot wait to see what this weekend has in store for us." 
The tournament on Thursday will be held at various locations for both singles and doubles. However, Friday and Saturday will be located at Buffalo Grove. Follow the girls at state here.