The Forest Scout Friday Five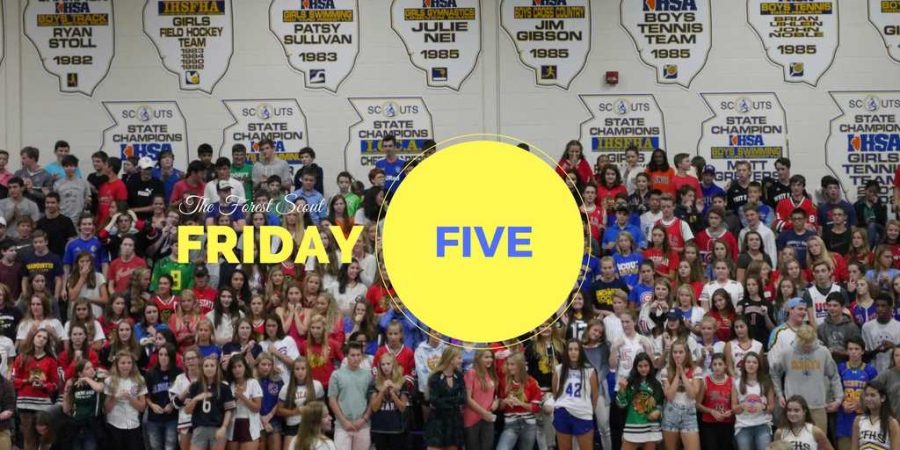 The Forest Scout Friday Five is a weekly segment that celebrates five people making a distinct, profound, and positive difference in the Lake Forest High School community. To visit our most recent installment, click here. To recommend a student, teacher, support staff, or community member for inclusion in The Forest Scout Friday Five, please email [email protected].
Jim Sullivan: Though former Science teacher and Science Department Chair Mr. Jim Sullivan is now technically the Assistant Principal of Enrichment and Engagement for LFHS, if it were up to him he would probably want you to classify him first as a proud Lake Bluff parent. After all, the betterment of the school and community is at the core of every decision he makes, including his most recent undertaking in developing LFHS' first annual Career Fair that was held in the Competition Gym on Tuesday.
Sullivan, who oversaw the education of his sons Ben and Brian Sullivan at LFHS, never felt the need to meddle in the development of his children within the school. "He was the teachers' biggest supporter, and you know that his advocacy of the unique LFHS educational experience was instilled at home with his boys as well." In fact, the reason behind Sullivan yielding such staunch support for his colleagues is likely because he had been in many of the classrooms his boys now occupied. Sullivan has worked tirelessly to fairly and accurately evaluate LFHS' teachers and has done so with encouragement, support, and an only-at-LFHS kindness that has come to characterize his identity around the school.
"There is no one that loves LFHS more," shared one of his fellow colleagues. "He is one of the reasons this place is so successful, and he lends so much of himself to so many different projects and endeavors–whether it be as the Open Doors Program, the LFHS Foundation faculty liaison, and so much more." It seems, quite frankly, that LFHS is comfortable having Sullivan as one of the most recognizable faces of its brand, and why wouldn't they? Nobody works harder, cares about the building more, and has seen the fruits of the education's labor than Mr. Jim Sullivan.
Lillie Michael: Ask anyone at LFHS if they've seen a bright eyed, bubbly girl walking around the halls and they would point you in the direction of Lillie Michael. There are many students here at Lake Forest High School who have had an interaction with sophomore Lillie Michael at some point. And if you haven't, here are some of the places around LFHS where you can find her.
If you have ever been at school early in the morning you will undoubtedly find Lillie studying in the library or working with a teacher to maintain her straight As. She is a true hard worker and is always going above and beyond with her academics. If you're not an early bird like she is, you still may spot her smiling and waving to say "hi" to passersby in the hallway. She's the type of person that goes out of her way to make a friend feel good and is not afraid to exchange pleasantries with a random if she passes you in the hallway. If you are so unlucky and don't happen take the same routes to class as she does, you can find her taking part in various after school clubs.
Lillie is very active with Student Council and she is a member of the Women's club, where she willingly participates in volunteer and club work. Additionally, she lets her voice be heard with Choir, a club she has been a part of since middle school. If you don't happen to be active in these wonderful clubs you still have the chance to see her playing her sports on the courts. In the fall season she plays her favorite sport, tennis, and serves as a captain for the frosh/soph team. Currently, she is playing for the JV badminton team. In the short months of her off season Lillie occupies her time by playing intramural basketball, hanging out with her friends and family, and playing with her dog, Meo. Fellow badminton player and good friend Grace Gescheidle had only positive things to say about her. "Lillie is one of the most bubbly, outgoing, and caring people I know. She is kind to everyone she meets and never has a bad thing to say about anyone. She is constantly putting other people before herself and helping in anyway she can. Her laugh is contagious, and she is always making my day. She has the amazing quality of making anyone smile and bringing them to tears of laughter." Lillie Michael is a girl that you want to be around; her friendly personality and constant involvement at LFHS makes it easy for anyone to meet her.
Mac Uihlein: Some people have a tendency to stereotype the grade's best athletes as those who only care about asserting their dominance on West Campus' athletic fields instead of East Campus' classrooms. But freshman Mac Uihlein would buck that stereotype and all that goes along with it, seeing as he is one of the most polite, energetic, and charismatic students that the Class of 2021 has to offer.
Though Mac was one of the most decorated players on the freshman football team in the fall and is now playing up on varsity lacrosse in the spring, he still keeps a level head on his shoulders. "Not only was he one of our best players, he was one of our hardest workers," shared one of his freshman teammates. "He leads by example and does everything the right way." So often coaches try to instill a passion and a desire to have athletes give their best at everything they do, but it only extends to sports and other recreational activities. In Mac's case, his education always takes precedent. "He's the most involved student I have in class each day," shared one of Mac's teachers. "He not only pays attention, but he pushes himself. He has an intrinsic motivation to learn that is hard to teach."
Perhaps Mac knows that his aunt, Special Education teacher Mrs. Julie Crouch, would keep him on a short leash if he wasn't one of his teachers' favorites, but when you get to know Mac, you get the sense that he's doing it all because he is simply a genuinely good young man. It's great to be successful, but it's most important to be humble and hardworking, and in the case of freshman Mac Uihlein, he's all three.
Claire Mahoney: There are some students at LFHS that are just a bit more smiley than others. Those that–even in the drudgery of the initial few minutes of first period–always seem to have the perma-grin going full tilt. There are those exceptionally smiley students that I just mentioned, and then there is Claire Mahoney.
This effervescent, enthusiastic junior is simply born and bred for a live high school environment like Lake Forest. "Claire sees the good in everyone and every situation," mentioned one of her closest friends. "Even when things are a drag, she picks the beat back up and finds a way to share a laugh–that's just who she is and you'd be surprised how contagious it can be." Contagious? Yes. Common? No. And it's not just Claire's constant pep in her step that is uncommon. She excels in athletics (volleyball), advanced classes, student leadership organizations, and much more, all the while balancing a busy social life.
One senior student's testimonial of Claire's importance at LFHS captured her perfectly: "She has a way of making the things that are the right thing to do, the cool thing to do." For Claire Mahoney, this seems to all come easily, but there's certainly some behind the scenes struggles that she veils with her constant upbeat energy she shares with so many of the students that she encounters in her numerous clubs and activities. "Her authenticity is what I find to be her most endearing quality," shared one of Claire's junior year teachers. "She's a naturally curious person, so she's not just asking questions to check off boxes or joining clubs to look good on a resume. She is as good at following through as she is at starting off, which is a rare trait to find in such a young person."
There are countless songs and inspirational quotes that encourage us to "laugh louder," "smile more," or even "dance like no one is watching," but Claire Mahoney lives it, and perhaps that is the best motivation of all.
Ms. Anna Colletti: Lake Forest High School needed a new Aquatics Director, Head Lifeguard, and Women's Water Polo coach recently, and they struck the jackpot when they found Ms. Anna Colletti–because she checked all three boxes, all the while being the exact type of person that school districts want to hire.
If you're an adult in the building looking to learn CPR, Colletti is your gal for that as well. She teaches each class, conversationally providing the essential details of the life-saving process with personal experience embedded within. She has also expanded her role in the water as the Head Coach of the girls water polo team, using her experience as a collegiate athlete as her source of knowledge with this year's team, already off to a fast start and rapidly improving.
Before coming to LFHS, Colletti worked as the Natatorium Instructor for the Chicago Park District and has seasoned her skills in the pool to fit the needs of LFHS. Undoubtedly, the Aquatics Director is a position that requires supervision of long hours, a lot of patience, and of course the kindness to help students, and Colletti has all of the aforementioned qualities in spades. LFHS is lucky to have found a new qualified coach and pool director in Ms. Anna Colletti.
About the Writer
Ghost, Author
Ghost is a section of The Forest Scout that chooses to publish material anonymously in order to increase the depth of their investigative reporting. Ghost...