The Forest Scout Friday Five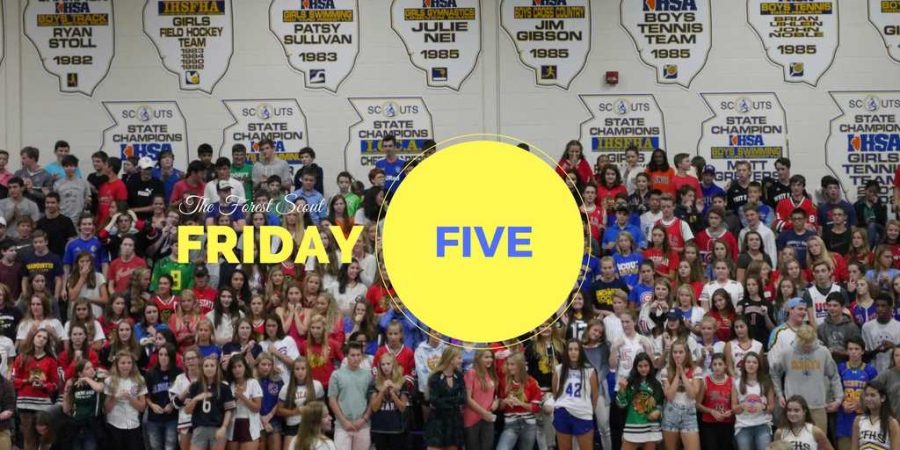 The Forest Scout Friday Five is a weekly segment that celebrates five people making a distinct, profound, and positive difference in the Lake Forest High School community. To visit our most recent installment, click here. To recommend a student, teacher, support staff, or community member for inclusion in The Forest Scout Friday Five, please email [email protected]ols.net.
Anthony Ranallo: Unmistakably recognizable for his signature brunette flow, sophomore Anthony Ranallo is sure to catch the eyes of those around him–and that's not just for his full head of hair. Aside from having one of the grade's most distinguishable hairdos, Anthony spends a majority of his time outside of school on the football field in the fall and in the baseball diamond during the spring, using any time in between to head to the gym to get some shots up, being a new member of the sophomore intramural basketball league. One of his closest friends, sophomore Charlie Aberle, shared a laugh when asked about Anthony as he said, "There's two things everyone close to Anthony knows: first off, he probably spends at least two hours a morning on his hair but above all, he's got a great personality."
Just as Anthony's closest friends can attest to his intense dedication in perfecting his flow each and every morning, his outspoken, genuine personality shares a similar sentiment, carrying with him day in and day out. Whether it's in the halls during an early Monday morning or after a late night baseball practice, Anthony never fails to take a step back, smile, and simply ask how things are going, regardless of the person. In class, he is always seeking out help and asking questions when necessary. He is earnest and respectful in his approach, which certainly gets him on the right side of each teacher's favor. 
Charlie Aberle chimed in once again, this time going on how, "Anthony's someone that everyone always wants to be around. Doesn't matter where or when. It's really just the kind of person he is."
So whether the rumors of his never-ending morning hair ritual prove themselves to be true or not, one thing is for sure: Anthony is about as sincere and kind-hearted as they come. Being able to draw in a large crowd effortlessly is a skill all of us dream of possessing, but for those with as a relaxed, endearing demeanor like Anthony, such a task is as easy as any other. All of us could learn a thing or two from guys like Anthony; life is simple when you go with the flow–no pun intended.
Courtney Schmidt: 
Ask any coach at LFHS what they want on their team and there will be a common thread among their responses: great teammates. Thus, when you ask any member of the LFHS cross country team about great teammates, they will respond unanimously with one name: Courtney Schmidt. The uber-positive, kind-hearted junior had major hip surgery this year, which rendered her unable to compete for the girls varsity cross country team this fall. But do you think that stopped Courtney Schmidt from attending practices–even when she couldn't stand or sit comfortably–or running the team Instagram? If you thought the answer is yes, you don't know Schmidt.
"She's the only person I know that would do all of what she did while injured," shared senior Mia Johnson, a teammate of Courtney's this fall. "She is a such a good person," echoed Cosette Bevis, another teammate of hers. The pure dedication that Courtney possessed through it all was unwavering, never complaining or seeking attention for all that she was going through. As for the winter season? She's not fully healed yet, but she is on the basketball roster, helping out Coach Wilhelm and the girls in any way that she can.
"Her dedication is unparalleled," mentioned senior Grace Scheidler, the Editor-in-Chief of the Forest Scout and a teammate of Courtney's in cross country. Those who know Court off the course can also vouch for her character as well. The astute student has excelled in the classroom since the first days of freshman, never skipping a beat, even amidst grueling rehabilitation for her back.
When you see Courtney Schmidt–whether she is in a back brace, a walking boot, or is fully healed–she'll always be smiling and laughing. "She put all of the pictures together for the seniors on cross country that helped us reminisce on all we had gone through," mentioned senior cross country star Brett Chody. "She's just the best."
Jon J. Kerr: Though his technical coverage area for the Pioneer Press covers all of Lake County, journalist Jon J. Kerr has a soft spot in his heart for only one team and only one town: Lake Forest.
The LFHS alumnus–who now runs the website Scoutsfootball.com–is always looking to tap into the lifeblood of the community with the students of the high school at heart. "He's always covering us, in good times and bad," shared senior All-NSC safety Chris Cavalaris. "He is always profiling the student-athletes of LFHS to prove that we're more than just football players." Indeed, Kerr's mission in his newest venture is to highlight all of what the boys in blue and gold undertake on a daily basis that has nothing to do with football. This season, in fact, Kerr profiled seniors Shannon Charleston and Shane Lynch to highlight all that they have to offer in life–not just on the football field for Coach Spagnoli.
Outside of football, Kerr covers the prep sports scene in Lake County. He is a renowned author, having completed his first book, The Boys in Brown: A Team, A Coach, and A Passage to Adulthood, highlighting the moral virtue of the Carmel football program. In addition to that, he is working on another literary work that is to be released sometime in the future. In true sports journalism fashion, Kerr is a master at finding the story underneath the story with high school students, showcasing an interesting insight into all that amateur athletics entails.
Those close to Kerr know him to be inquisitive, passionate, but more than anything else, kind. His mission for all that he has done–in writing and in life–is to share the stories of the people who are doing things the right way. That is why Jon J. Kerr is a perfect Friday Five nominee; now someone can finally share a bit about the positive attributes that he embodies opposed to him doing it for so many others in our community.
Marissa Giangiorgi: Making the varsity poms team as a freshman carries a lot of clout at LFHS. Thank goodness it happened to one of the nicest, humblest young women LFHS has to offer a year ago.
Marissa Giangiorgi, a sophomore, is so much more than just an accomplished dancer competing among the nation's best. She's also insanely smart, balancing MAH, AP Chem, English 2-H, and AP World along with Latin 2H. You would think with all of that she would never have time to do anything else. But those who know Marissa best know that she still finds time to volunteer every Saturday and hang out with friends in her time in between practices and academics.
Besides that, of course, Giangiorgi is so sweet and will always say yes if you need a favor. According to sophomore Willow Volkert, "I don't think I've ever seen her mad and she always tries to do what's best for everyone around her." Marissa models the positive outgoing behavior that we all wish we could, and she does it effortlessly without fanfare. According to one sophomore student, "she always changes the subject when I bring up all that she has accomplished in such a short time." A true person for others, Marissa does what she does in order to be her best self, and also to motivate those around her to do the same. 
She's the kind of person who volunteers, who supports–who does everything else that she does–simply because she thinks it's right. Not to check of some perfunctory box of good citizenship. And for that independence, maturity, and foresight, we approve.
 Mr. Keith Freedman: During high school, many students dread math class. The very word math conjures stereotypical thoughts of brain bending equations, droning lectures, treacherous tests and thousands of homework problems. But there is a place at LFHS where this stereotype couldn't be farther from reality — in room 289, the home of math teacher Mr. Keith Freedman.
One of the things students appreciate most about Mr. Freedman is his genuine love for math. There are no "dumb questions" or problems that are "impossible," every problem is possible with Mr. Freedman.
Mr. Freeman may be best known and respected for is his tireless work ethic. If you're in need of help, Mr. Freeman is your man, making himself readily available to help in the Math Resource Center and in his classroom. In general, students hate waiting for days, even weeks, for the results of important tests to be entered into the infamous "PowerSchool" system. But this is never an issue for Mr. Freeman's students as he routinely returns test and quizzes the day after they're taken. His superhuman turnaround time is deeply appreciated. Freedman's work ethic is also evident in his constant desire to innovate and improve his curriculum. Students who have had Freedman are amused when they encounter one of his signature review activities or resources–such as his factoring flowchart–in math classes later in their high school careers.
But perhaps one of his most underrated attributes is his ability to connect with high school kids on a personal level. With four kids of his own, including one who will graduate from Stevenson High School later this year, Freedman is able to relate to students and the modern-day challenges and stresses they face. Whether it's whipping up common ACT and SAT math questions as a warm-up for his students, emailing absent students the day's class notes, or just cracking jokes between agenda items in class, students always feel a sense of relief when they are in the presence of Mr. Freedman.
After 28 years of teaching, Freedman has established himself as an elder statesmen in the Math Department and a favorite among LFHS students.
About the Writer
Ghost, Author
Ghost is a section of The Forest Scout that chooses to publish material anonymously in order to increase the depth of their investigative reporting. Ghost...