The Forest Scout Friday Five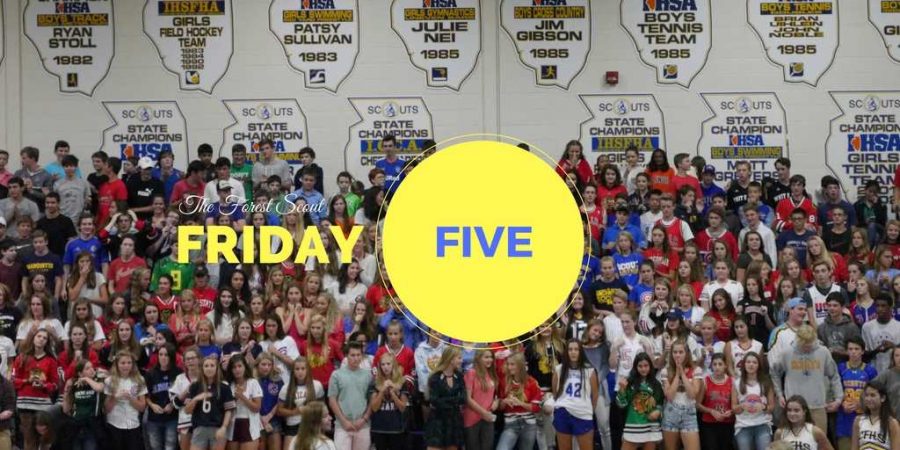 The Forest Scout Friday Five is a weekly segment that celebrates five people making a distinct, profound, and positive difference in the Lake Forest High School community. To visit our most recent installment, click here.  To recommend a student, teacher, support staff, or community member for inclusion in The Forest Scout Friday Five, please email [email protected]
Michael Rohrs: To the sadness and dismay of all that knew him well, the post-Michael Rohrs era at LFHS has officially begun. The high school's trusty watchman, who also worked closely with the Security and Building and Grounds Department at LFHS, had his fingerprints on every single one of LFHS' yearly productions over the past five years. An LFHS graduate, Rohrs knew the ins and outs of the high school unlike anyone else. Whether it was the annual talent show, the fall play, the spring musical, an orchestra concert, or a basketball game, Michael Rohrs was always behind the scenes ensuring that everything ran smoothly and efficiently.
After a tenure at LFHS that garnered that the respect of all that he crossed paths with, Michael has moved on to achieve one of his lifelong goals: to become a full-time police officer. Rohrs has relocated to Las Vegas, Nevada to achieve his dream and–in the wake of all that has happened there in the past month–will certainly have his hands full. But that's just how Mr. Michael Rohrs likes it.
In his time at LFHS, Rohrs dabbled as a maintenance technician, a master carpenter, an information technology guide, and a watchman. Those who spent a lot of time in the building outside of its regular school hours knew Michael for always being the one with the key to open the door they needed, or just genuinely being the helpful hand that you were always in search of at LFHS. Though Michael Rohrs will be missed by all he has come into contact with in the Lake Forest community, his departure has most profoundly affected his mentor and LFHS Head of Security, Mr. Scott Krajniak, who served as a former police officer and narcotics officer before his arrival at LFHS.
Though we will miss his professional Everyman strut, with his key ring jangling as he marches off to his next job, we are thrilled for Mr. Michael Rohrs in pursuing the future that he so rightfully deserves.
Jan Kubata: Being a freshman can be hard. Everybody knows that. But what about being a freshman 7,300 miles away from home? Well, in watching freshman Jan Kubata navigate his school day and balance his extracurricular activities, you would think it was a walk in the park.
Kubata, who originally hails from the city of Usti in the Czech Republic, can be seen wearing his trademark Vegas Knights snapback with a smile on face sharing his personality with his classmates. Whether it be by way of his participation in Mr. Busse's Wellness for Life class, his creative spirit in Woodcraft, or his natural writing voice in English, Jan is always one who craves human interaction.
In fact, Jan's optimism and up-for-anything attitude towards having in school has garnered praises of adulation from upperclassmen, which, if you know any upperclassmen, aren't all too common. "Jan's one of my favorite kids that I T.A. for," mentioned senior Chris Cavalaris, who works with Jan in Mr. Busse's Wellness for Life class. "He's always involved in what we're doing. He has fun, but he doesn't do so in a distracting way. He has has fun within the course curriculum." Jan (pronounced Yahn), is an avid hockey player who spends many late nights and virtually all weekends traveling to pursue his passion in hockey. Still, the 15-year-old Lake Bluff native refuses to complain about homework, due dates, or tests–he just manages it all in stride. For someone who has experienced such drastically different environments over the course of life, it makes sense that Jan is quite the chameleon in adapting to a new school's culture.
Mr. Tim Haskett: When trying to accurately describe choir teacher Mr. Tim Haskett, one word comes to mind: determined. Mr. Haskett has been working at the high school for many years and genuinely puts his heart and soul into his job. He can often be recognized across the globe as our high school choir director, but he is so much more than that to each and every student he encounters. Mr. Haskett is also in charge of the famous holiday acapella group known as Madrigals and runs the school's glee club as well. Current senior Trisha Bhagat shed some light on Mr. Haskett's character.  "Mr. Haskett is one of the kindest and happiest teachers you will ever meet. His passion for music goes way beyond the classroom and the dedication he demonstrates towards his students is truly amazing. I feel extremely lucky to have had Mr. Haskett as my choir director the past four years. He adds so much more to the choir atmosphere than just singing; there is never a day where I leave class without a smile on my face"
While most students only get a teacher once in their high school career. Mr. Haskett's students get the privilege of having him for four years. This allows Mr. Haskett to create a bond with each one of his students. It is evident both inside and outside the classroom that he genuinely cares for his students and wants to help students create a foundation for their music that they can carry with the after they graduate.
Aside from his personality, Mr. Haskett is also one of the most talented teachers at Lake Forest High School. An extremely talented singer and director, Haskett truly leads by example in his practice. This year, the Lake Forest High School choir will be traveling to Italy to perform in the Vatican, along with other churches. This opportunity wouldn't be possible without the hard work of Mr. Haskett himself. His kindness and talent is radiant to many here at the school but Holly Malnati, a senior, perfectly summed it up ." I have had the pleasure of having Mr. Haskett as a teacher for over three years now and I can honestly say that he is one of the kindest people you will ever meet. He always asks me how I am when he sees me and truly cares about my learning in choir. He has allowed me to become more confident on stage and always pushes me to do my best. I am really lucky to have him as a teacher."
Salma Alsikafi: One box on a to-do list that will never be checked off: see sophomore Salma Alsikafi in a bad mood. Whether she's bouncing around the halls, running around the tennis court, or sprinting on the track, Alsikafi always has a smile on her face. "Salma is one of the most upbeat and smiling girls I know," said good friend and a fellow tennis teammate, senior Emily Gorczynski. "There is never a time when she isn't there to cheer up her peers or crack a joke to brighten your day." And when she isn't laughing and beaming? Salma is spending time with family, working hard in her sophomore year courses, or hanging out with friends.
As a member of the varsity tennis team and the track team, Salma has a very busy schedule but she still finds time to balance her activities and keep up with challenging courses at school, including her favorite class, 8th period English with Mr. Peter Lubliner, the teacher whom she was recommended by for recognition in the Friday Five.  She is very easy to talk to, loves to laugh, and make others smile. And she does this all in a good mood. "At home, Salma is still smiling and [is] definitely one of the most optimistic people I know," said senior Yusef Alsikafi, Salma's big brother. The Alsikafi name is one that has developed a reputation for both athletic and academic success at LFHS, all while demonstrating respect and care to those around them. Salma is certainly another Alsikafi bumper crop, benefiting those around her on a daily basis with her smile and personality.
Patrick McNeill: At Lake Forest High School, students know senior Patrick McNeil as a joyful, sports-crazed senior. There's no doubt that is true; but the teachers who have had the pleasure of having Patrick in class know him as so much more. "Patrick is a great kid," says teacher Mr. Graham O'Connor Brooks, who knows Patrick quite well. "He is extremely hardworking. He doesn't know how to give give anything other than 100%." Work ethic is only one of Patrick's many admirable classroom traits. In fact, other teachers know Patrick to be creative and innovative when presenting new ideas and strategies for conveying his knowledge in the classroom. He also works closely with Ms. Juli Jennings, his one-on-one aide, and Mrs. Vogler, his LRC teacher these past four years. According to his Fashion Merchandising teacher, Ms. Cole, Patrick is a pleasure to have in class. "He is always coming up with new ideas for the class and challenges his classmates to think outside of the box," said Cole. "He knows everything there is to know about NHL and NBA jerseys. Patrick is the biggest Blackhawks fan I've ever met."
Mr.O'Connor-Brooks and Ms. Cole are not the only teachers who recognize Patrick's next level effort towards his academics. Mr. LaScala, a Business Entrepreneurship teacher and head varsity basketball coach at the high school mentioned, "Patrick is the most committed business student I've seen at the high school. And I've been here for a while [12 years]," added the seasoned LaScala.
It's clear that Patrick has already made quite the impact in the Lake Forest High School community and has the work ethic to continually impact those around him for the rest of his life. Look for Patrick sharing his knowledge of sports and unmitigated passion for all that he is interested in. Congratulations, Patrick! Keep up the good work in inspiring LFHS students to be better each day. 
About the Writer
Ghost, Author
Ghost is a section of The Forest Scout that chooses to publish material anonymously in order to increase the depth of their investigative reporting. Ghost...