Cinema Club: Critics With a Good Attitude 
Lake Forest Highschool has fostered many clubs throughout its years, always welcoming new and interesting groups to come together and relish in a shared love for various niches and hobbies alike.
Cinema Club is an all-inclusive environment where members collectively indulge in films outside of the classroom and reconvene every other Thursday in Room 309 to share their thoughts as a group.
The club fosters a shared appreciation for the medium of cinema, and members facilitate analytical discussions regarding the film of the week, allowing for friendly and effective consultation with the purpose of education in mind.
"I think the four people who started it are really strong leaders. They knew that they wanted a certain vibe and tone in the room, and they have taken charge of everything. They just keep pulling in more people so that every person who comes into that classroom – there's just kind of an expectation of we're gonna talk about film in a really fun, not pretentious way," and it's just caught on," said Ms. Kristen Carlson, English Instructional Director and adviser of the club.
She is, of course, talking about seniors and presidents of the club: Mac Prom, Amelia MacArthur, Jeremy Zelken, and Felicity Whidden. They preach that the main mission of Cinema Club is to promote fruitful conversation between peers about cinema for greater understanding and appreciation for the medium.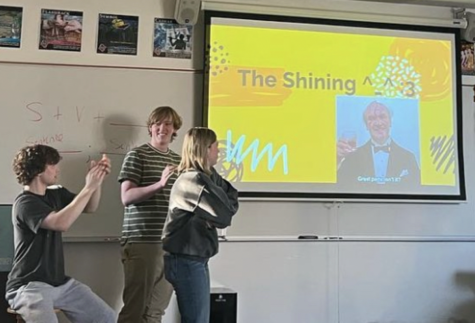 "I think they can learn a lot about themselves. We often go in-depth when dissecting ideas like characterization, so you might be surprised by how much you can relate to a certain portrayal or rendition post-evaluation. I think it's important to look at these depictions in today's world, considering the necessity for representation of all groups in the media," said Prom. 
There's also an overwhelming amount of positivity in the group.
"There's a lot of clapping and celebrating, and I love it. Everything is celebrated, and they bring that into the space, and I've really appreciated that," said Ms. Carlson.
She expressed that she would even join the club if she were in high school. Cinema club has allowed her to branch out and develop a deeper appreciation for the time and dedication it takes to make a great movie. 
"I kind of stick to a few genres, but the members of the cinema club and the leaders have kind of pushed me into viewing some other things. Amelia just mentioned a film last week that was one of her favorites, and it's one I want to take on," Ms. Carlson said. 
This week the club decided to switch it up from their usual practice and allowed everyone to present a movie of their choice to the club in hopes of persuading them to watch it – or simply to share about a piece of cinema that they love. One thing that I noticed, in particular, was how much these students were able to talk about their movies. 
"I feel that younger people are starting to view art as less important than it is, and I think it's important to discuss good media and good art and learn from it," said Prom. 
Some of the talking points up for debate regarded the oversaturation of recent franchises in the media, lacking a meaningful story and independent integrity. 
"I think it's important to engage in cinema because I feel like there are so many people who have their own personal connection to cinema, and this (the club) is a way to help those connections be made in an environment that really appreciates cinema and helping people share what they love most about it in a really relaxed environment," said MacArthur. 
Witnessing each interaction between students was a learning experience for me each time. There were sophisticated conversations about all details of moviemaking, from technicality, casting, themes and motifs, general production, and much more. And with their first couple of meetings garnering lots of new people, they hope to continue building a community of movielovers and welcoming anyone who is willing to learn something new.