In Da Club featuring Cinematic Comic Club
One of the school's newest clubs talks Marvel and more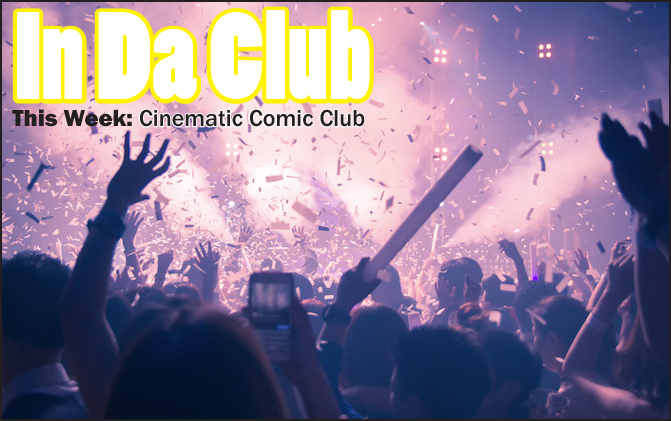 Our In Da Club series is an in-depth Q&A aimed at giving readers a look at one of the school's clubs. If would like your club involved, please send us an email at [email protected].
Cinematic Comic Club was started this year by juniors Gabi Murphy and Whitney Wisniewski. The club is made for all fans of comic, fandom, or cinematic universes, with the most prominent fandom being the Marvel Cinematic Universe.
How would you describe Cinematic Comic Club? 
Gabi: I would say our club is very fun with a lot of bursts of energy. We maintain some good conversations, and get a lot of people participating in the conversations. Although, we always end up stopping the conversations to watch Marvel memes, because, well, it's fun to watch Marvel memes.
Whitney: We have the PowerPoint as a guide, but we try to keep it casual. The main goal is to make it a space to have people talk about this kind of stuff, and have a group of people that can have an hour long conversation about some obscure thing in Marvel or talk about how excited we are for a new movie.
Gabi: No judgement, even if we disagree. And we do disagree.
How's the first year going? 
Whitney: We have a small but loyal following. I would say that considering that we are a new club, we already got a pretty nice group of people. And even though it's not a lot, they are all really passionate and dedicated. Members try to come to all the meetings they can. So, I'm pretty happy to have people that are dedicated [in the club].
What sort of person would be interested in joining your club?
Gabi: Someone who likes fandoms. It's open to all types of fandoms, but we mostly talked about Marvel since that is the biggest fandom at the school. But, we can talk about other stuff as well.
Whitney: I think the basis is that if you want to talk about something and get really passionate regarding a movie or an actor, or something that is coming out. Then, we just want to provide that space for people so they feel they are not being judged.  So then they can be passionate and talk about their interests in Marvel and comics. So they can be passionate and talk about that stuff.
What are the three top qualities you look for in a new member?
Gabi: Someone who is not afraid to speak their mind, passionate, and really fun with a good personality and energy. They should have good vibes and should be happy to be there.
What's something fun you do in your club?
Gabi: It's been really fun. We've watched a lot of Marvel meme videos and laughed about that. We've had a lot of (engaging) conversations about our favorite character. One day, we did get to know you with questions such as what's your favorite character, and questions similar to that. We tried to get a speaker, but it didn't work. We are planning on trying to get the speaker again.
Whitney: We really like to talk about theories and conspiracies about new releases in the films.
Who was the speaker you were trying to reach out to?
Whitney: The speaker we were trying to get was Chris Hemsworth's stunt double. I still have contact with him, but with his busy schedule since he travels with Chris that makes getting him to speak with our club difficult. But honestly, I'm grateful to be able to do this type of networking because of this club.
Who's your adviser? How are they?
Whitney: Ms.Roman. She matched my level of passion for Marvel. She has a lot of respect for us. She recognizes that our club's members are mature and take responsibility, even though we are kind of a crazy and energetic bunch. She is a bigger fan of DC Comics, so once you start talking about DC she will get very into the conversation.
If your club was an animal, what animal would it be?
Gabi: A monkey because we are energetic, but we get along with the other monkeys and have fun.
Whitney: An ostrich. They look goofy and silly, but they are actually crazy and awesome.
Gabi: A monkey-ostrich hybrid.
What person – real or fictional, past or present – would make the perfect member of your club?
Gabi: I feel Chris Evans would be totally into our club.
Whitney: I feel like Peter Parker would want to talk about Star Wars a lot.
Are there any fun events you are currently planning?
Gabi: We are trying to plan a movie night at the school where we would binge watch the Iron Man movies. Along with this, we are planning to see Black Widow in theatres.
What types of comic books or genres are involved in your club?
Gabi: The club is mostly Marvel in general, since the majority of our club has not really read the comics.
Whitney: But, we try to include everything in the club including Marvel, DC, film pop culture, and anything new and recent.
How often do you meet? 
Gabi: Every other week on Wednesday.
Last question: Marvel or DC?
Whitney: Marvel.
Gabi: Marvel. Except I do like the DC villains better.