Harvard and Navy Commits Miss Out on Potentially Historic Track Seasons
As Ben Rosa races past his opponents, he often flashes a smile at them.
For most runners, a smile is the last facial expression you'd expect to see on them during a race. However, the Harvard-bound cross country and track commit is no average runner. As one would expect from a future Ivy Leaguer, he not only smiles to intimidate his opponents, but he does it to save energy.
"It's a good cue to help you relax," Rosa said. "You've got these other guys around you and they're dying; and if you're smiling and laughing it just freaks them out. It's a lot of fun."
Rosa's counterpart, Nate Schmitt, takes a less fashionable approach to his races. During the IHSA Regional Cross Country meet this past October, Schmitt – who is committed to run cross country and track at the Naval Academy – entered the final stretch of the race in a dead sprint alongside Mundelein senior Dillon Blake. As both runners simultaneously crossed the finish line, Schmitt ran headfirst into the chute that corrals the runners into a single-file line.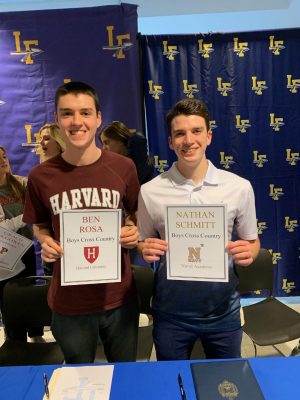 Blake edged out Schmitt by less than a second, but both runners smashed the prior West Campus 3-mile course record of 14:44 by more than seven seconds. 
While Rosa and Schmitt possess entirely different racing demeanors – and personalities – they do share one common trait: an immense love of competition. 
Or as Schmitt puts it, "I like to win."
When the IHSA announced the cancelation of spring state tournaments, both runners were devastated that they would miss out on their senior track seasons. Both Schmitt and Rosa had their sights set on school records. 
Distance Coach Matt Jerina felt dismayed that they wouldn't have an opportunity to conclude their Lake Forest running careers.
"It's very upsetting, I am confident they are both going to have great success racing in college, but selfishly I wanted to see them race and win in a Lake Forest uniform for another season," he said.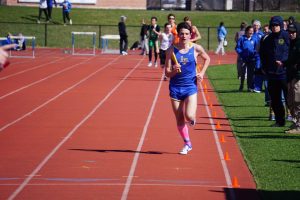 For Schmitt, his bread and butter is the 3200 meter run. Last year he was on track to qualify for the State meet; however, an injury hindered his performance in the Sectional race. Coming into this season, he had sky-high expectations. After coming within 10 seconds of the school record of 9:03 last season, Head Coach John Brumund-Smith believed that Schmitt would have had a legitimate shot at reaching the podium at State. 
"Nate would have threatened our school record in the 3200 meter run and I think would have finished in the top five at the State Championships," said Brumund-Smith.
Rosa also had a shot at breaking the school record in the 3200 meter run. And the 1600 meter run. And the 800 meter run. 
Despite having run the fastest 800 meter run in school history, Rosa doesn't officially hold the school record because his 1:54 performance came in a race that was after the IHSA season concluded. 
Rosa was one of the favorites to win the 1600 meter run State title after finishing in third place with a blazing time of 4:18 last year. 
"It's possible he would have gone completely undefeated in individual events all year," said Brumund-Smith.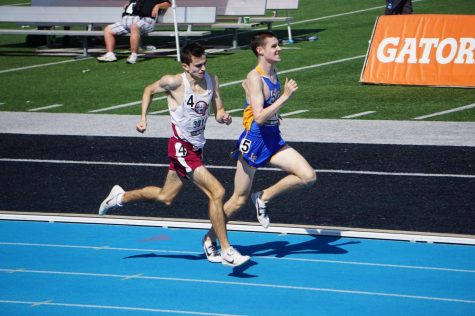 While he doesn't have as much experience in the 3200 meter run as the other events, Rosa already has a county title under his belt. 
Schmitt and Rosa were certainly both devastated at the loss of their potentially historic senior seasons; however, they are taking advantage of quarantine to get in some of the best training of their lives. Rosa is running close to 70 miles a week, and Schmitt says he is in the best shape he's ever been in. 
Schmitt not only has to train for Division I running, but also for the Naval Academy's Plebe Summer. There Schmitt will be introduced to life as a midshipman through an arduous several-week program. 
Because of this he is not only doing his normal running workouts, but he's also learning basic firearms training, how to conduct himself among his superiors, and – most importantly – preparing himself to get his head shaved. 
Schmitt's older sister, Caitlin, who is also a distance runner, just completed her senior year at the Naval Academy and his father, Jeff, served as an Army officer. This family legacy helped instill a desire in Schmitt to attend a service academy.
"I've wanted to go to [the Naval Academy] for so long… I just want to serve. I [want] to be part of something bigger than myself," he said.
Rosa, similarly, has dreamed of attending Harvard University for quite some time. As a prolific student he always admired the school, but a strong cross country program firmly locked it in as his first-choice school. Then when the men's team finished in 15th place in the NCAA championships this fall, it only increased his excitement for the next four years.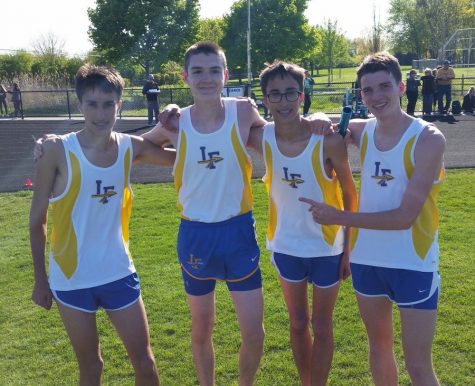 Brumund-Smith credits his two high-profile athletes with helping strengthen the culture of the Track team's distance squad. 
"Their impact has been tremendous," he said. "When you have some strong athletes who experience success, it raises expectations for everybody else."
Both runners not only act as leaders on the Cross Country and Track teams, but constantly push each other in practice. As Schmitt's strengths lie in longer-distance events and Rosa's in the shorter intervals, Rosa says that Schmitt has played a pivotal role in making him a more complete runner.
"We've both gotten better at improving our weaknesses throughout the last four years," he said. "It's been a good dynamic."
For Schmitt and Rosa, two runners with extraordinary work ethics, the lost season serves as motivation for them to improve and appreciate every moment that their running careers bring. 
Rosa has used quarantine to get back to full strength following an achilles injury in the winter and create more of a sense of urgency before entering college. For Schmitt, the lost opportunity to qualify for State in track – after coming up a second short his sophomore year and injury derailing his junior season – only fuels his competitiveness even more.
"I definitely feel like I have something to prove."
View Comments(1)
Donate to The Forest Scout
Your donation will support the student journalists of Lake Forest High School. Your contribution will allow us to purchase equipment and cover our annual website hosting costs.
About the Contributors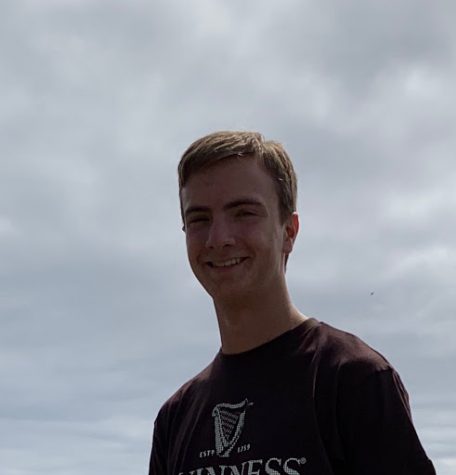 Ryan Peters, Editor
Ryan Peters enjoys playing darts and cornhole, doing crossword puzzles, sitting outside, and listening to 93XRT.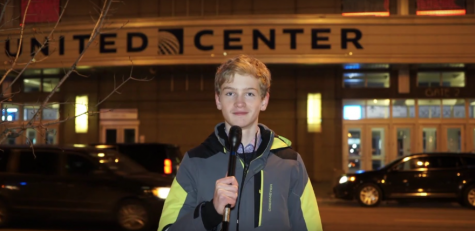 Peter Elliott, Editor-in-Chief
Peter Elliott is a senior at Lake Forest High School, and excited to be back this year as an Editor-in-Chief for The Forest Scout. A contributor since...