4 Scouts Break Track Relay School Record
The Scouts track and field team took first place in a 30-team meet at University of Wisconsin-Madison April 2 with commanding victories in both the 4×100 meter and 4×200 meter.

The 4x100m team includes seniors Sebastian Obrzut, Leo Scheidler, and Jahari Scott, as well as junior Jeremy Folker. The 4x200m team had the same group of seniors but swapped juniors, adding Brume Ogufere. 
The 4×200 victory was special. With a time of 1 minute and 32.98 seconds, the Scouts set a new record for the fastest indoor finish in school history.
"We had some bad luck before the race and it was our first-ever relay with all four of us together but we were able to leave our marks on time with no big issues with our handoffs. It was definitely a cool experience," Obrzut said.
That bad luck occurred before the race, as there were some timing issues with another event.
"As luck would have it, both Jahari Scott and Brume Ogufere were finishing up the Long Jump just minutes before the 4x200m Relay started. We had to run up to the stands to get their sprinting spikes. But great athletes have the ability to focus," Head Coach John Brumund-Smith said.
With the timing issue out of the way, the team went down to the track and began to line up. The Scouts set up their relay beginning with Obrzut at the leadoff, handing it off to Ogufere, then to Scheidler, and closing it off with Scott.
Obrzut flew out of the gate, giving the Scouts a hefty lead and impressing everyone including his coach. 
"Sebastian ran an incredible lead-off for us, the best lead-off I have ever timed in an indoor 4x200m in my 13 years at Lake Forest, to get us a huge lead," Brumund-Smith said.
After a clean handoff to Ogufere, he took the lead and ran, widening the gap and making it a lot easier on his teammates. 
Then came Scheidler who, although new to the sport, looked like a veteran with his amazing speed and athletic ability. He kept the lead at a lengthy distance and finally handed it off to the anchor and finisher, Jahari Scott.
"Jahari ran the fastest indoor 200m split I have recorded at Lake Forest to bring us home," Brumund-Smith said. "They handled the pressure of the moment exceptionally well, executed our new style of handoffs perfectly, and each ran the best indoor races of their lives. It is always a team effort to set a relay record and all four of these guys contributed excellently. These four knew they were going to win the heat."
Even with the problems thrown their way and the underlying factor of it being the first meet for the team, they prevailed and showed the insanely high potential that they possess.
But for these boys, this is only the beginning of a historic season. Indoor track season doesn't mean much to the rest of the actual season as many see it as a so-called "pre-season meet". But this was a huge stepping stone as they could finally run a real race for the first time and show what they could do. 
For the Scouts to make this season historic, it begins with the rookie Leo Scheidler.

The standout football and basketball player, committed to Notre Dame for football, decided to join the track team through persistent begging from now teammates Jahari Scott and Sebastian Obrzut. This victory to them is a small part of the reason they knew they needed to recruit Scheidler to the track field.
"Leo was running in the first high school track race of his life. Even though it was a 30-team invitational, I wasn't worried about him. He has been a varsity football and basketball player since his sophomore year, so I know he can handle pressure. He ran incredible," Brumund-Smith said.
For Jahari Scott, his experience was much different to his counterpart Scheidler. Scott has been running track since 6th grade at Lake Bluff Middle School, including a 3rd place finish in long jump, 4th place finish in the 100 meter dash, and a 2nd place finish in the 200 meter dash all in his 8th grade year.
"Personally, I want to make it to state this year, which would make it my 6th year," Scott said. "Last year I made three events and going back would be a great way to finish my high school career."
Obrzut has been a teammate to Scott on the track team since 6th grade at Lake Bluff Middle School, also competing alongside him at state throughout the years.
"Running with Jahari since Sixth grade has created a lot of chemistry between us since we have always been trying to push each other to get better," Obrzut said.
And for the lone junior Ogufere, it is looking like he was the missing puzzle piece to the relay team and brings a very determined outlook to a very optimistic senior crew.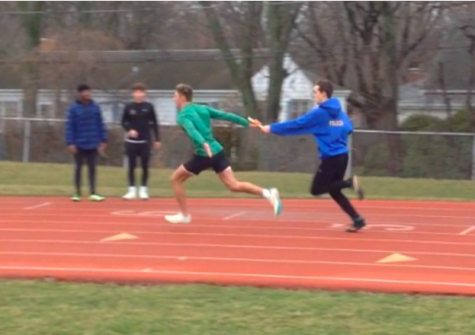 "Now that we have that indoor 4×200 record, I want to shoot for the outdoor record. Especially since it's the last year for Sebastian, Jahari, and Leo; I want to break the record before they leave," Ogufere said.
The outdoor record is now the next step for the team, and they're knocking right on the door. Coach Brumund-Smith knows it is going to be a hard milestone to beat, but is very optimistic.
"Time will tell with this team. The indoor season is basically just for fun and competition. Outdoors is when we get serious. The 4x200m Relay has been our most successful event recently, as we have qualified for the State Championships in it four of the past five seasons. The 2016 squad that currently holds our school record at 1:28.11 was seriously good. They still hold the North Suburban Conference record and finished as All-State," he said.
Time is a huge help to the squad as the season is only just beginning and they can work out any tweaks and relay changes needed. Although this specific four set a school record, it does not mean that this is the team that you will see later on in the year.
"We have a lot of other athletes competing for the four spots on the relay. Veterans like Jeremy Folker and Koen Brown will have a chance, along with newcomers like James Bentley and Bolurin Taiwo," Brumund-Smith said. 
And Scott, who has ran for the 4x100m/4x200m teams since he was a freshman, understands that things are subject to change for the betterment of the team. 
"It is still not a set order of who runs what leg of the race but we have time to figure it out. We have guys who can beat the outdoor record this year for the 4×200 so it is going to be a good time challenging it and challenging the rest of us," Scott said.
But ultimately, the goal is the same for everyone on the team: win State.
A tall task for these four young men, but they're progressing each and every day and increasing their chemistry together so that they can turn that optimism from their coach into true hardware.
Make sure to catch the squad at their next track meet tomorrow at Vernon Hills!