The Dish: Knighthawk Burger Bistro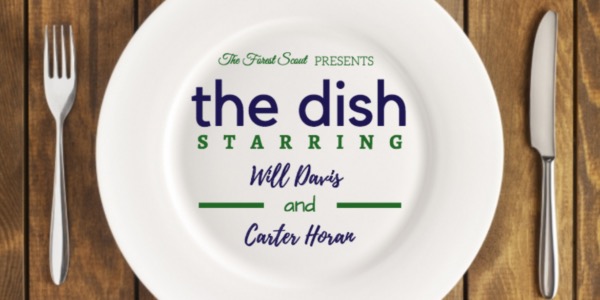 Welcome back for Season Two of "The Dish" co-produced by senior duo Will Davis and Carter Horan. This multimedia food review segment features an in-depth analysis of North Shore restaurants.
Nestled inside Northshore Sports Club, Knighthawk Burger Bistro has been described as a "hidden gem" since opening early last year. Most Lake Forest and Lake Bluff residents have not been acquainted with the burger joint because of its unusual, somewhat secluded location and the fact that the restaurant only began advertising six months ago. The Burger Bistro (obviously) prides itself on producing quality, unique creations that are made completely from scratch. Many yelp reviewers swear by the restaurant as seen by the lofty five star average rating that Knighthawk has garnered in recent years. Knighthawk is definitely one of the most mysterious restaurants we have visited, but we were ecstatic to try it and verify the rave reviews that we had seen. This year
Affordability: 6/10
To be completely honest, Knighthawk was a little bit nicer than we initially expected. Because of this, our affordability rating is a touch inflated to make up for this. At first look $55 seems like a lot of money spent on lunch, especially for the places that the Dish likes to go to. However, there were actually three of us this weekend and we also ordered an appetizer which was unusual for us. In all, we ordered two Knighthawk burgers, a chicken sandwich, three fountain drinks, and a large order of cheese curds. On top of that, all of the food was extremely high quality and portion sizes were more than generous. Because of this, we weren't as disappointed with affordability as we could have been. It's hard to see teenagers frequenting Knighthawk as a weekly lunch spot but that doesn't mean that it isn't a great spot to try when in good financial standing. The food quality and nicer atmosphere of the restaurant made the price very reasonable and we were relatively content with the bang we got for our buck.
Service: 9.5/10
With only one employee running the floor, LFHS graduate Nic Alghini impressed us with his hospitality and Knighthawk's plans for the future. Alongside Nic, senior George Schottle worked at the Bistro over the summer and also spoke to their high standards. Alghini did all he could for us: refilling our drinks, recommending items, and talking to us about the high school. He said that Knighthawk had only been advertising for six months and was just starting to get their name out to North Shore citizens. In the past week, their new website was created (https://knighthawkburgers.com/), and they finally received new menus. Not only this, but Alghini also explained that their bar was getting a makeover in the near future. Knighthawk is making major moves and is looking to become a well-known restaurant in the next six months. As for service goes, our food was delivered 18 minutes after we ordered. Not the fastest ever, but average for a sit-down restaurant on a sunday afternoon.
Food Quality: 9/10
Knighthawk really did blow us away with the quality of their food. We were expecting maybe slightly above average burgers but we were pleasantly surprised. Our burgers were cooked to a perfect medium and then loaded with beautifully cooked pulled pork and fresh herbed whipped cream cheese. The patties were massive and oozed with flavor when we took a bite. The most impressive aspect of the burger however was the bun. The bun was firm, flavorful and didn't fall apart during the process of eating. Our favorite aspect of our meal was definitely the cheese curds that we ordered as an appetizer. Knighthawk had their own unique take on cheese curds as they lightly fried them and then served them with a tasty chipotle ranch sauce. Upon ordering the curds, we were told that they were for sure the "best cheese curds" in all of the midwest. Upon tasting them, we can confirm that this is most definitely true. Each curd was packed with flavor and the chipotle ranch sauce gorgeously complimented the flavor of the curds. The fries that came with each burger were pretty solid. They were crispy and had a nice amount of salt on them. They weren't extraordinary but they went well with the burger and got the job done. In general, Knighthawk's strongest category was their food quality primarily because of the off the charts cheese curds and the scrumptious burgers.
Environment: 7/10
Knighthawk has by far the most unique surroundings we've visited in the past two years. Located just past Rondout school, Knighthawk is stationed in the back corner of the business complex that holds Slammers. Without word of mouth or advertising, we can almost guarantee that no one would've ever known this place ever existed. The unusual location gives the restaurant a nice secluded, low profile vibe upon entry. But, what most connoisseurs don't know is that Knighthawk is built inside Northshore Sports Club, a well-established shooting range. Often, customers head to the range for an hour or so and follow it up with a nice meal at Knighthawk. The hundreds of assault rifles and shotguns are undeniably intimidating but seen as normal once you sit down at Knighthawk and begin your meal. Also, the shooting range clarifies why Knighthawk has failed to get their liquor license and won't anytime in the near future. Multiple TVs were perfect for our Sunday lunch outing and comfortable seating was adequate for the three families seated. Knighthawk Burger Bistro may be different than your average lunch spot, but the sky's the limit for their potential as a successful diner.
Rating: 3 Spears (out of 4)