Your Guide to Trader Joe's: Halloween Candy Edition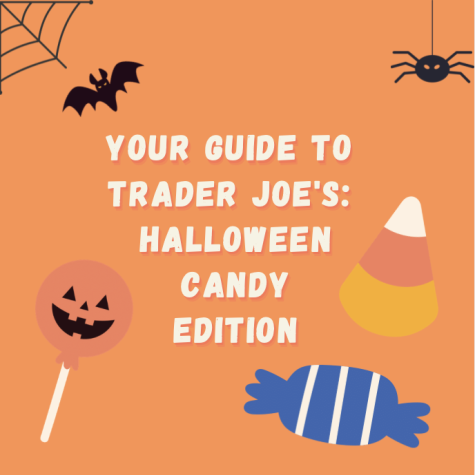 With Halloween right around the corner, we couldn't resist giving a candy review. However, this isn't your average candy review. We took our candy taste test straight to the Trader Joe's candy aisle and after careful consideration, we're here to give you our favorites. 
Scandinavian Swimmers: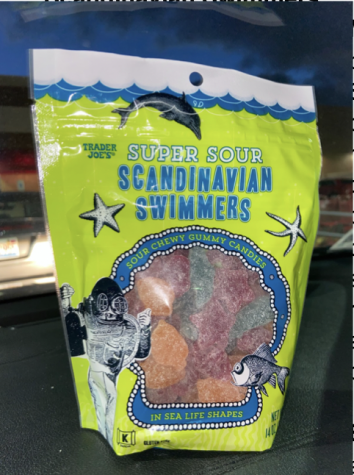 Molly: I was initially excited to try this item because I'm personally a big fan of gummy candies. The Scandinavian Swimmers were basically sour gummies shaped into different sea themed creatures. The flavors were huckleberry, orange, strawberry, and red berry, but I liked the huckleberry and strawberry the best. I also thought the different shapes of the gummies added a nice touch. This candy had the perfect balance of sweet on the inside and sour on the outside. After trying these gummies, I would rate them a 10/10. They tasted exactly how I anticipated and I would 100% recommend them as something different to buy for Halloween this weekend. 
Emily: Personally, I don't love sour candies but these were an exception. These were a perfect balance between sweet and sour.  Huckleberry was surprisingly my favorite. To keep the childhood spirit, these candies were shaped as different types of fish such as starfish and dolphins. Final verdict? An 8/10. If you are looking for new, exciting candy to give out, I 100% guarantee that these would be a hit. 
Coffee Lover's Espresso Beans: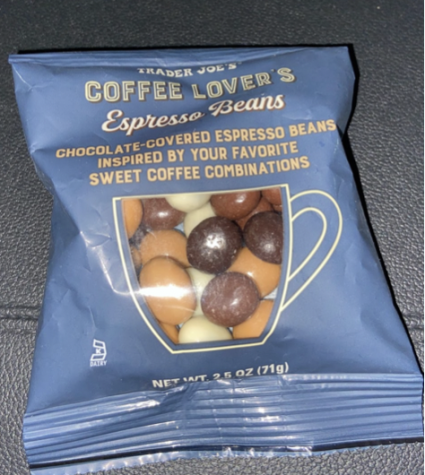 Molly: When we first picked out this item, I honestly wasn't the most excited to try it. I like drinking coffee, but when it comes to coffee flavoring in food, it's not my favorite to eat. But after trying these Coffee Espresso Beans, they tasted better than I thought so I would rate them a 7/10. These Espresso Beans had a coating of either dark, white, or milk chocolate that made them taste similar to an M&M with espresso flavoring. It came in a small package, which I liked because it had the perfect amount for one person. If you're really into coffee, you would love this candy and should definitely buy it. 
Emily: I LOVE coffee and once I saw these, I couldn't resist. And it's safe to say that I wasn't disappointed! The mini bag came with three different types of chocolate covered espresso beans: white chocolate, milk chocolate, and dark chocolate. All three of them were amazing, but my favorite goes to the milk chocolate. What I loved about these is that none of the flavors overpowered the others, but rather complemented each other. There was a perfect ratio of chocolate to espresso. If you are a coffee and chocolate lover, I highly recommend these. I rate a 10/10.
Organic Fair Trade Dark Chocolate Baton:

Molly: This Dark Chocolate Baton tasted exactly like I thought it would. The chocolate had a similar taste to semi-sweet chocolate, which I really liked. It was a good chocolate, but it was nothing special so I would rate it a 9/10. If you're into plain candies or just want something simple, I would recommend buying this product. 
Emily: Honestly, this is pretty much what I expected. I do love dark chocolate but there was really nothing exciting about this other than the fact that it came shaped as a baton. With 72% cacao, you would expect the baton to lack sweetness but surprisingly, it was still sweet. Due to the plain factor, I rate this a 6/10.
Organic Marble Halvah Cocoa + Vanilla: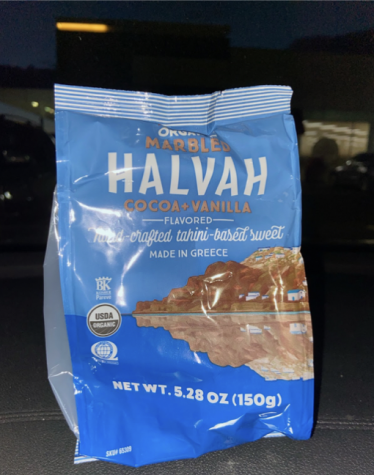 Molly: When we picked out this candy, I had no idea what to expect. I'd never heard of this kind of candy, so I was really interested in what it would taste like. When I took a bite, the halvah was very crumbly and had a similar texture to a cookie. It was marble, so the halvah had a chocolate and vanilla flavor with a hint of peanut butter. But the halvah had an ingredient called Tahini which was a little overpowering and made me not like it as much. The flavor wasn't my favorite so I would rate it 2/10.

Emily: When we saw this, we both had absolutely no idea what it was. After the plain dark chocolate baton, we wanted to try products with a bit more variety or greater excitement factor. This certainly did the trick. Halvah is a popular dessert throughout the Middle East. It's primary ingredient is Tahini. Although it may sound off-putting, I thought these were quite good. Each piece of the Halvah was individually wrapped. There was a marble look to the candy and it had a very crumbly texture. Initially, the aftertaste was a bit strange but after I had some more it began to taste like peanut butter. I rate these a 9/10.