Trader Joes- Dietary Friendly Desserts
Trying out Trader Joe's dietary friendly desserts
Double Chocolate Almond Flour Cookies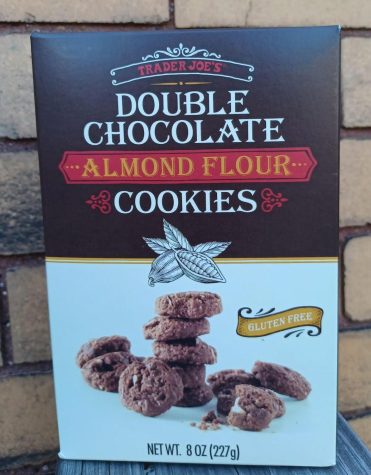 Layla: 9/10 
I love chocolate and so I loved these cookies. I loved the chocolate and the fact they had almond flour. I thought that it was great to have a variety of snacks recommended and so having gluten free cookies was super good. I loved them and would recommend whether you are gluten free or not. I think that if you love chocolate you will love these cookies. I did think that they were a little dry and a little crumbly, but other than that I loved them. 
Sheridan: 8/10
These cookies were really good and highly addictive. When I first opened the packaging, they were very crumbled and broken into a lot of pieces but when I tried them, they were surprisingly delicious. I am always looking for good gluten free alternatives because my mom has a gluten intolerance and I am so happy I found these. They are a really great dessert and not too filling. 
Soft-Baked Snickerdoodles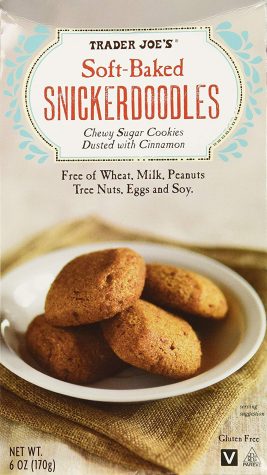 Layla: 7/10
These cookies were pretty good. I don't love snickerdoodles so I am definitely biased, but I did not think that they were that special. They are great for gluten free people, and I thought that they were interesting because unlike the other cookies that we tried, they were soft, but I think there are definitely better cookies out there. 
Sheridan: 8/10 
These snickerdoodles were amazing. I normally am not a big fan of snickerdoodles but these were really good. They were very soft and moist. I would have no idea that these are gluten free. These are great for anyone with dietary restrictions because they taste just as good, if not better than most snickerdoodles. I could probably eat the whole box because they aren't too filling, but they really satisfied my sweet tooth.
Vanilla Meringues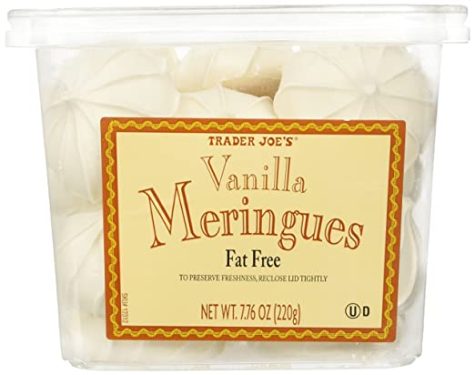 Layla: 7/10
I tried these for the first time, so I have nothing to compare them to, however they were pretty good. They were a little sweet for me, but I loved how crunchy they were.They were very light, so I could definitely eat more than one sitting. I think that they are great for people who need fat free options or need to stay low in calories, and I would recommend them to anyone. 
Sheridan: 10/10
I am so happy that I found these. They are sooo good! They are a little too sweet so I don't think I could eat a lot in one sitting. I love how they melt in your mouth plus there is a good crunch factor. They are very satisfying to eat and low in calories. These are so delicious and I highly recommend them for dessert!
Maple Leaf Cookies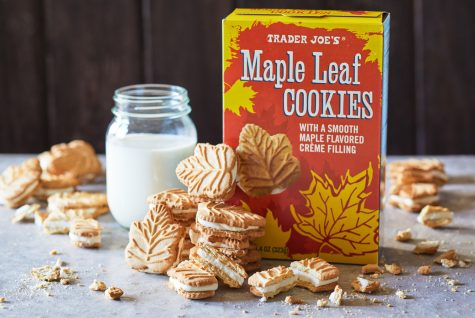 Layla: 8/10
These cookies have a strong maple flavor, which I would love in fall. I would eat these cookies at other points in the year they were so good, but I think that they are better for a colder season. The maple was very strong, which I actually liked, but it might not be for everyone. I thought they tasted a lot like pancakes with maple syrup, so I loved that in cookie form.
Sheridan: 8/10
These sandwich cookies were pretty good. These would be even better if I had tried them in the fall season because the maple flavor is very prominent and seems fitting for autumn. They kind of taste like pancakes with a lot of maple syrup. The maple flavor is kind of a lot and very sweet but it is still really good. This is a great dessert because they really satisfy my need for sweetness and I enjoyed them so much. I really would recommend these!
Chocolate Hazelnut Cookies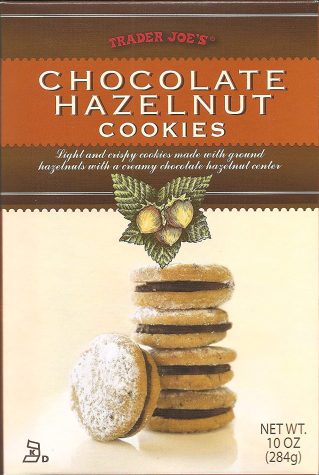 Layla: 5/10
These cookies were only okay and I think that there are other better options. I like the idea behind the cookies, but the flavor wasn't really there. I thought that they were pretty dry and flavorless, but with more hazelnut I think that they would be better. I don't think that I would recommend it, there are many other snacks that are much better. 
Sheridan: 3/10
These cookies weren't very good. The cookie part of the sandwich was somewhat dry. There was also barely any hazelnut filling in between the sandwich cookies. I would eat these but I definitely wouldn't purchase them again. The flavor just wasn't there and they were quite bland. There are so many other sandwich type cookies that I would recommend over these. 
Laceys Cookies – Dark Chocolate Almond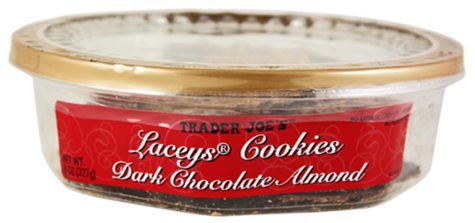 Layla: 2/10
For some reason when I took these cookies out of the box, they smelled like feet and I just hated it. They also tasted like olives, which did not sit well for me. They were very thin and I see where Trader Joe's was going with these, but I would not recommend them. 
Sheridan: 5/10
These cookies were okay. I think they were supposed to be similar to toffee because they sort of tasted like that. They had a weird aftertaste-similar to how olives taste. This bothered me a little bit because it was sort of unsettling. They were decent, especially for toffee lovers but I probably wouldn't buy these again.
Peanut Butter Cocoa Marshmallows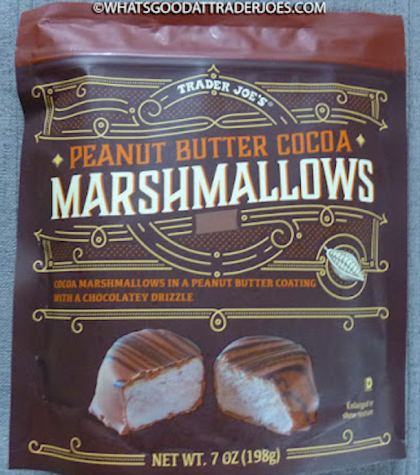 Layla: 2/10
I am starting this review off by saying I hate marshmallows so I am not really sure why I chose these snacks, but I honestly hated them.The outer covering was super good, but I still wasn't a fan. However, if you like marshmallows, these could definitely be a great snack. 
Sheridan: 9/10
Contrary to Layla's review, I loved these so much. Although the texture was a little strange, the peanut butter-chocolate combo was great. They reminded me of a peanut butter cup but instead of plain peanut butter inside, it was a peanut butter marshmallow. I would definitely buy it again and I highly recommend it. 
Hold the Dairy! Mini Coconut Non-Dairy Frozen Chocolate Dessert Cones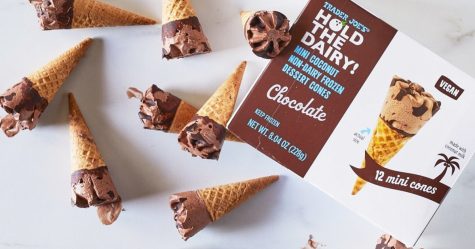 Layla: 9.5/10
Because I am lactose intolerant, I am always looking for a good alternative to dairy. When I saw these coconut ice cream cones I was very excited to try them, because I am very picky about the dairy free alternatives. When I tried these I was very pleased. I really liked the coconut taste with the chocolate, although they did not taste like real milk. I thought that they were great and I would definitely recommend it, especially on a warm summer day.
Sheridan: 8/10
These cones were so good! The coconut flavor was definitely there and if you love coconut and chocolate, you would love these. Also, for being dairy free, these cones were especially impressive. They are small enough to easily and quickly snack on and I could definitely eat a lot of them in one sitting because they are so delicious. I would definitely recommend getting these if you suffer from a dairy intolerance because they are very good!
A Dozen Macarons Variety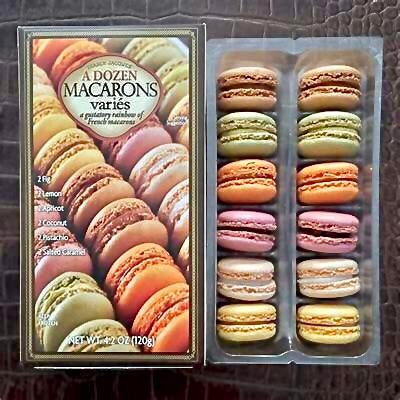 Layla: 6/10
Personally I am a macaron snob. I love macarons and am very picky about them. I always order the Laduree macarons because they are my personal favorites and they are always perfectly light and delicious. Because of this I am a harsh critic when it comes to other kinds of macarons, however, these Trader Joe's macarons were pretty good. When we bought them they were frozen and so they were not light and airy like they should be, but the flavors were very good. For that reason I have given them a 6/10 because I did like them, however prefer other kinds. 
Sheridan: 9/10
I absolutely love macarons and they are definitely one of my favorite desserts. These were very good! Because we didn't let them defrost, they were a little frozen but when defrosted, I can imagine that they would be very light and soft. The flavor was definitely there and they were so delicious. I really liked these and I would definitely buy them again. The only reason it is lacking a 10/10 is because of the options for flavors. Apricot and fig were a little bit different but they ended up being pretty good.