Ten Snacks from Trader Joe's
Scoop on what and what not to buy from Trader Joes
​Trader Joe's Organic Elote Corn Chip Dippers
Sheridan: 10/10 – These chips were amazing! The spices and flavors melted in my mouth. The chips were a perfect thickness, making them great for pairing them with guacamole. They are an amazing snack and really satisfied my crunch craving. They were a little spicy but so delicious. 
Layla: 10/10 – These chips were surprisingly really good. I did not expect to have liked them so much because I typically do not like spicy things, but the Mexican style street corn flavored seasoning was really good. They are the perfect dipping chip for salsa or guacamole because they are super thick and they will not break. Another thing that I really liked about them was if you don't want the spicy chip, they have the same chip made without the seasoning so anyone can enjoy.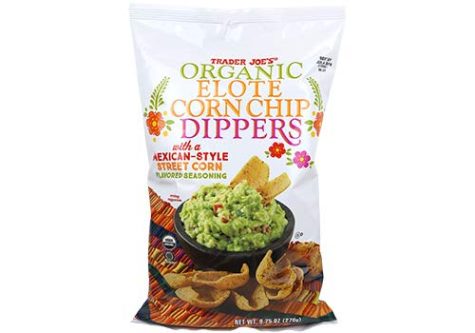 Trader Joe's Organic Cacio E Pepe Puffs – Cheese & Pepper Flavored Corn & Rice Snacks 
Sheridan: 5/10 – These puffs were okay. They were satisfying to eat but the flavors of the cheese and the pepper were kind of confusing on my taste buds. They kind of reminded me of Pirates Booty but with a different flavor combination. They probably would not be my snack of choice but I would probably eat them again. The airy and crunchy puffs were a very good consistency and the flavors really melted in my mouth. 
Layla: 4/10 – These Cacio E Pepe Puffs were only okay, the flavors did not really resemble Cacio E Pepe pasta. Personally, I love Cacio E Pepe and it is a go to pasta dish for me, so I was excited to try these puffs, but they really let me down. They were a little too peppery and honestly I would not recommend, nor would I buy again.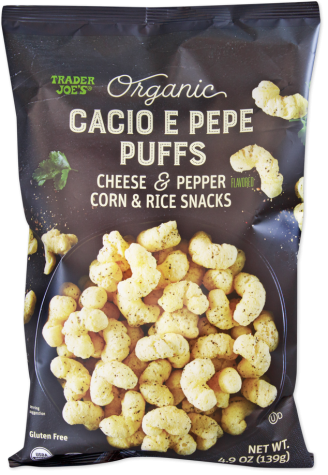 Trader Joe's Cookie Butter Sandwich Cookies
Sheridan: 10/10 – These cookies had the perfect cookie butter to butter cookie ratio. They tasted amazing! The buttery shortbread cookies crumbled in my mouth and the warm cookie butter flavor tied it all together. They would be an amazing snack, but I don't think that I could stop eating them. I also wish there was even more cookie butter!
Layla: 10/10 –  These Butter Cookies were perfection. They were a good amount of crunchy while still having an amazing creamy filling. I thought that the ratio of cookie to filling was perfect and I honestly loved everything about these cookies.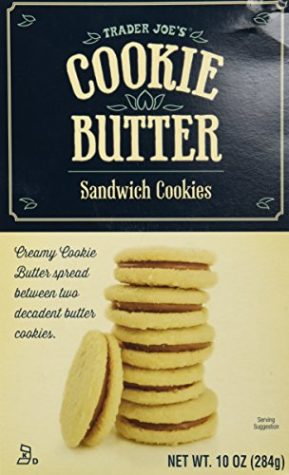 Trader Joe's Dark Chocolate Drizzled Plantain Chips
Sheridan: 8/10 – These plantain chips completely satisfied my sweet and salty craving. The sea salt on the healthy chips perfectly complemented the dark chocolate that was drizzled on top. They are a perfect snack and I could definitely finish the bag in one sitting because they are so delicious.
Layla: 7/10 – When I first saw these plantain chips covered in dark chocolate, I was very skeptical. I like plantain chips and I like dark chocolate, but I did not think I would like the combo. When I tried the chips however, I was pleasantly surprised and loved the mix of sweet and salty. My only complaint was that the chocolate melts off the chips very easily and can get all over your hands, which is not something that I like when eating my snacks.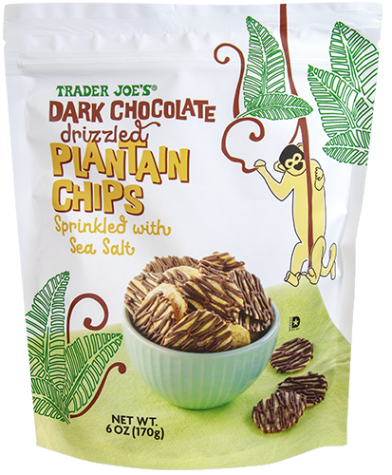 Trader Joe's Fruity Chewy Candy
Sheridan: 10/10 – These fruity chews were an amazing candy and snack. They were very similar toStarbursts but even better. The flavors tasted healthy and not artificial. They were addictive and the perfect consistency. I love these and they would be a perfect snack to delight my sweet tooth. 
Layla: 8/10 – Originally when I tried these fruit chews I thought they were 10/10 material, however the first flavor I tried was certainly the best. The pink is without a doubt the best flavor and red is a close second. After having tried the yellow and orange I was a little disappointed. I thought that they were very good, and a nice alternative to a candy like Starburst, but I think that the yellow flavor especially can be improved.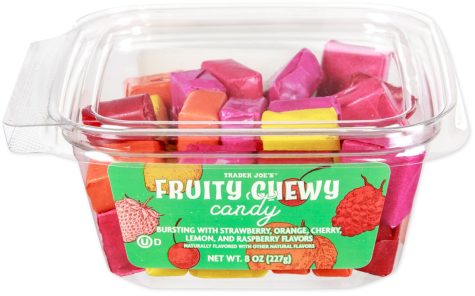 Trader Joe's Pink & Whites – Shortbread Cookies with Yogurt Coating and Sprinkles
Sheridan: 9/10 – These cookies were fabulous. The presentation was beautiful and the packaging looked perfect for spring. The cookies were decorated very pretty with multicolored sprinkles over the yogurt coating. They were very sweet and crunchy. The delicious yogurt frosting melted in my mouth and these would be an amazing snack for when I'm craving something sweet. 
Layla: 10/10 – These yogurt cookies were surprisingly super good. I find that usually yogurt covered cookies are too sweet, but these cookies were the perfect sweetness. I also was obsessed with the presentation, which I love when picking out my snacks. I thought that they were really good and loved the flavors, they were a fun take on a classic snack.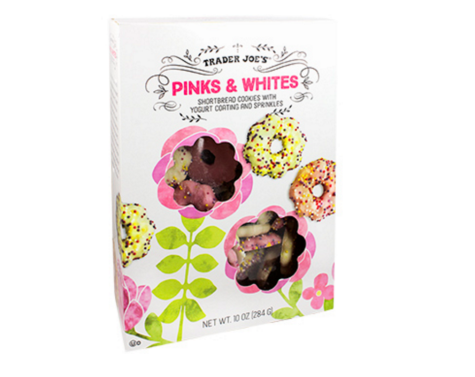 Trader Joe's Baked Cheese Crunchies
Sheridan: 10/10 – This snack is so delicious! The crunch was so good and satisfying. They tasted like a better version of Cheetos. I just wish that the flavor of the cheese was more prominent because it was very faint. I also like how they are baked and pretty healthy. They are great for snacking and I think I could probably eat the whole bag. The packaging is also very cool and eye-catching and I really noticed it  in the store. 
Layla: 9/10 – I love these cheese crunchies, basically Cheetos, but honestly better, however I hate when I get residue of a snack on my hands and these crunchies leave a lot of cheese powder left on your hands. Other than that they are super good and I loved them, they were not too cheesy, not too sweet, and not too salty, the perfect combo. They also had the perfect crunch, however if you like a cheesy puff Trader Joes also has you covered, their cheese puff has a very similar flavor, but in a puff form.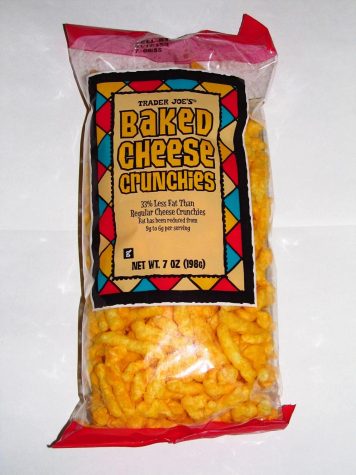 Trader Joe's Dark Chocolate Almond Butter filled Pretzel Nuggets
Sheridan: 7/10 – This was such a good snack. The saltiness of the pretzels and the almond butter complimented the sweetness of the dark chocolate so well. I really enjoyed how all the flavors mixed and I could probably devour an entire bag. Honestly, I think that this snack would taste even better if the pretzels were filled with peanut butter. This is because the bitterness of the almond butter kind of made the slight bitterness of the dark chocolate more prominent.
Layla: 4/10 – when I tried these pretzel nuggets, I was honestly pretty disappointed. I would have preferred peanut butter to almond butter because I think that the flavor would have stuck out more, and there could have been more filling. The dark chocolate that was used to cover the pretzel was very bitter, and I love dark chocolate, but I thought that it would be better paired with peanut butter.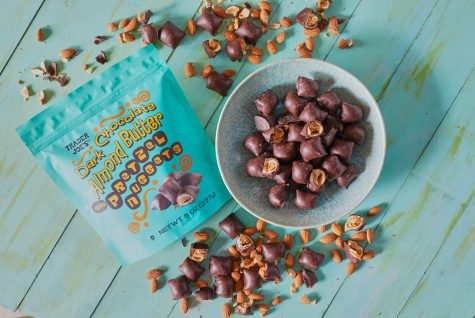 Trader Joe's Chocolatey Coated Chocolate Chip Dunkers
Sheridan: 9/10 – These cookies were so crispy and the chocolate really melted in my mouth. They were satisfying to eat and I really enjoyed the sweet chocolatey flavor along with the crunchy and crumbly cookies. The cookies were the perfect thickness and I could snack on these all day. 
Layla: 10/10 – These cookies are the perfect chocolate chip cookie. They are super crunchy, but they have such good flavor. They don't taste like a traditional chocolate chip cookie, I would definitely try them if you are a chocolate lover.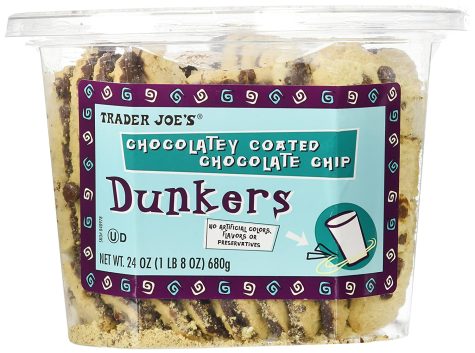 Trader Joe's Scandinavian Swimmers
Sheridan: 100/10 – This was the best snack and candy that I have ever had. I love gummy candies and they were super chewy and yummy. The flavors were delicious. Every gummy was a different sea animal and flavor. My favorites were the red lobsters and the blue dolphins. I would highly recommend this because they are dangerously good.
Layla: 8/10 – These Scandinavian swimmers are some of the best gummy candies that I have had. They are perfectly chewie and for the most part super good. I gave points off because not all the flavors are good. I love the blue and red, but the orange and yellow are only okay and I think that they can be improved. Other than that they are a very good snack and I would definitely recommend trying them.