Girls' Tennis Falls Short of First Place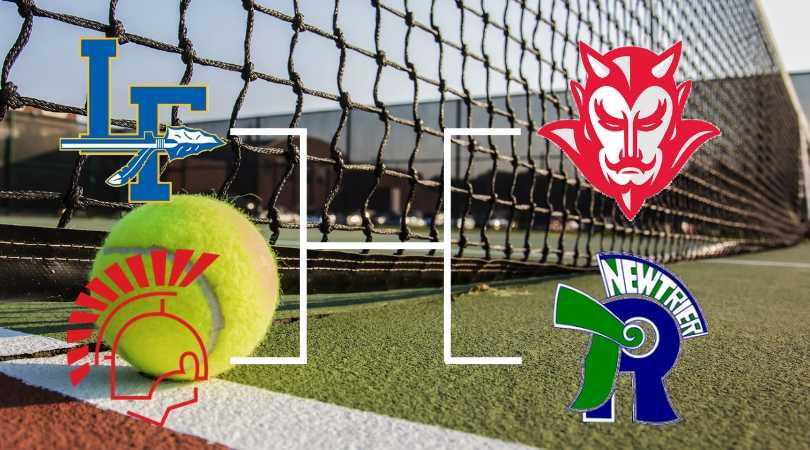 Over the weekend the Varsity Girls Tennis team played relentlessly in the Power Quad Tournament only to come in second to a non-conference rival New Trier. The Scouts' faced three opponents including Hinsdale Central, Deerfield, and the already mentioned Trevians. They faced tough opposition and were in a tournament that finally put up a real challenge for this year's powerhouse collection of players.
The Scouts got out to a quick start with wins coming against Deerfield and Hinsdale Central. The Scouts have been steamrolling their opponents in and out of the conference for the entirety of this season; however, Hinsdale did end up giving the Scouts some resistance in their matches. When the dust settled, the score was tied at three which prompted the officials to go back and determine the winner on how many games each team won throughout the match as opposed to sets. This resulted in a Scout victory, pushing them to the blue-chip matchup for the day versus New Trier.
The grudge match between the Scouts and the Trevians was exuberant, building tension with every serves and shot that followed. The key factors in the match were without a doubt the doubles grouping of Emily Asmussen and Salma Alsikafi with singles contributors Cody Avis and Kiley Rabjohns. Asmussen and Alsikafi played two, two and half hour matches which would usually wear out any other duo. However, the work that they put in during the offseason and the training from Coach Murphy kept them focused throughout the boundless games. The recently returning player, Cody Avis, looked like her old self, with an intense three-set match. "Cody is back and playing really well so it's awesome to have her back in the lineup," said Asmussen. Avis recorded the win after putting on a show in the finale of the tiebreaker in the third set.
Even after the outstanding play from the Scouts, New Trier still came away with first place. The Scouts look to keep improving as they move closer to state playoffs. "It is the hardest tournament of the year, preparing us for conference and sectionals for the weeks to come," Asmussen said. Lake Forest's record now moves to 10-1 after beating St. Viator earlier last week. The Scouts' are coming ready to play today at Stevenson after the rain out last Tuesday.
About the Writer
Brady Christoph, Author
Brady Christoph is a senior at Lake Forest High School who is an active member of the varsity baseball team. He enjoys working out and watching the Cubs....