Movement No. 2: Keeping Music Alive in College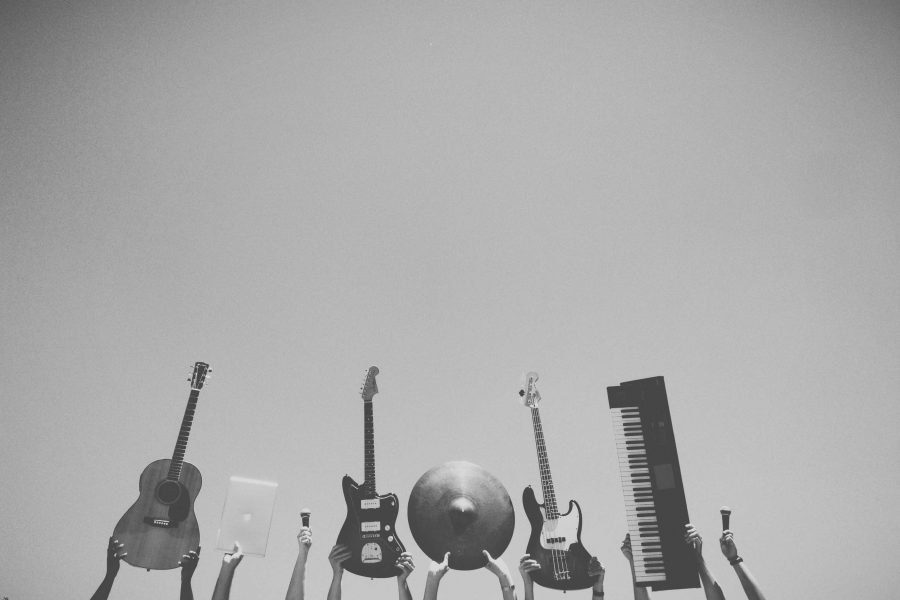 Throughout their four years at Lake Forest High School, the class of 2018 has put time into passions that reach far beyond the gradebook.  For many, this was in the form of sports and athletics. For some, it was service clubs and organizations. But for others, the focus was music.  And for a select few students, their love of music stretches far enough that they couldn't see themselves living a life without it. Be it through their major or outside of their major, these orchestra students plan to continue sharing their unique talents in the ensembles of their future universities.
Graham Breidenbach
Belmont University, Nashville TN
Bass Principle with Production
As a double bass player in the Symphony Orchestra, Graham Breidenbach has established himself as an accomplished musician, especially outside of the LFHS Music department as a student at School of Rock (he's been a participant since he was nine years old) and a member of other student-made groups.  Going into college as a performance major was "terrifying" for Graham for fears of financial difficulties and a limited career field. "Music is all I did for a majority of my life and I felt as if it would be wrong not to continue that journey," he shared regarding his choice. "I feel like I might switch majors to music business at some point, but I wanna go into this new chapter feeling comfortable that I already know what to expect."  While Breidenbach considered other majors in psychology or business, he couldn't shake the vision of ultimately spending the rest of his life with music. Outside of his major, Graham plans on collaborating with another LFHS alum at Belmont through outside groups, and he looks forward to meeting and collaborating with new people. When asked where he would see himself in ten years, Breidenbach hopes to be "constantly playing shows for people and have that mutual energy between audience and performers."  "I understand that is financially very difficult to pursue," he added. "It's hard to say where I think I will genuinely end up. All I have figured out is my aim so far."
Megan Szostak
Tufts University, Medford MA
International Relations with Music Minor
Megan Szostak has stood out in the orchestra program as a bright personality and a talented player. Beyond the LFHS orchestra, Szostak played for the rigorous MYA orchestra, and she was also a part of the musical for her junior and senior years, playing the part of the enchantress in the most recent Beauty and The Beast.  As a long time fan of culture, language, and politics, Megan chose Tufts for its superior international relations (IR) program, as well as its strong music school.  She will also take classes at the New England Conservatory because of a "reciprocal agreement" that the conservatory has with the university. "I also love Boston," she added.  Beyond her academic plans, Szostak plans on playing in orchestras throughout college and beyond, through, in her own words, "Playing in professional/semi-professional orchestras throughout [her] entire life."  She added, "I also love music history and composition, which is something that I don't necessarily need a degree in to continue learning about. I think that being a music history professor would be so so so fun, if I decide against IR."  As for music composition itself, Megan has composed a few string quartets, piano solos and orchestral waltzes, but she doesn't see herself taking that on as a career, more a hobby. Outside of her major, Szostak plans on playing "chamber music, like string quartets." "I do that now with MYA and love it so I definitely see myself continuing with it," she added.  "Also this is a little odd but I love irish/celtic fiddling," Megan shared. "Boston apparently has a huge scene for that, so I'm hoping to integrate myself into the Irish culture of Boston." When asked where she saw herself in ten years, Szostak mused that "I do not see myself stopping my education in four years, and would probably go crazy if I did! I will for sure continue with music wherever I end up, whether that be a community orchestra or a more intense one."

Kyle Waggoner
University of Denver, Denver CO
Business Analytics with Music Minor
While orchestra may seem like an entirely serious ensemble, senior Kyle Waggoner always finds a way to lighten the mood.  This honors bass player established himself as comic relief, but also solidified his role as the kind and fun section leader during his time in the Symphony Orchestra.  The orchestra is playing an arrangement of the Smash Mouth hit "All Star" at the final concert, arranged and conducted by Kyle himself. While he does not plan on majoring in music, Waggoner plans on auditioning for the university orchestra by preparing scales, an etude, and two contrasting solo pieces.  "Music has always been such a big part of my life, so I want to continue playing in college," Kyle added. "Also, Denver's music school is really really good." When asked whether music would be a part of his life ten years into the future, Waggoner shared that "Music is a lifetime hobby. It's not like a sport that after you pass your prime you can't play. Music is something I'll have for my life so regardless of where I am or where I'm living, I'll probably still have my guitar next to my bed and my keyboard and bass in my room."
Thomas Knipe
George Washington University, Washington D.C.
International Business and Spanish
Orchestra co-president Thomas Knipe always has a smile on his face and a positive attitude to share with his fellow students.  Although he does not plan on majoring in music, Thomas does plan on continuing to play his cello in college. "I'm going to play in a non-music major orchestra for kids that want to keep up orchestra," he explained.  "There is a small audition but it not too rigorous." Thomas attributes his major choice to his love of language and culture: "I really like languages, so I'm gonna study Portuguese and Chinese as well but I just know Spanish the best," he explained.  "[I want to study] business because I want to use my languages as well as some math." For Knipe, his ability to play music is not something that he takes for granted. "I want to stick with music because playing an instrument changes the way one looks at the world," he shared.  "Musicians have a unique advantage in which they know how to listen for hidden details, and I believe that that's important in every aspect of life. I don't want to lose my ability to do that." When asked about what his life would look like in ten years, Thomas sees himself "hopefully living somewhere outside the U.S. working but also participating in a community orchestra."  Will languages play a factor as to where he will choose to live? "Yeah, I see myself living in a country that speaks a language I speak," Thomas replied confidently.
About the Contributor
Katie Pierce, Editor in Chief
Katie Pierce is a proud senior at Lake Forest High School. Besides being Editor-in-Chief of TFS, Katie is a drum major of the LFHS band, and spends most...