The Forest Scout Friday Five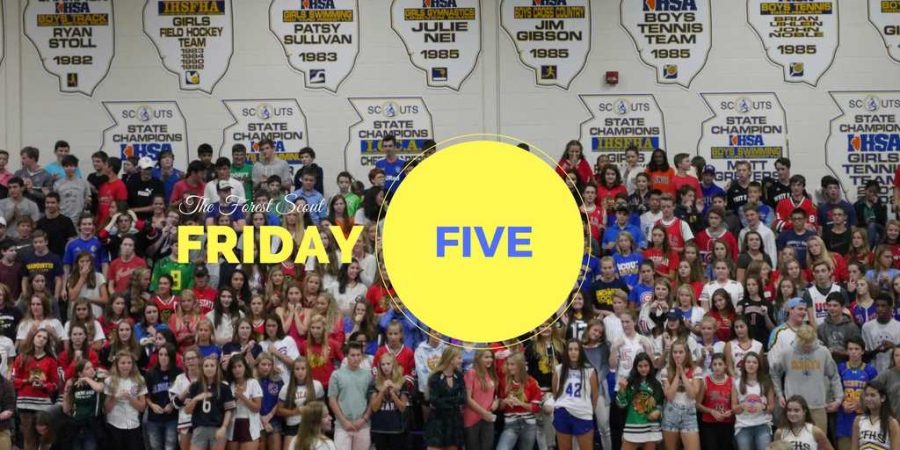 The Forest Scout Friday Five is a weekly segment that celebrates five people making a distinct, profound, and positive difference in the Lake Forest High School community. To visit our most recent installment, click here. To recommend a student, teacher, support staff, or community member for inclusion in The Forest Scout Friday Five, please email [email protected]ols.net.
Kyle Wix: There may not be someone at the high school more well-known than senior Kyle Wix. Wix, now a senior, has been one of the more interesting people to come through the high school in recent memory, often labeled as an old soul navigating the milieu of high school life. You've probably heard his voice booming through the hallways when he announces people's names like he's on the PA system at West Campus, or maybe you've seen him leading the student section at the Scouts football and basketball games; or you might have seen him simply chatting up one of the freshmen he TAs for in Wellness for Life. And if any of those things don't ring a bell, you've probably heard him on The Forest Scout's very own Daily Dose podcast, which he records by himself every night.
It'd be hard to find someone with more school spirit than Wix, who embodies the epitome of a super-fan, especially when it comes to Scout athletics and Penn State football. In addition to being the student section leader, he also announced for the girls field hockey and boys soccer home games this fall and looks forward to doing the same for the boys and girls lacrosse season this spring. In fact, his ties to LFHS run so deep that he even laid claim to a summer job working at the high school for the Athletic Department. Wix is simply a do-it all kind of guy: a great student, an excellent person, in fact, who is involved in the community and is a positive leader for change at the high school. Whether it's in the classroom or on the field, he is always taking initiative and is never afraid to be vocal.
While he can be demanding, inasmuch that he expects the best from his classmates, he's also one of the most easily approachable people at the high school thanks to his warm smile and deep chuckle. One of his fellow classmates describes him as, "A hard worker in the classroom, and a passionate, easy to talk with peer."
If you know him personally, you know that above all else, the man loves to fly. If you don't believe me, next time you see a plane in the sky, point it out and he'll identify what make and model it is. The only thing Kyle loves as much as flying is baseball, another aspect of his life  he is passionate and knowledgeable about. Whether it's pretending to announce games, watching the Phillies almost religiously, or playing for the Scouts, you can see and feel the passion he has for the game quite clearly. You'll be able to catch him in the Scouts' rotation this year as he returns to the varsity squad. The right-hander's approach on the mound is much like his approach in life, composed–never too quick or rushed–and well-thought out. LFHS will certainly miss Kyle Wix and all the he does for Scout Nation, The Forest Scout, Scouts baseball, and so much more when he moves on to Purdue University next fall. But his best days are certainly still ahead of him. 
Catherine Pasquella: Sophomore year can be a difficult transition for most. With classes becoming seemingly more challenging by the day, and premature anxieties over the ACT beginning to take shape in the back of their minds, the mass majority of students will complain over the lack of time for anything other than their rigorous, AP-filled class schedule and the hours upon hours of homeworking that thereby follow. Yet, few are able to find that perfect balance between retaining a high GPA and staying active in the various endeavors that our high school has to offer. In the case of sophomore Catherine Pasquella, she is able to effortlessly do so, all while maintaining her smiley, upbeat personality.
To simply label her as active would be quite the understatement. Whether you find her dominating the courts in the fall for the girls' varsity tennis team, or employing her leadership qualities across Women's Club, Latin Club, and Student Council, Catherine's active nature in just about every club of LFHS is like that of no other. Not to mention, somehow and in someway, Catherine finds the time to help out as a Wellness for Life TA, support her older brothers in their differing sports, and dedicate just about anytime left over to focus on her love for ceramics.
Aside from her jampacked schedule that most others would find humanly impossible, Catherine always finds a way to spread her vibrant, unwavering personality to just about anywhere that life takes her. Moreover, Catherine never fails to make time for those closest to her. Lifelong friend and classmate, Grace Gescheidle, can attest to such a statement, stating, "Catherine's about as good as they come. She's funny, caring, trustworthy, and flat-out amazing. She's the one person I know that will always brighten my day and bring me to tears laughing."
All in all, for those who have the pleasure of knowing her, Catherine is a truly special breed; there's not many like her out there. To have the ability to change the course of someone's day with a smile alone, no matter how stressful and energy-depriving her day may be, is a trait we all one day dream of possessing. Who knows, maybe one day she'll find the time to teach us all.  
Sam Starr: Sure, there are plenty of LFHS students interested in things like the NFL or even Fortnite, a game which has catapulted itself into popularity this year. But not many students–if any at all- share the keen and enthusiastic interest in elevators that sophomore Sam Starr holds dear. Starr, who admits to loving things like elevators, sirens, fire alarms, and planes for a very long time, recently started to document his obsession with videos and pictures for social media.
Check out @elevatorsofLakeCounty, run by Starr himself, and you'll see some of the most fascinating elevators in all of northern Illinois, narrated by Sam as he demonstrates his unique and nuanced knowledge of the vertical transportation device. Aside from Instagram, Starr runs his own YouTube channel, which also features many of the spectacles the sophomore finds fascinating. Though most might label him as quiet, when opened up to the right topic, Sam Starr can spout information by mass amounts, and even spread some quick sass–another one of his trademark attributes–along the way.
Though Starr is just a sophomore, he is known by many as the type of student who shows off his interests passionately, which is certainly to be commended, but is also the type of young man who shows off his smile with all those he comes across. It only makes sense that this smile is most prevalent in Mr. Dudeck's CAD Engineering 2-H class, as Starr is no doubt attempting to learn more about how elevators work in all of their intense complexity.
So we celebrate Sam Starr because he's not afraid to be unique, and he's certainly not afraid to show it. Perhaps if many of his classmates stopped worrying about "what was mainstream and popular" and concentrated on "what makes them individually tick" we'd have a few more students as interesting and as exciting as sophomore Sam Starr.
Mr. Chris Finley: Lake Forest High School English teacher Mr. Chris Finley is known for teaching high school students how to appreciate things that high school students don't normally appreciate. "We learned a lot about art, philosophy, and transcendentalism," mentioned senior columnist Elizabeth Porter. "But we also listened to some jazz," added senior Editor-in-Chief Grace Scheidler. Indeed they did, because the Finley way of English class is one that often celebrates the finer details of life, thought, and human behavior, not just literature.
"Everyone in class feels welcomed," mentioned former senior Humanities student Kylie Murray, "and he encourages us to learn through discussion with each other." This mode of operation facilitates a carte blanche environment for seniors when they need it most. After all, it's their last rite of passage in English class before higher education, so they best learn to behave themselves like adults, manage their insights and opinions intelligently, and become a productive member of the class, all without the punitive punishment that Mr. Finley refuses to employ.
"Mr. Finley is a worldly man," mentioned another senior student who took his class as a sophomore. "He's one of those guys that if you listen to everything he says carefully, you'll leave class with some piece of new information every day." Needless to say, Mr. Finley's English 2-H, English-3, and Humanities courses are enjoyed most by those who know how to enjoy things in their simplicity and apply their knowledge towards greater thinking.
For students, room 303 is a bit like Walden's Pond in a way. "He's going to teach you an awful lot, but he's not going to be the type of teacher who ends up doing it for you," added one senior. In Mr. Finley's class, thinking is a requirement, which of course seems simple. Yet, if you look at it a bit closer–which is a task English teachers often do–you realize that the patience, thoughtfulness, and intelligence inside LFHS' Mr. Chris Finley is ultimately what resonates, and most importantly keeps you thinking, long after the last day of Humanities.
Patrick Corrigan: In and out of the halls of LFHS, junior Patrick Corrigan is widely known as a well-spoken, well-informed, and well-dressed student. Outside of the debate room, cockpit, and kitchen, where he especially loves to bake, Patrick takes with him a warm cup of coffee and his unwavering wit.
As a two-year member of the Debate Team who served as a super delegate his junior year, Patrick has proven himself to be an "invaluable" member of the team, according to Vice President Jared Rose. He "truly represents what it means to be a super delegate," and in his two years he, "has grown to be one of the team's best speakers." Patrick's ability to "eloquently and logically defend a position," as one senior member put it, also serves him well elsewhere. Most notably in the classroom, where Patrick is always well-equipped not only to listen to his peers, but also further any class discussion. "As his teacher, I appreciate the intellect, wit, and personality that Patrick brings to the classroom. He is posed in thought, but never takes himself too seriously," mentioned his English teacher Ms. Meaghan Laughlin. It's Patrick's great sense humor that seems to stick with his peers as well–especially his witty one-liners or well-thought-out jokes. "Patrick always seems to get me to laugh" recalls fellow junior, George Schoettle. "However, it's that clever humor that has made one or two enemies at a couple conventions" he jokes.
Outside of the high school, Patrick spends a lot of his time in the air; and when he's on the ground you'll often find him planning out flight paths and destinations for an upcoming weekend. "Every Monday in our English class, Patrick is talking about where he flew," says one classmate, "as if being a pilot is no big deal." Lastly, Patrick Corrigan has also made a wonderful impact through the Community Church, having gone on a couple of work trips with his youth group. As a role model to his peers, an active leader on Debate, or as a great addition to any class, Patrick Corrigan–his coffee cup in hand–has made the high school a better place for it all.
About the Writer
Ghost, Author
Ghost is a section of The Forest Scout that chooses to publish material anonymously in order to increase the depth of their investigative reporting. Ghost...