Forgiveness in the Midst of Tragedy: LFHS' adaptation of Jessica Dickey's 'The Amish Project'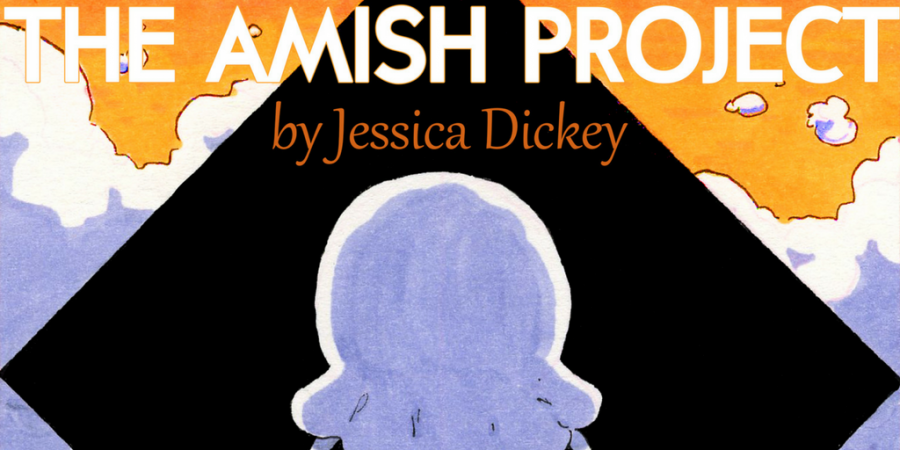 The name of this year's winter play might catch you by surprise: The Amish Project.  Beyond the title, the show itself is proving to be a raw and real experience that touches both the audiences and the actors that have come to know it personally.  Based off of real events, The Amish Project tells the story of the tragic school shooting in the Amish community of Nickel Mines, Pennsylvania back in 2006.  "This show is unique because it is delivered through story theater, meaning the ensemble and lighting make it a different art form and a completely different play," says Antoinette Pompe van Meerdervoort, who plays Carol, the gunman's wife, in the show.  "Throughout the show, [Carol] slowly breaks down, due to the tragic event that [leads] her to go nuts. Eventually, [the show demonstrates] her path to recovering and how she accepts forgiveness, and passes it on to others."
The Amish Project has proven to be a challenge for the actors to execute and perform.  "It was even new for the director," shared Jaclyn Lonergan, who plays the role of Velda.  "This play demanded so much focus from everyone… everyone feeds off of each other's energy. Through this process, I have learned how to truly work with my cast members as a unit, as well as with realism and honesty. Mr. Pulio kept telling us that 'we couldn't act our way through the show.'  We had to feel everything our character was feeling, which at times was very difficult."
"I truly believe I have grown from this experience as an actress and am now able to become more vulnerable on stage, which is a key part of realism," Pompe van Meerdevoort added.
Amid the dark subject matter is a deep and powerful theme that the play focuses its message around: forgiveness.  Throughout the course of the play, the audience is able to observe how characters come to terms with the tragic shooting, and eventually how they come to forgive the evil in the event that shook the entire community.  "This show is a must-see because the plot is more than just the school shooting, but the concept of forgiveness, and how it can set you free," Antoinette told me.  "Our version has done a wonderful job of incorporating that depth into our performance. It is definitely the first time LFHS has performed a show like this."
"The play is thought provoking and I really hope the audience members appreciate its true meaning, forgiveness, which is inherent to the Amish culture," Lonergan shared.  "We don't want to commemorate this event in its tragic form, but show how the Amish, as a people, extend their forgiveness to all."
The Amish Project will have performances on February 1st, 2nd and 3rd in the David Miller Theater at 7:00 PM.  Tickets can be bought online or at the door.  The Amish Project is directed by Mr. Pulio.
About the Writer
Katie Pierce, Editor in Chief
Katie Pierce is a proud senior at Lake Forest High School. Besides being Editor-in-Chief of TFS, Katie is a drum major of the LFHS band, and spends most...