Hottest Verses of 2017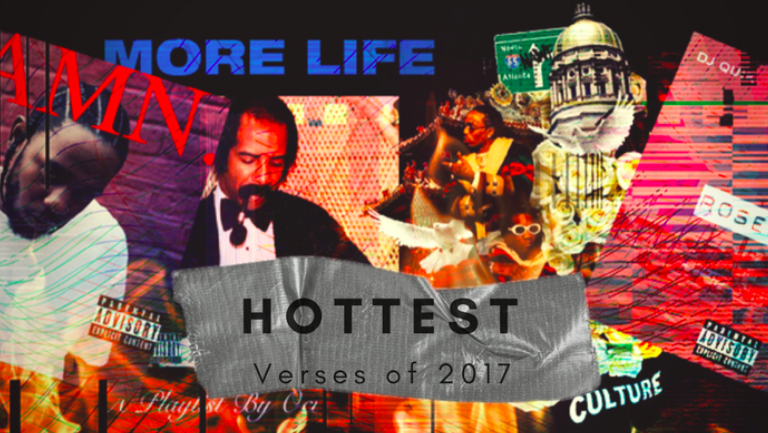 Tory Lanez, Funk Flex Freestyle
Daystar Peterson, better known as Tory Lanez, had flow and style during his funk flex freestyle, which earns him my number one spot. Between the the lyrical complexity, verse pace, and genuine style of his freestyle, he set him aside from the rest of the artists on the top 10. His in-your-face, flashy, and snappy verses make it hard not to start vibing with bars.
 Black Thought, Funk Flex Freestyle
Black Thought brought the old school style back with 21st century lyrics. The beat is a simple jazz old school, but Black's thought lays modern lyrics over it, and opens up a whole new range of music. While listening, it recalls  legends such as NAV or Biggie, and with the solid 10 minutes of freestyling, it is Black Thought in the second place spit.
 G-Eazy, "Leviathan"
The San Francisco native has had a stellar year when it comes to career moves in 2017. Whether it's a new Billboard's top 10 album release or a new tour date, G-Eazy has put his music first and it's paying off. In his new album, The Beautiful and Damned, one of tracks stands out personally. "Leviathan" has a hard base/trap beat to it but the chorus comes around and brings an upbeat jazz feeling created by Sam Martin.
Jeezy, "American Dream" (ft. J.Cole, Kendrick Lamar)
Between J. Cole and Kendrick Lamar, both artists are known for voicing their opinion in their music. The beat in this particular track has a fast pace mixed with a short snappy snare beat, layered with J.Cole, Jeezy, and Kendrick Lamar's meaningful verses. This track earns the number four spot because of the verse skill, pace, and the clear, heartfelt message conveyed, discussing the hood and the american dream of chasing wealth and new having to deal with poverty or inequality.
Jay-Z, "The Story of O.J"
Jay-Z is a legend when it comes to hip-hop, and with the release of a new tracked, "The Story of O.J," Sean Carter's message delineates the inequality the black community has undergone in the 21st century. He uses O.J as an example for the track. This is a hard message to get across the right way without offending fans, but between the simplistic beat and short, simple lyrics, it doesn't take many words for HOVA to land himself in this list.
Joey Badass, "AmeriKKKan Idol"
Joey Bada$$ may have earned the number six spot on this top 10 verse list, but he definitely has the fastest verse among them all. The beat is built of a simple snare/drum beat while Joey lays out his verse faster than anyone; but just because it's fast doesn't mean its not meaningful. The message, akin to many artists on this list, is preaching about inequality in the 21st century, but because of the simple beat and the pace that he spits his verses on, it is undeniably fresh.  
David Banner, "Who Want It"
Now if you're looking for simply a diss track–complete with in-your -face lyrics and spunk beat, then this track is what you're looking for. David Banner lays out verse after verse preaching a simple message that his style is the most unique. The verses are laid out like a classic hip-hop song, full of adlibs and verbs, but the punk rock vibe makes it a fun and hot verse for 2017.
Fred the Godson, Freestyle Funk Flex
Fred the Godson has a simple, almost Gucci Mane-like style to his verses, but like many of the tracks on his list, it has a simple jazz beat. This beat consists of some nice brass pops as well as the classic snare/drum drops, but as Fred lands on he beat, he mixes his own style and what seems like a New York flow for his verse. Between the simple beat and the classic upbeat NYC style, Fred the Godson lands on the list.
Drake, "Do Not Disturb"
Drake has become one of the most well known rap artists in the game, never mind 2017. But with the release of lots of new work–ranging from a new album to working with artists such as 21 Savage–this track just added to his list of successes last year. Drake lays down his own unique style on the simplistic drum snare beat, but with the mix of both long and short verses, you can feel the complexity and heart that goes into Drake's bars. This is yet another example of how Drake is dominating all angles of the rap game today.
Frank Ocean, "Biking"
Frank Ocean made the top 10 list because of his absolutely unique style he brings to the rap game. Whether you are discussing verses or beats, he brings an upbeat, heartfelt, almost BlackBear-like style to the table and many artists are taking notice. Such artists as Jay-Z and Tyler the Creator have taken a liking to Frank Ocean's style, due to its speed and Cali vibe when listening. The beat consists of a very low drum beat laid over like I said a southern Cali summer single vibe.
About the Writer
Patrick Philpott, Author
Patrick Philpott is one of the writers for The Forest Scout. He enjoys all music and his favorite subject in school is English. Patrick is currently a...