A Tale of Two Styles: Trap Music vs. Socially Conscious Rap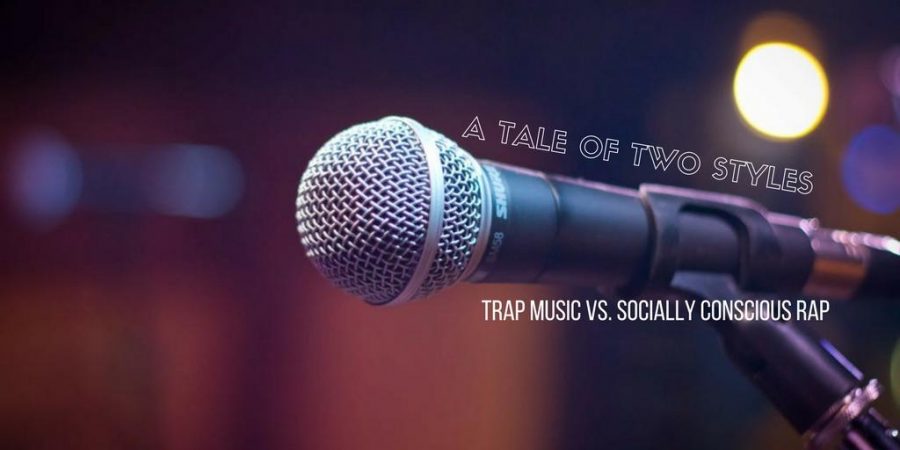 Follow @theforestscout on Spotify for curated playlists by all of the authors.
Trap Music:

Socially Conscious Rap:
With the music world only having one spotlight, every genre is constantly fighting for the fame and glory the spotlight provides. But, with current style and millennials controlling social fashions, two specific styles are colliding for the survival of their own respective styles: trap music versus socially conscious rap. I took a deep look into not only the history behind these two music styles, but also to understand how these two art forms are evolving in the current world and how their fight for the spotlight affects the the lyricism and content in the lyrics.
Trap, a colloquialism for a place where people take drugs or sell drugs. This is very common in low-income areas and cities such as Chicago, L.A, and Atlanta. Many might question how this term came to be attributed to rap music. This term popped up in the early 2000s and was usually given to a rapper who glorified selling drugs, and other "attributes" that come with living in a low-income area as a rapper. Topics in trap music range from getting women to getting guns to garnering fame. Modern day rappers that match this profile constitute a fairly long list.
Young Jeezy, Yo Gotti, Chief Keef, Waka Flocka, and Gucci Mane are just a few rappers that match the aforementioned trap style, but just simply knowing an artist's style doesn't give you a deep insight of how these artists have turned their into a lifestyle. So let's take a look into the life of a young trap artist that's life was sadly ended shortly because of that lifestyle. Lil Snupe (Born Addarren Ross in Winnfield, Louisiana on June 13, 1995) came to fame when he approached Meek Mill, another rapper linked into a controversial prison sentence, in his tour van and gave Meek his mix tape. Meek loved the track, and Lil Snupe joined the tour.
After a few months of their relationship, Meek wanted Lil Snupe to take his music career to the next level. Later that week, he signed on with the Dream Chasers roster and Lil Snupe's career had a promising future with rising artist Meek Mill. After creating songs such as "Started From The Bottom Freestyle" ft. Lil Snupe & Meek Mill,  Sway in the morning "Deep Cover" Freestyle ft. Lil Snupe, the young Louisiana artist was looking like Meeks protege to many in the rap community. Sadly, this young star's life came to a halting end on June 20, 2013. After being shot in his hometown, Lil Snupe died on arrival to the hospital; while friends and family mourned the loss of this young, talented artist. This music style stray away from these feelings of pain and loss by trying to glamorize artists new lifestyle.
Now many people know the difference between a tricycle and a bicycle: a tricycle has three wheels while a bike only has two. With rap music, every music lover knows the difference between trap music and socially conscious rap. Conscious rap is often considered to be the opposite of trap music, while conscious rap music is often lyrically describing a certain deeper meaning. Conscious hip-hop or social consciousness hip-hop is considered to be a sub-genre of the rap community and consists of lyrics that focus on social issues. In several cases, including within genres of music like rock, country, rap, the umbrella term was originally coined by music lovers and music critics rather than actual artist themselves. This style of rap isn't necessarily overly politicized, but it does base itself around social conflicts.
Such artists that fit this profile are G-Eazy, Logic, Lupe Fiasco, and Childish Gambino. Although, like trap music, for a person to be considered to be a conscious rap artists they don't necessarily have to make conscientious rap music all the time. Many artists switch between styles. For example, popular Canadian rap star Drake switches his own music styles periodically throughout his career to dabble a bit in both genres. But many artists do venture into conscious rap, albeit only briefly and not for an extended period of time. While artists often switch between styles, there are artists who don't fall in either category.
Some artists go even as far as making their own styles, almost like a combination of certain music styles. For example, Lil Uzi's musical style represents a rap background mixed with his own personal lover for rock music. This gave Lil Uzi a general uniqueness for music lovers because of his own combination of the two music styles. This can be seen done by artists all across the music genre, but just like mixing different styles of music, some artist have tried to combine trap music and conscious rap. Rap star Kanye West has had his fair share of trap songs and conscious rap songs. You can even go as far to say that by mixing the two umbrella styles of rap he has created yet another umbrella style of rap.
Now that there's a pretty clear difference between trap music and socially conscious music, we can go over the competition element to the argument. Due to the current day and age, trap music is on an unstoppable rise. Trap music is considerably more popular and mainstreamed while socially conscious rap is way more underground, and social-issue based, which causes it to be time sensitive. But as to which one is truly better, rather than which one is more popular, it is up to you to decide what is your preferred style. It comes down to your own music taste and preferences–whether your music playlist is packed full of bangers or is made up of meaningful rap music tailored around what you find important. Either way, both music styles are here to stay and there is only one spotlight.
About the Writer
Patrick Philpott, Author
Patrick Philpott is one of the writers for The Forest Scout. He enjoys all music and his favorite subject in school is English. Patrick is currently a...