Boys Soccer Bows Out to Hersey in IHSA Regional Quarterfinal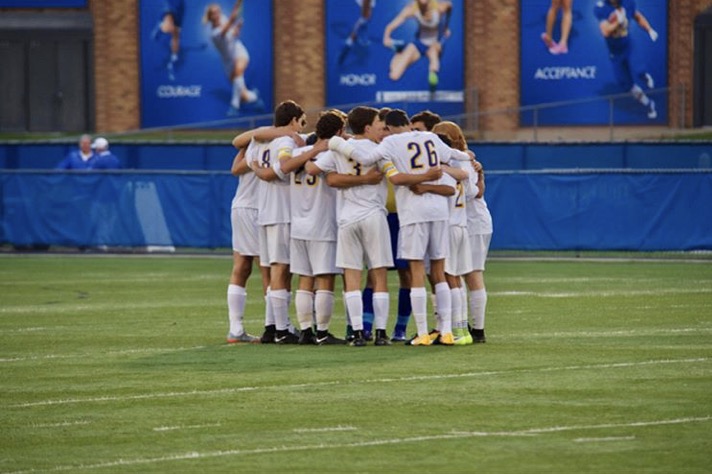 LAKE FOREST, Ill- On Saturday, the Chicagoland area saw heavy and consistent rain that not only flooded streets and lawns, but Varsity Field as well. As a result, the boys soccer game was moved to Monday as they faced off with Hersey High School in an IHSA playoff regional quarterfinal game. After a long, up and down  regular season, the Scouts looked to get back on track with a strong playoff run, but they would have to upend a feisty Hersey Huskies to advance into the Carmel Regional.
Both teams looked to start out fast which lead to many scoring opportunities early on. Just ten minutes into the game, Lake Forest goalkeeper John Walsh left the net to stop Hersey defenseman Trey Schmidt. With the goal empty, Husky forward Mike Senezco had an open shot, but he missed high and wide saving the Scouts for the time being. On the other end, senior Jack Page headed a ball on goal, but strong play from Husky goalkeeper Nick Clarizio stopped the scoring chance. For nearly 35 minutes, the game remained scoreless with both teams battling hard until the Huskies finally broke through.
Nearing the end of the first half, Schmidt managed to barely kick the ball above the head of Walsh to give Hersey the 1-0 lead at the half. Out of halftime, things began to unravel as Lake Forest was called for an unfortunate penalty in the box. The penalty gave Hersey freshman Ronan Wilcox a penalty shot and he capitalized on the opportunity to put the Huskies up 2-0. While the Scouts battled hard trying to equalize the score, they failed to find the net. The Scouts offensive woes put pressure on the defense and they surrendered a breakaway goal to Eddie Marin, and forward Matt Shanashewsky capped things off with a final goal to put Hersey up 4-0.
As the time ran out on the game, so did the chance for the Scouts to save their season. They ended up falling to Hersey by a final score of 4-0, and with that loss their season came to a close. Hersey will advance to play Waukegan in the Carmel Regional tomorrow, while the Scouts are sent home with their heads held high from a memorable season both on and off the field.
About the Writer
Kyle Wix, Author
Kyle Wix is honored to join The Forest Scout reporting for the In Between the Lines and In the News section covering important school and world issues....