Boys Soccer Team Rebounds with Strong Season
After a disappointing season where Boys Varsity Soccer went 2-7-2, expectations may have been low this year; however, the team has earned their best record since 2014, and they hope to ride this momentum into the upcoming playoffs.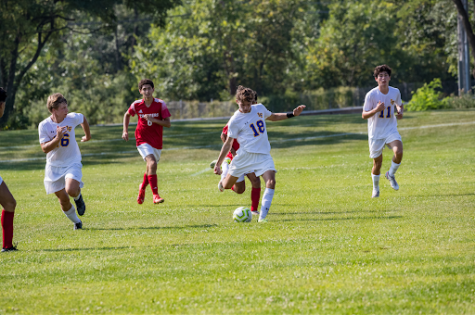 With a record of 6-6-4, the team has improved on expectations.
"We have had our ups and downs, but we have had some really great results against tough competition this season so hopefully we can keep that going into the playoffs," said senior Midfielder and team Captain, Anthony Fiordaliso. 
Covid pushed the team's 2020-2021 season to the spring resulting in a shorter offseason, and less time for the players to prepare for the upcoming season. 
Despite this, the players adjusted well, and quickly began to form a team chemistry that was pivotal to the team's success. 
"Unlike the two previous years there isn't a separation between the grades. It feels like it's just a group of friends who want to play and win." said two time team captain and defender, Thibaut Sacherer.
This team chemistry has stayed persistent throughout the year, and has been one of the most unique aspects of this team. 
"I think the team chemistry has been crucial in us being successful this year," Fiordaliso said. "Everyone on the team gets along great, and this has helped us get through challenging opponents together and has also helped us as a team really well." 
Along with the team's chemistry, the team's play has been a major improvement. 
"The guys up front have been playing great so far, and I think they are the reason why we have a much better record this year than we had in recent years," said Fiordaliso.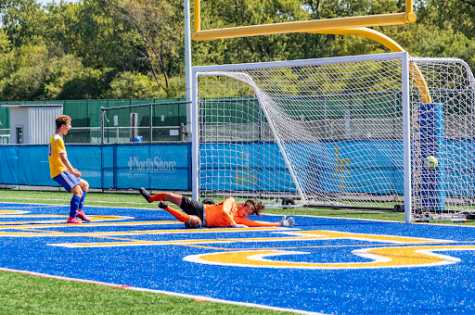 Senior Captain Jackson Shoemaker and junior Jack Rice have been the stars for the scouts' offense. Shoemaker has seven goals and seven assists thus far while Rice has six goals. 
"They are the ones who make our offense," Thibaut said.
While the offense has been a bright spot for the team, the defense for the Scouts is also a force.  
Senior Ben Winebrenner is one of the team's goalies. Ben is an avid soccer fan, however, the past few years he hasn't been playing. This year, he decided to join the team, made varsity, and has been one of the Scouts' key contributors. 
"Despite his inexperience, he has been amazing for us so far and has also been one of the best leaders too, although he is new to the team," said Fiordaliso. 
Senior defender Joseph Hanson has also been a great member of the team. 
"He doesn't get as much credit as I think he deserves," said senior Midfielder Wesley Michael. "If you really look close and watch the games you can see him having a very big impact on defense."
The team began the season on fire, starting 4-1. Despite this, they would go on to lose their next two games, and tie their third. They were able to stay close in these games, and ended up winning their next two games after this. 
Up to this point, the team had been Covid free, but that didn't last long. Several students missed time because of the virus.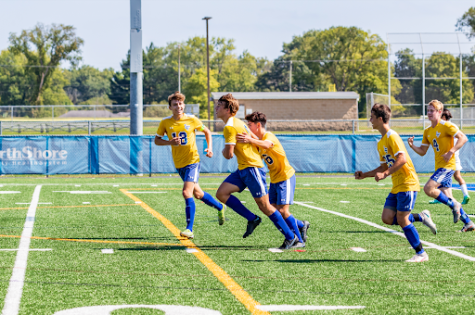 The loss of players in the middle of the season resulted in changes that, in general, hurt the team. Plays that once were called for specific players no longer worked, and offensive production slowed as the teams' best offensive players had to move to the midfield. 
These changes and the loss of key players resulted in two ties and a loss at a time where the Scouts weren't at full strength. 
"If we had the players who were gone we could've won all three games," said Sacherer. 
The Scouts are currently searching to regain their early season form with a healthy roster as they head into their final regular season game. 
Despite the returning players, the Scouts lost to Lakes this past Saturday. Lakes scored two goals late in the game to win 3-2.
"We thought we could easily win," Thibaut said. "It is a wake up call that we needed."
Coming off of this loss and a tie, they still have plenty of room to improve before the playoffs. 
"I think some of our ties were definitely winnable games," said Michael. "We should come out of the gates strong and not let up right when we get in or right at the beginning of the second half."
Whether it be in games or during practices, the team is determined to stay focused on the task at hand.
"An important thing for us to work on would just be our mindset. Making sure we play 110% no matter what drill we are running in practice, or no matter if we are winning a game or losing a game," Fiordaliso said. 
This past Tuesday was senior night for the team, where they tied Mundelein 2-2. While tying wasn't the result the Scouts wanted, it was the circumstances of the tie that made it special. 
"We were down 0-2 going into the last 10 minutes of the game but we all knew that we had to at least show up for senior night so everyone on the team really tried their hardest, and we were able to bring it back to a 2-2 tie," Michael said. 
With just one game left on the regular season schedule, the scouts prepare for what could be their most important playoffs in years. Expectations are high, and the team is ready to continue to work and produce on the field. 
"I think there is always room to grow and each practice and game is definitely an opportunity to get better, Anthony said. "I think if we can touch up on a few things and make sure we stay healthy, though, we have a really good shot at making a run in the playoffs."