Scouts Two Game Win Streak Ends In Loss To Libertyville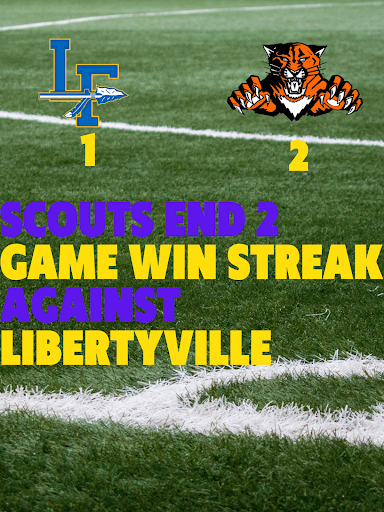 With a defensive heavy first half the Scouts were down 1-0 at half time. The Scouts knew they needed a precise attack to tie the game. "We knew we had to keep up the intensity." said Brennan Riley "we needed to score within the first 5 minutes and dominate." 
Jack Rice scored a game tying penalty kick by getting a Libertyville player to draw a foul. "It was pretty exciting to get the team up and out of their seats. That's something we hope to do in the future, bring the energy, because we definitely play better when there's energy," Rice said.
Unfortunately a series of penalties made it harder to cover everyone on the field. "Well, we were definitely fouling people which was kind of irresponsible of us, and we were getting yellow cards and eventually one red card so we had to play down for basically the entire second half. We were just lacking a little bit in terms of numbers," Rice said.
The Scouts showed a lot of patience by still being able to control the ball while they were down a man, but  "unfortunately towards the end of the game they began to push and we were caught in a counter attack and they scored and put it away," said Brennan Riley.
Going forward the plan is to, according to Riley, "keep a positive mindset and work hard everyday in practice and just put this one behind us. We are still 1-1 in conference and our goal is to finish on top of our conference, and we continue to play hard and practice hard. That is exactly what will happen." 
Schedule at a Glance
Lake Forest suffered another conference loss this week against Zion-Benton (4-1). They play a non conference game on Saturday against Wauconda (12;00pm), and then face off against conference opponents Tuesday against Stevenson (6:30pm) and Lake Zurich on Thursday (6:45pm).