Drop of the Week: "Corner Store" by Macklemore feat. Dave B and Travis Thompson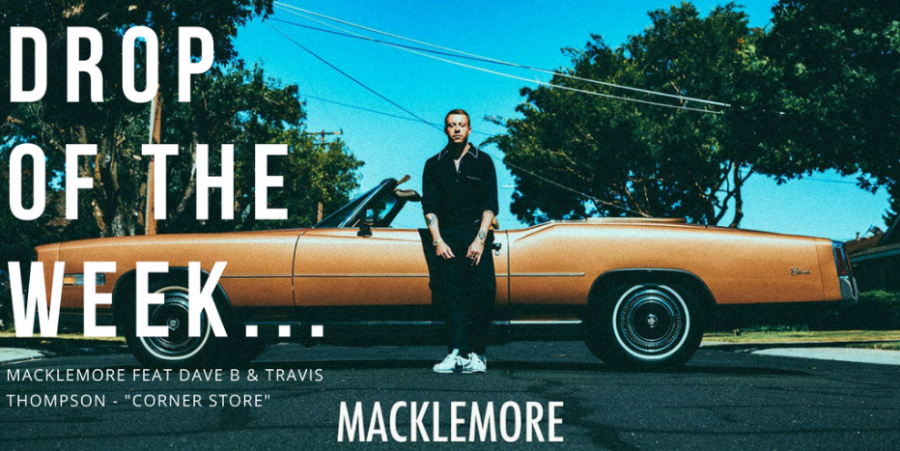 Macklemore is back. And he's back with a new album worth talking about. The new album, Gemini, features all sorts of artists, ranging from Offset's trappy beats to Eric Nally's inspirational vocals. On September 22nd, 16 new song were released. This is Macklemore's first solo album separate from his business partner and friend, Ryan Lewis, in 12 years.
The question music moguls and fans alike are asking is: How is this solo project going to pan out for Macklemore?
To the artist's relief, the new solo drop seems to be hitting the billboards with power and looks as if it's going to be a smashing success. Reaching #1 on iTunes on its first day of release, the new album brings a chill and summer-vibe to the stage. Gemini features songs that have meaning and feeling to them, but also brings the hype and trap feeling of Offset and Lil Yachty. This musical combination of hype songs and meaningful ballas has set up Macklemore's new album for greatness.
The album opens with "Ain't Gonna Die Tonight," which sets the mood with an upbeat bass line mixed with a cheerful piano and Eric Nally's powerful vocals. Other songs that should be mentioned include "Marmalade" ft. Lil Yachty, "Willy Wonka" ft. Offset, and "Ten Million" produced by Macklemore.
Although there are a lot of great tracks on Macklemore's new album, one song takes the cake for me. "Corner Store" feat. Dave B and Travis Thompson is personally my favorite of the track for multiple reasons. The song has a light, uplifting trap beat to it, combined with the chorus of R&B singers Dave B and Travis Thompson, mix together to create a track with a light, summer feeling.
This is the first time that Macklemore has worked with either artist featured on this track, but they seem to be able to all vibe together to make an outstanding single. This album is a symbol of how this isn't the same Macklemore that fans saw in his 2012 "Thrift Shop" release. This album represents his progress and achievement since then that Macklemore has gathered over the progression of his carrier.
Gemini is as prime example of how Macklemore's sound has evolved over the course of his carreer, just like all artists should. If it were released a few months earlier, it would have been a big contestant for album of the summer. Much like his music, Macklemore has transformed, and though the artist's next step is undetermined, it's safe to say that it's going to be hard to top this album.
About the Writer
Patrick Philpott, Author
Patrick Philpott is one of the writers for The Forest Scout. He enjoys all music and his favorite subject in school is English. Patrick is currently a...