The Forest Scout Friday Five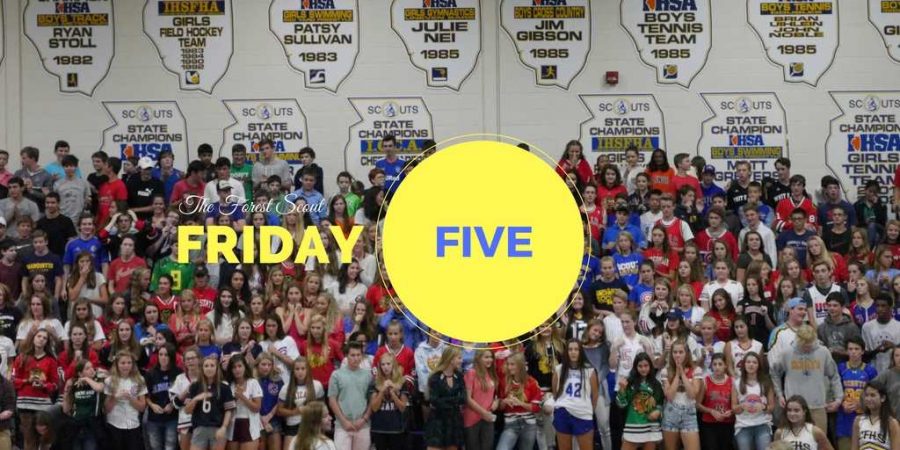 The Forest Scout Friday Five is a weekly segment that celebrates five people making a distinct, profound, and positive difference in the Lake Forest High School community. To visit our most recent installment, click here.  To recommend a student, teacher, support staff, or community member for inclusion in The Forest Scout Friday Five, please email [email protected]
Jonny Kilmer: When you are having a slow morning, the one where you come to school five minutes later than you wanted to completely exhausted, there are few people who can turn your day around in seconds.  Thankfully, my friends and I have one: Jonny Kilmer.  "For as long as I have known Jonny Kilmer, I have never seen such dedication from a person. Every moment you're with Jonny, he brings a light to anyone's day, no matter how glum it's been. I cannot imagine my life without his 'glass half full' personality," remarks junior Katherine Jemian.  "His dedication to his passions in life while maintaining a humble countenance surpass even those twice his age."
This dedicated sophomore puts his heart into everything that he does, from his schoolwork to band rehearsals, where he's always on time, and he always has something positive to give his peers.  "When I first met Jonny, I remember thinking I couldn't have met a sweeter guy. He was polite and respectful. But most of all he was enthusiastic. I could tell he wanted to be in the band room more than anything," says senior Kristen Coughlan.  "He has an incredible strive for excellence, he practices his trombone more than anyone in the section and you can tell he worked hard to get where he wants to be."  Besides the fact that he is a member of the audition-based Wind Ensemble, Jonny is "hardworking, friendly and welcoming" according to a former classmate.  "The first thing that comes to mind is Jonny's willingness to help, be it large or small, he's happy to help. He's funny, optimistic, and always ready to have a good time," shared sophomore trombonist Evan Jasica.  "I'm glad to have him as a peer, a friend, and a fellow musician."
As a freshman, Jonny quickly embraced the school spirit of LFHS, participating in many musical endeavors including pit orchestra and holiday brass ensemble.  He is now the official photographer of the LFHS band.  During late-night pit orchestra rehearsals, Jonny helped keep the mood light, especially in the low brass section.  "I remember the countless times Jonny and I would sit in pit rehearsals for hours waiting and chatting," Katherine Jemian remembers.  "Whether it was about the music or about your day, he would sit there and listen to everything you had to say."
Jonny has already made an impact on the incoming freshman class, according to fellow trombonist Margaret Jemian.  "Jonny is the kind of person that you just love being around and that always makes you happy," she shared.  "As a freshman, it is such a privilege for me to have such a charismatic, hilarious, and gifted musician like Jonny to learn from and laugh with."
Regardless of your age, your musical ability, or lack thereof, Jonny Kilmer is someone who will have an impact on not only your day, but your life.  He always has a smile on his face, a laugh, and a joke ready to share.  He defies the stereotypes of a sophomore boy with his outstanding work ethic, his spirit, and his love for life.  As long as he's around, it's unlikely that anyone who knows him will have a bad day.
Mr. John Wanninger: The director of the musical, leader of the debate team, head of Alliance, an English teacher, a DJ, you name it–Mr. Wanninger does it all. If you've been fortunate enough to get to know Mr. Wanninger, you know he is one of the most dedicated teachers in this school. Known for his eclectically indie playlists that fill the room as you enter his class, an impeccable taste in movies, his ethically-driven vegan diet, and a compassion for each one of his students, there are countless reasons why Mr. Wanninger is one of the most cherished teachers in Lake Forest High School.
"Mr. Wanninger is a great teacher. He has a special way of making everyone feel welcome in his class," senior Sean Trkla said. "He has an unparalleled enthusiasm every day in class, no matter what."
There's a reason why Mr. Wanninger's everyday zeal (and laugh) are omnipresent: he loves his job. You can follow his teacher Twitter or Instagram and find the hashtag #ilovemyjob in many–if not all–of his captions. He voluntarily works fourteen hour days if need be; he sometimes is in the building at 6 AM and doesn't leave until 8 PM, then proceeds to stay up late grading his students' work. If that's not dedication, I have yet to see it in action.
Furthermore, his commitment to his students is unprecedented. Senior Brett Chody, who was a student of Mr. Wanninger's last year, can attest to this. "Mr. Wanninger always read my articles and kept up with my cross country results, which really meant a lot to me. He also took time to get to know everyone in our class and really created a community among us."
Along with being committed to his students, Mr. Wanninger devotes an incredible amount of time to the musicals each year. Camille Valentincic, who has gotten to know Mr. Wanninger through the theatre, applauds him for his hard work. "Mr. Wanninger's dedication to the musical is very admirable. He comes to every single rehearsal, even if it's for vocal or dance practices, just to oversee and make sure the show is running smoothly. He has a vision, but he's okay with letting people experiment and try things out, which shows his respect toward us as students and performers."
Mr. Wanninger is a one of a kind teacher that the Lake Forest High School community is fortunate to have. So if you see the infamous DJ Wang, or even hear the tunes coming from Room 364, stop in and congratulate him on a job well done. 
Alex Park: A young boy who goes by many nicknames: Shnall, Roni, Ronaldon has already made a difference in his short time at Lake Forest High School. Alex Park has been raised by the kindest parents you'll ever meet, and Alex didn't fall far from the proverbial tree. Alex is shy but once you break that seal you'll reveal a humble, hardworking, and amicable Freshman. Throughout Alex's years at Deer Path Middle School, he proved to be a best friend to many and a stud not only on the athletic field, but academically as well.
His favorite sports are basketball and football as he has been playing since he was three years old. Starting with New Vision Athletics, a sports program out of Lake Bluff, he learned the basics of both games. These basics then led him to success in the high school feeder programs and will shortly prove to be resonant at Lake Forest High School. He became a leader on the basketball court as his close friend Lorchan O'Sullivan explained. "He's always been a really good friend to me and a very talented basketball player. Alex taught me a lot about the game." He is a leader on the basketball court and doesn't shy away on the football field. An older and talented athlete on our Scouts Varsity Football team, Chris Cavalaris, can testify to Alex's dedication to the game: "I love Alex. He may not be the biggest in size yet, but he's a very hard working kid. Alex always has a positive attitude and you can tell enjoys football. He's a good influence on his teammates."
Alex does not forget his positive attitude on the field as he brings alacrity every day to school. Michael Park, Alex's academically gifted older brother, admires the work ethic of the high school's youngest Park. "He's really hard working, he'll get home from two different practices and still want to work out sometimes. He's also in geometry as Freshman, so obviously he's really smart." Alex's talent doesn't stop with math, though. According to close friend Gage Messner, he's dubbed to be very gifted in our high school's Woodcraft course – maybe a possible profession for Park in the future.
Wherever Alex's talent takes him, his family, friends, and teammates are sure he will succeed. If you are lucky enough to be friends with Alex Park, hopefully his kindness and work ethic will rub off on you. 
Rafa Swerdlin: With a encyclopedic skill set of musical talents–ranging from the guitar, to the bass, to the drums–and the self-proclaimed "voice of Bono," it is no secret as to why you've probably heard of junior Rafa Swerdlin. Though mostly famous in the halls of LFHS for his luscious hair and effortless cool, those who know Rafa Swerdlin best can attest to the positive vibes given off by this go-your-own-way junior.
As a JV soccer extraordinaire, he helps keep the team "lighthearted and free," shared junior teammate Will Davis. "But he's also very bright, friendly, and outgoing. There's no better guy for a bus ride than Rafa." In looking more deeply at Rafa's schedule, it is clear that he finds balance with the academic side of his brain and his curiosity as an artist. For example, he bookends his days with APUSH and Honors-Math Analysis, but keeps busy during the in-between hours with Guitar Making, Art-1, and French-4. Considering his musical talents, it is no surprise that Rafa has lent his talents to numerous bands over the course of his Battle of the Bands tenure, while also displaying himself as the indie fashion mogul of the junior class.
For a young man as balanced as Rafa, perhaps his most resounding trait is the comfort he exudes in his own skin. Whether it be on the soccer field, in his AP English classroom, the stage, or anywhere in between, you know just what you're going to get–the epitome of cool.
Mary McKendry: Generally speaking, the first few months of high school are reserved for timidity. Don't speak too loudly–especially to upperclassmen, stay on the periphery of the hallway, and don't share too much of yourself too soon in class. In other words, if you can't be cool, at least act cool.
Then there are those like freshman Mary McKendry. As the third McKendry to come through the halls of LFHS, no situation has this extroverted freshman at a loss for words. "She says what's on her mind when it's on her mind," shared her English teacher Mr. Austin Scott. "And I appreciate that. She loosens everyone up by thinking out loud and engaging with each and every discussion we have. She's not doing it to fake it, either. Mary cares–that's what's awesome."
Indeed she does care. In fact, Mary is the owner and operator of a babysitting enterprise that she orchestrated herself. In the summer she also runs soccer and tennis camps for little kids to help make an extra buck and share her smile throughout the community while giving back. It is clear to anyone who sees Mary in her element that she is socially ahead of the curve. "She's friends with everyone," shared one anonymous upperclassmen, "and she's been in school for about three weeks." As far as athletics go, Mary participates on the girls tennis team (her mom Kauri is a longtime assistant coach for Corky Leighton) and plans to also compete for the girls soccer team, like her older sister Jenny before her, this spring. Aside from athletics and entrepreneurship, Mary is heralded among her peers as the Queen of the Compliments. Wear a flattering top or trendy pair of sneakers and expect to hear from Mary. "She's so vibrant and positive," shared one of her freshman peers. "No bad days for Mar."
Sometimes the social butterfly, the philanthropist, and the curious thinker all blend themselves into one, difference-making student. Perhaps her rendition of one of Shakespeare's most famous lines would read as follows: Though she be but fourteen (and little), she is fierce. Ladies and gentleman, Ms. Mary McKendry.
About the Writer
Ghost, Author
Ghost is a section of The Forest Scout that chooses to publish material anonymously in order to increase the depth of their investigative reporting. Ghost...