The Boys Varsity Soccer teams beat Stevenson Wednesday in a tight 1-0 game. The lone goal was scored early on in the second half by sophomore George Thomas.
Coming into the game, the Scouts had hopes for a good game, but they were heavy underdogs. According to MaxPreps, Stevenson (10-1) was ranked 12th in Illinois, and top 80 in the nation for varsity high school soccer. 
Throughout the first half of the game, Stevenson maintained strong possession of the ball and seemed to be running circles around Lake Forest.  As the second half started, however, something seemed different about Lake Forest. They played  smarter, faster, and stronger than they did earlier in the game.  Approximately five minutes into the second half,  Thomas had a breakaway towards the goal with one defender on his right. Although his jersey was getting pulled by the Stevenson player,  the play continued as Thomas still had the advantage of the ball. 
 "I was thinking that I wanted to get this shot off as quickly as possible to get the penalty," he said. "I also wanted to get the proper placement of the ball in hopes that the ball actually went in, which it did."
The shot went around the left hand of the Stevenson's goalkeeper and crossed the goal line.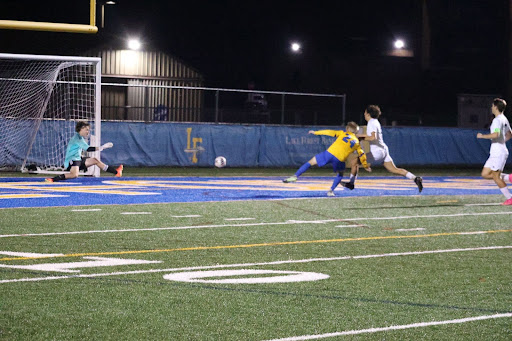 The Scouts mobbed Thomas, celebrating on the left side of the field, bunched together, jumping up and down as if they had just won a national championship. 
"I remember thinking that we actually had a chance now. I always knew that Stevenson was a really good team, so in order to keep the lead we had to play better than we ever have," said Aiden Putheveetil, a Scout Nation senior.
After the goal, the Scouts had to play the defensive game, taking as much time from the clock as possible to avoid giving chances to the opposing Stevenson. 
"It was such a big game that the general focus after we were winning was to just waste time. It felt like everyone knew that this was the main goal," Thomas said.
Aside from the great offense from the Scouts, the team also played incredible defense. Senior goalkeeper Charlie Walsh had an outstanding of 12 saved shots. He had many diving attempts, clears, saves, and overall passes that pushed his team forward.
Besides Walsh's goalkeeping, the team played great defense with seniors Austin Okada and Dominic Ziaja, leading the way.
" The fact that we beat Libertyville and Stevenson to be undefeated in conference means we have high hopes of actually winning conference. Never doubt the Lake Forest Scouts," Puthenveetil said.