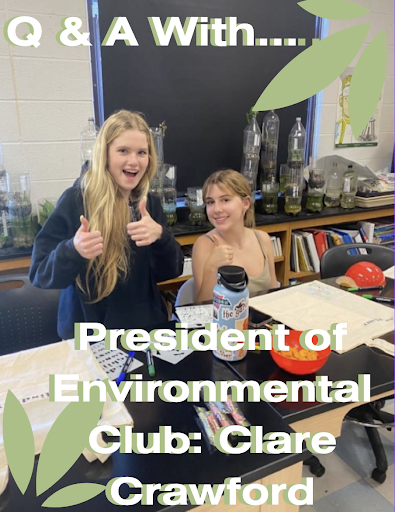 Clare Crawford is a senior at LFHS. She is passionate about environmental issues and helping create sustainable change in the school. She is also involved with the LFHS theatre program and The French Club.
Can you tell us about your background and why you were initially interested in The Environmental Club? 
"I originally joined freshman year to just be a part of a club but as I went through high school I decided to get more involved after taking the environmental science honors class. I learned how crucial it is for our school to have a club that educates other students not a part of an enviro club on how to preserve our world and how to create more sustainability at our school."
How do you envision contributing to the goals and activities of the environmental club as president?
"I anticipate that we are going to do more this year. It feels like in the past the club has been underground and I would like to make it more well-known. I want to accomplish making more changes by executing more activities that will encourage more people to get more involved in the club."
What specific environmental issues are you most passionate about and why? 
"I am very passionate about the importance of renewable energy because I think that getting more people to use renewable energy rather than burning fossil fuels is attainable. Fossil fuels are essentially destroying the earth and moving to renewable sources like wind and/or solar power can create a huge change."
What is an example of a project or initiative that you've been involved with?
"Last year we talked with Jason, the head of the lunch room, and we brainstormed ideas regarding making the food/drink packaging and utensils more sustainable. We were able to get box water and reusable aluminum bottles sold at LFHS. As well as this we got the grind to require students to ask for straws in order to prevent students from using more than they need."
How do you believe The Environmental Club can raise awareness and engage the community in environmental conservation?
"One of our main ways to get students to get involved with preserving the environment is encouraging them to participate in work days at open lands. Throughout the school, we are planning to put up signs that remind people to consume less and recycle more. We hope to get lots of students to join the club so they can contribute to the spread of awareness."
What new ideas do you have for the club this year? 
"We plan on starting off every meeting with good and bad news regarding the environment, but we would like to mostly focus on the good news because we believe that to make a change and get people passionate about the environment is to prevent fear. Fear is not a good motivator to initiate change, we need to create hope and represent that their effort is not useless, it is actually creating change and improvement in order to encourage them to keep practicing sustainability."
Are you going to take The Environmental Club farther than just LFHS into Lake Forest as a community? 
"We are going to make some improvements outside of the high school but as of now we need to start small by focusing on making a more environmentally conscious and sustainable environment in LFHS."
How is it adjusting to a new sponsor after the retirement of Mrs. Nawor?
"Good! While I do miss Mrs. Nawor, she was only a sponsor for a year so the change was not too drastic. Mrs. Glyman is very involved and supportive of all ideas presented. She creates a warm welcoming environment, and she definitely cares as much about the club and the environment as the students do. She is a wonderful sponsor!"