Grueling Schedule Improves Boys Swim/Dive Team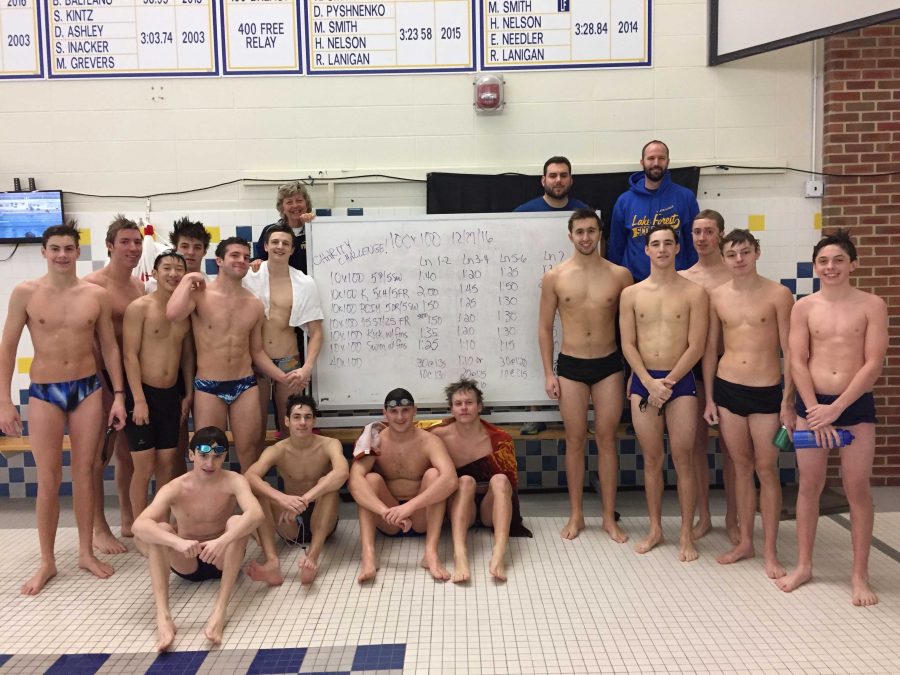 Most people who are not on the swim team or don't have a sibling who swims think that swim meets tend to be boring. Most people believe that the swimmers jump in the pool, swim, and then get out without much fanfare or applause. What most people don't realize are the high intensity workouts that the boys go through in order to obtain their very fast times. Boys practices are insane. They start out hard and fast and finish in similar fashion. I sat down and spoke with Alex Ortiz, a junior on the Varsity swim team about his LFHS swim and dive experience so far.
How are your morning practices?
"One word 'exhausting.' They are tiring when you're in the practices, but it's extremely rewarding. It starts at 5:45 every Monday and Wednesday. Fridays are lifting, so we start later (around 6:15-6:30). We do some fun things, which is kind of a 15 minute "dryland workout" before we start swimming in the morning. Fridays we get food post-practice so it's pretty great. If you want free breakfast and a great workout, join Varsity. " 
 Most students, much like their naivety towards the demanding practice schedule, don't understand is the high intensity of the actual meets. Every person is racing every other person in the pool. It doesn't matter if they are on your team or if they from an opposing school, the swimmers are racing against their best time and that other guy who could possibly take their place at the IHSA State meet. Even though the boys know all of these things, they create a very tight bond with one another throughout the swim season.
What kind of relationship do all the teammates have with each other?
"Personally, I think it's more of a family, because when you're older (like a junior or senior) you've gotten to know each other pretty well. The younger kids feel like my younger siblings and I feel like the older brother. We show them the ropes and hold them to a high standard" 
What's it like racing one another in a meet?
"It gets kind of stressful when it comes down to one individual time that advances, because you don't know when your final meet of the season is going to be. Even if they [your teammate] do take your spot, it may be disappointing at first, but you are later proud of what your teammate achieved. Last year at sectionals, I raced one of the guys on the team in the 100M breast and I thought I was going to do great, but it didn't turn out that way. He beat me, but I felt really happy for him because he had trained really hard and I was proud of all that he accomplished." 
Showcasing their team camaraderie, the boys even have crazy rituals they do prior to the start of a meet.  Before the national anthem is sung by one of the many swimmers, the boys file into the locker room and have a "talk up." The boys all stand up together and walk into the locker room and are in there for around five minutes.
What do you guys do in that five minute meeting before meets?
"I'm not sure my teammates would allow me to disclose that, but it's not a bad thing. It's more of a pump up meeting." 
Once the boys finally file out of their five minute meeting in the locker room, they line up against the large windows and begin their chants. The chant is a cross between the voice cracks of a young boy and the wild hollerings of an aged man. The meaning behind the boys' chant is bizarre and unknown to anyone outside of the team.
What is that song you guys sing before meets?
"'Bon da Lele' is the song. I really like it. I think it's really cool because it's different from any other team's cheers. I think it might be a Hawaiian war cheer–I'm not sure. The captains lead the cheer from the window sills." 
Aside from all of their in-meet action, the boys also have a great background of community service events. Their events include their 100 x 100's to help raise awareness for the Max Schewitz Foundation, which Coach Cindy Dell loves because she is always one for helping others in the community. The boys are big on team bonding and hanging out with each other even if they don't have to. The team is more a family than a group of people swimming out to set individual personal bests.
What are the 100 x 100's like?
"The 100 x 100's aren't fun, but they aren't terrible. Every set of tens is different. The fins set is like a breath of fresh air. The last 40 are the homestretch, so you kind of blank out. At the end, we all finish at different times because of the different sets for every lane. But when a lane finishes they all start cheering on the other lanes that haven't finished yet." 
Cindy Dell is the Head Coach of the Boys Varsity team, the JV coach for the girls swim team, and the JV coach for the Boys Water Polo team. She is an amazing person and a great leader. Even though her practices are difficult, she is a great person to get to know in your four years of high school.
What is Cindy Dell like as a Varsity coach?
"She's like a mom. She's very tough when she wants you to succeed. If you fail, she fails." 
At the end of a very long meet there is a great moment when all the boys get up off their chairs and go onto the bulkhead and different sides of the pool deck in order to cheer on the various relay teams. The cheers can be heard from outside the building as the boys scream for their team to pull ahead and earn those extra points.
What is cheering/relays like during a close meet?
"Relays are stressful because when you go up against teams who are around your own time and speed, a single stroke can make a difference in winning or losing. I love the sound because you know based off of the cheers inside the room whether or not you are winning or losing. Cheering is so much fun, because when you're screaming it's like you're one big team as everyone in the room is focusing on one thing all together." 
Swimming is so much more than just watching some bodies swimming up and down the length of the pool. It's about team bonding and reaching your goals through the help of others.
About the Writer
Isabelle Moore, Author
Isabelle Moore is a senior member of the swimming and water polo teams at LFHS. She loves to drown herself in reading, writing, and ceramics. Between obsessing...