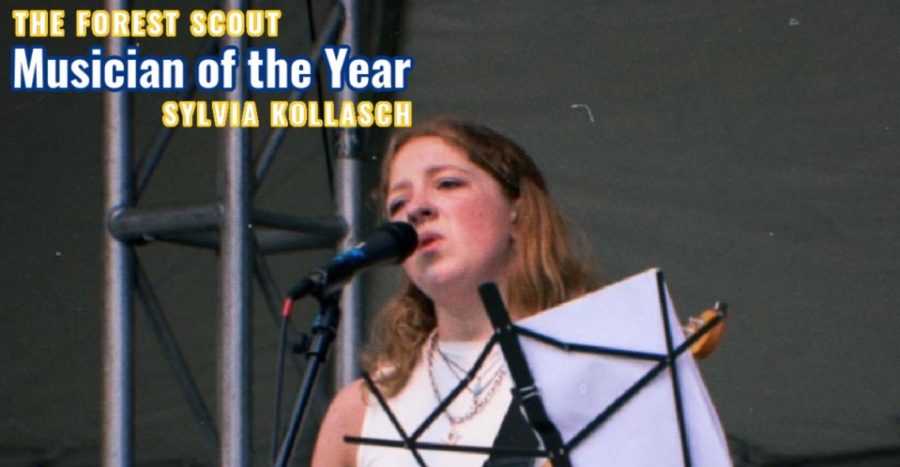 The Forest Scout's 2021 Musician of the Year: Sylvia Kollasch
June 4, 2021
With 2021 marking the first ever installment of the Musician of the Year profile, this year's criteria had to be strict. 
Though these ivy walls boast a handful of talented artists, our top pick needed to prove that their hobby is more than an activity and rarely ever regarded as a chore. Some musicians take the focus off of themselves when creating music, catering entirely to their audience with the content they release.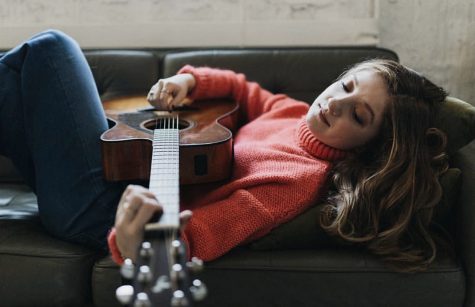 But artist Sylvia Kollasch refuses to write for anyone but herself.
"I don't really ask people what they think of a song until I know I'm finished with it," she said. "I don't really turn to other people for inspiration; I let it all come from myself I guess. 
Kollasch never intends to keep her work from a critic's eye, however. Throughout her high school career, she has performed at nearly every artistic event offered at LFHS: Talent Show, TedX, even the 2018 freshman-sophomore play: Our Town (perhaps she's a triple threat).
Regardless of whether or not you've seen her on stage, an avid reader of The Forest Scout would recognize the name 'Sylvia Kollasch' in an instant: we covered the release of her debut album, "Nothing Like You," we profiled her current #1 single, "Too Many Songs," and we've highlighted her kind heart and spirit in a Friday Five. 
Senior Emily Liebelt, a close friend of Kollasch, could "jam to her Spotify and Soundcloud all day long."
"I love watching Sylvia perform," she said. "[In the past] I've cheered Sylvia on at Prairie Espresso, Gortonpalooza, and Croya. She is so talented and fun to listen to; it's super cool to see how her self-confidence has strengthened both as a musician and person."
Though she gains exposure from TFS, her friends' social media posts, and venues around the North Shore, Kollasch has truly maintained her work ethic by keeping her craft personal.
"I'm not doing my music to, like, get famous or anything," she said with a chuckle. "I just love it so much, and it makes me feel good. I'm going to keep doing what I'm doing because of that."
The young artist brings authenticity to the title of "bedroom indie pop," as all of her songs prior to the album were written on her comforter and recorded at her desk. She credits her success to a digital audio workstation (DAW), a desktop microphone, and a Yamaha keyboard.
"Sometimes I'm just sitting in my bed and ideas come to me, so I'll write them down really quickly and flush them out," she said. "When I need an idea I'll turn to songwriting prompts, but those are never as good as the ones I come up with on my own."
Kollasch's creativity is equally matched by her generosity as a performer, as she has given her gift directly to the LFHS community through her four years in choir. 
Classmate Mary Clayton admires Kollasch for her individuality both in and out of the choir room.
"Sylvia's passion for music is clear in everything she does," senior Mary Clayton said. "Whether she's singing her recital piece for the choir or promoting her newest single, I've always been impressed with the way she embraces herself in her work."
Callan Shanahan put it simply: "Sylvia is one of the most brilliant minds at LFHS. An absolute musical genius."
Though the performer "always had strong musicianship skills," accompanist Natasha Mah noticed her year-long efforts to become self-sufficient in her technique.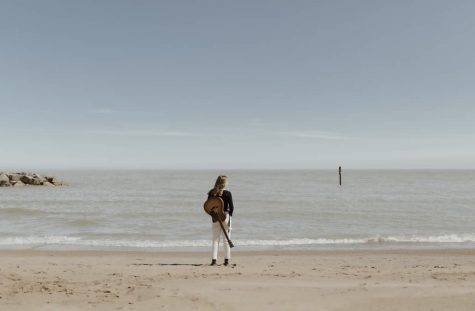 "She really grew as a performer and developed her composition talent during the four years at LFHS," said Mah.
Kollasch will be attending Belmont University this fall as a songwriting major, marking another monumental stride towards solidifying her career in the arts. She anticipates experiencing a 'writing lull' during her first year, though no amount of writer's block can truly halt her persistence.
"I'll definitely continue writing [in college]. I've had a ton of extra time to write with COVID, and I'm worried I might lose that when I first get to Belmont. Still, I don't think that will stop me from doing it; it's what I love to do.
Though her peers and advisors predict a bright future ahead of her, Kollasch has no idea what that future will hold. 
And yet her goal is simple: to serve as a role model for aspiring musicians.
"I don't really care what "image" I portray for myself as my career progresses," she said, "I'm sure it will change overtime. Ultimately, I would just want to be an inspiration to other young artists; there have already been a few [artists] who have reached out to me to thank me for my work."
"Hearing stuff like that literally just makes my day."