TEDxLFHS 2020 In Review
The stage was set with the iconic red circle carpet in the middle of the floor, a big red "TEDx" statue in the back, a TV screen to the right, and even a holographic "TEDx" hovering over the black velvet curtain backdrop. It was a perfect day for some TED Talks.
Starting with a jazzy and vivacious musical performance from 'Niki and the Melon Boys,' the audience settled into their seats for the first session to begin. Although the piece was lengthy in time, it was entertaining and allowed for last-minute audience members to trickle in and find their places. 
The stage was quickly cleared, and out came emcees and seniors Billy Gardner and Casey Murray to distract us from all of the mumbo-jumbo of instruments being pulled backstage behind them. They said hello to us in many different languages and thanked all of the people who made TEDx possible, all in time for junior Will Elliott to give us the first talk of the day.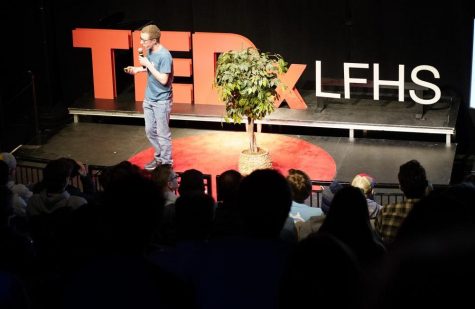 Elliot started with some humor, explaining his infatuation with the world of Ted Talks. He transitioned to his question at hand, which was how to make the most popular TED Talk in the world. After showing us the reality of TEDx engagement and patterns of TEDx talks, finally, his resolution was clear: the most popular TEDx Talk would be 'how to make a Bollywood hit.' We wish him luck from The Forest Scout as he ended with a goal that he will be the next most popular TEDx Talk. So, make sure after reading this, you go like, comment, and subscribe to his channel. 
Again, the emcees came on the stage, this time reading Frankenstein. The 'frankentalk' was quickly interrupted by senior Blake Talwar, though, who warmed the audience's hearts with his discussion about why people in society feel the need to 'come out' to others in their life. 
Starting with a personal story, he touched our hearts and shared stories of members of the LGBTQ+ community and the hate crimes done against them. He gave us hope that our society could one day be accepting of all people, and left us with the thought that it all starts with us. If I had one word to describe him? Inspirational. 
The emcees welcomed Evan Jasica onto the stage this time, who asked us about a song in our life that makes us feel, well…profound, for lack of better words. He introduced us to the ways that music could both help and even save some lives, such as Alzheimer's through active music therapy or everyday people with injuries or diseases.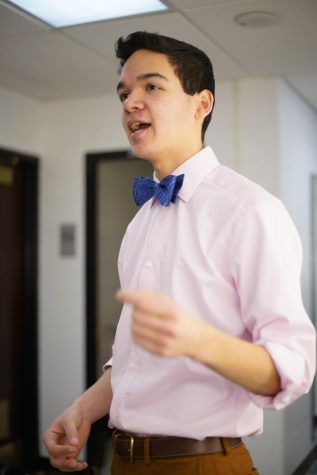 He said that we all can use music therapy simply by keeping it in our everyday lives. You can catch me singing in my shower and dancing in the halls after listening to his impressive talk.
The acts were broken up once again by another musical act, this time by 'You're So Cool,' which was honestly one of the coolest music acts I've ever seen. Using only big xylophones, which I later learned were called marimbas, the four seniors produced a unique song unlike any other I have heard. 
The emcees entered again, with Billy Gardner playing the guitar and taking requests as to what to play from the audience. He settled on an awe-inspiring performance of 'Hot Cross Buns,' which stunned the audience, as it was just so amazing. Sadly, Casey Murray and his horse Phil interrupted this performance before the song was even over. 
Murray introduced junior Celeste Tomaselli, who explained she wasn't good at math or science, but through learning about Howard Gardner's 8 types of intelligence in her sophomore year, she learned that there are types of intelligence for just about every type of person. 
Despite no microphone and a few interruptions in the middle of her conversation, Tomaselli brought grace and a sense of humor to the stage that made everyone giggle at least a few times throughout the talk. She gave us hope that we all have a type of smart and special gifts, and can all make the world a better place. 
The emcees once again gave us all a quick "mic check," and some lovely knock-knock jokes that didn't quite work out, but I'll give them an A+ for effort. 
Willow Volkert came on the stage and spoke about her experience at Culver Academies, a military camp that she attends every summer. She described how the weirdness of everything and even everyone at the camp made for an amazing and unique experience. 
She amazed us with walking through her typical everyday schedule and the marvelous characters she would face along the way and showed us how we can all learn from the camp. We can all find our own personal Culver in life, our own collection of unique experiences and people, if only we go out and find it. 
Casey Murray again tried to enlighten us in between acts, while Billy Gardner was more concerned about introducing Corey Winchester, the first adult speaker of the day. His talk was based on the quote 'jealousy will get you nowhere' and taught us how we can learn and take valuable lessons away from our ancestors.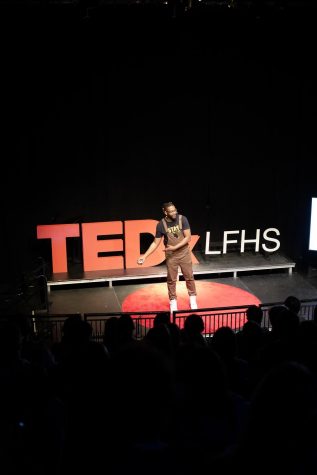 He made me want to go hug my mom and grandma as he talked about his brother, as well as with his tributes to his mom and grandma via tattoos. Overall, he taught us to carry our ancestors with us and not to be jealous, like his mom and grandma taught him, every day of our lives.
After a quick lunch break, the emcees embraced session two of the talks, once again thanking the people involved with TEDx like the foundation, but as Murray said, not to be confused with The Foundation by Isaac Asimov. 
Sister duo Lucy and Sydney Rubinstein graced us with their two beautiful voices, accompanied by guitar and piano, as they sang a song written by their very own cousin. This was a lovely start to the second half of the day, and I think it's safe to say that both of their careers in singing are bright.
The first speaker of session two was senior Alex Mutter, who completed the emcees' supposed 'lifelong goal' of having a speaker with a British accent grace the TEDx stage. Mutter introduced us to Maslow's hierarchy of needs in a well-spoken way, yet how we aren't reaching the final level of self-actualization due to the way we use livestock. 
Despite a need to quickly "grab his lines" in the middle of the talk, Mutter successfully introduced us to lab-cultured meat, and how it is the solution to all of our problems in this world. 
Amy Francetic next took the stage, the third member of the Rubinstein family to grace the TEDx stage that day. She talked about how she has fought climate change throughout her life, being in companies Clean Energy Trust, Energic, and Buoyant, which fund companies that fight climate change. She ended on a positive note, telling us of how we can all help save our planet if we get involved with companies as she has.
Casey Murray returned to the stage attempted to give us his own TED Talk about shrubs, but sadly for him, it was time for Ian Jackson's talk. 
His adventure on NOLS, a month-long backpack trip that he completed over the summer, brought about many hardships and rough days that he shared with the audience. Whether that be trucking up boulders, sinking hip-width into the snow, or reaching the peak of the mountain during his trip, his experience was nothing short of wild. 
He told the audience how we all need to find our own experience, and that doesn't necessarily need to be climbing up a huge mountain (I know I couldn't do that…) It doesn't matter how small, but he wants us to be bold (oh, and of course, avoid eating cream of wheat at all costs.)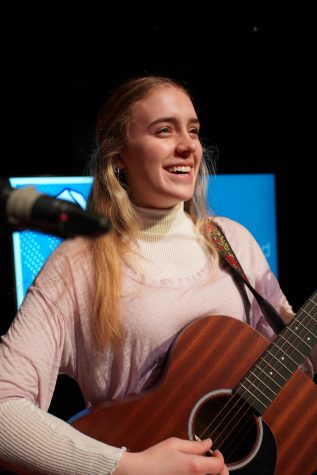 Sylvia Kollasch made us all breathe a sigh of relief as she sang and played the guitar beautifully next. Like the Rubinstein sisters, it's clear that she is going big places in the future — whether that be on American Idol or The Voice, we aren't sure yet. 
Alexandra Anderson was brought on, who, like many other talks, talked about music. She talked about her experience with choir, even showing us a video to demonstrate the greatness that her old choir was. She informed us of the health benefits of singing, whether that be with heart rate or depression, again making me want to get out of my seat and burst out in song.
Then "No U-Turn: Unplugged," acoustic side project of rock band No U-Turn Ahead — a name which the audience still doesn't know how to correctly annunciate, performed a cover of Chris Stapleton's "Midnight Train to Memphis." The song showcased the 3 boys skills on guitar, keyboard, and vocals, and its calm vibes prepared the audience for the last two talks of the day, starting with Bide Akande. 
Although a replacement act, Akande's talk was not short of astounding. He talked about how his schooling, childhood, and even attorney job were all overshadowed by his old role of 'Winged Monkey #2' in a school play. He spoke about suffering from depression and anxiety while in college while going doing some major 'monkey business' and not doing too well in school. 
His extremely impactful story, meshed with a layer of joyfulness, taught the audience that we need to embrace our own 'winged monkeys' on our backs, aka the people that love us, instead of pushing them away. Easily one of the greatest talks I've heard and people I've seen.
And finally, to wrap up the wondrous day of talks, Sophie Huddlestun recalled her journey with her mental health, specifically the depression, anxiety, and OCD she has fought and overcame. She honestly and wholeheartedly expressed how mental health is something so stigmatized that need not be, and taught us to instead be our authentic selves and open up to others about our own mental healths. 
Although young, Sophie showed us such a brave side of herself and encouraged us to love those around us just a little harder and open our ears to hearing their stories. 
It was hard to explain the amazing impact of each talk and act in just a short paragraph for each, but I can confidently say that each of the them were phenomenal and I can't wait to see where their lives take them.
Check out the livestream of the event here to see these wonderful talks and musical acts for yourself.
About the Contributors
Ava Manelis, Editor-in-Chief
Ava Manelis is a senior at LFHS who is on the poms team. She has been taking Journalism for a year now, and is back again as an Editor-in-Chief of the...
Caroline Zeeman, Editor
LFHS Senior Caroline Zeeman is heavily involved in her school community. She is active in New Media as both a student and a TA, works as president of Student...