A Fresh Perspective
Slew of Gifted Freshmen to Take Part in This Year's Talent Show
The final rehearsals for the 2020 APT Talent Show are well underway, and if you've been paying attention to the multi-colored, dynamic posters in the halls, this year's performances promise diversity and variety like no other. 
Audiences should expect the return of many fan favorite upperclassmen: the boys of Grapefruit, the ladies of LFHS' nationally recognized Dance Team, and of course the fan favored Yo-Yo Crew will be taking the stage, with their senior members finishing the first of many "lasts" at LFHS.
But perhaps the "secret weapon" of this year's show is the number of talented, dynamic freshmen participating across genres of acts. From rock bands to acoustic covers to solo dance routines, these high school newcomers are raising the standards for Talent Shows in years to come.
Senior MC Michael Daniels commends the class for their willingness to throw themselves into the process after having little to no experience performing on an LFHS stage.
"It's so nice to know that when one class of very talented seniors leave, another class of extraordinary freshmen can fill their place," Daniels said. "Their talent is all over the place: from two major bands, to solo acts, to their participation in large groups, the show wouldn't be the same without them."
Slated first in terms of freshmen is small but mighty Tess Muelbrook. Performing a contemporary-lyrical dance routine set to "Ave Maria," Muelbrook graces the stage with her elegance, fluidity, and passion in every move.
"
It's so nice to know that when one class of very talented seniors leave, another class of extraordinary freshmen can fill their place."
— Senior MC Michael Daniels
Senior committee member Caroline Zeeman admires the tiny dancer's control and confidence when entering the spotlight at such a young age.
"Her artistry is very refined," Zeeman said. "To see someone that young and that talented participate in the talent show gives me a lot of hope for her next four years. If this is where she's starting, I can't even imagine where she'll end as a senior."
But artistry among the freshman class does not stop with Muelbrook; bands Demiromantic and Verdant are both composed entirely of freshmen and are already generating major buzz beyond their class.
Sydney Rubinstein, Sheila Falls, and Ciara Carroll first made Demiromantic known at CROYA's Super Space Jam back in January. Covering The Strokes' "Last Nite," these ladies may be small, but they pack a heavy punch of musicality and passion.
"Honestly, we formed a band because we wanted to become closer to each other," Rubinstein, the band's keyboardist and lead singer, said. "Demiromantic gives us a low-stress, fun outlet to enjoy each others company along with our love for music." 
Unlike Demiromantic, Verdant plans to make their debut as a group at the show. The eye-catching name, meaning "green with grass or other rich vegetation," has brought in allure on its own. Freshmen Jack Taylor, Adler Hermann, Robert Medica, Tim London, and Ciara Carroll hope to rock the house with their rendition of "Don't Let Me Down" by The Beatles. 
After observing the group at dress rehearsals this week, sophomore Ruby Stockon is "confident that each member will shine in their own way."
"Individually, [Verdant's members] are all very talented, but together they bring a unique and powerful sound to the table," Stockton said. "I am certain that audiences will love them just as much as I do."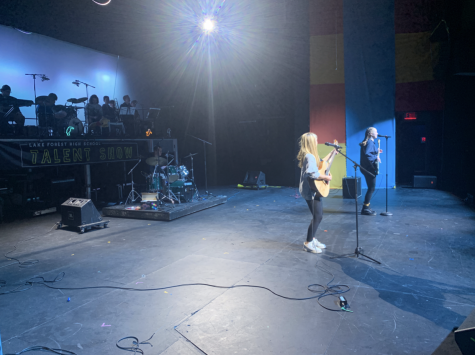 Spectators often associate freshmen performers with a quality of meekness, but freshman Kay Clifford of Looking for Jane has proven time and time again that she is simply a powerhouse. Along with her sister, senior Martha Clifford, and junior Ryan McFadden, the trio closes the first act with their cover of Tori Kelly's driving tune, "Language." 
Martha Clifford, a veteran performer at LFHS, has the pleasure of not only singing beside her baby sister, but watching her steal the spotlight for the first time in her high school career. 
"Kay and I have been pursuing Looking for Jane for awhile, and ever since we started, I've been waiting for her to get to high school with me," Clifford said. "Her energy is unmatched and she is such an unapologetic performer—[Looking for Jane] would not be the same without her."
But the talent of underclassmen reaches far beyond these few: Lowkey Treble welcomes their two newest members, Niki Singh and John Turelli, Take Six shows off Singh on piano and Natalee Stepaniants on guitar, and LFHS Big Band adds Koen Brown, Holden Docherty, and Issac Poulton to this year's crew, alongside Singh and Stepaniants yet again. And, of course, Vince Boberski, Henry Thomas, Connell Donahue, and Ian Fickes-Wagaw are essential new additions to this year's tech crew, making sure every backstage transition runs as smoothly as possible.
Director Mr. Corey Holmer greatly appreciates how the class has redefined the standards for talent shows down the line.
"It was never a junior-senior show in the past," Holmer said, "but it is absolutely awesome to have so many freshman represent in this year's show—it truly reflects to the student body that this is an all school experience."
This year's show proudly takes on the title of "A Spectrum of Color," and LFHS' newest batch of talent provides that color in unexpected, unfathomable ways.
The 58th Annual APT Talent Show opens tonight and runs through Saturday with performances at 7pm in the RMA. Get your last minute tickets while you still can: bit.ly/LFHS-TS20