Pit Band to Lead and Complete Talent Show's "Full Color" Experience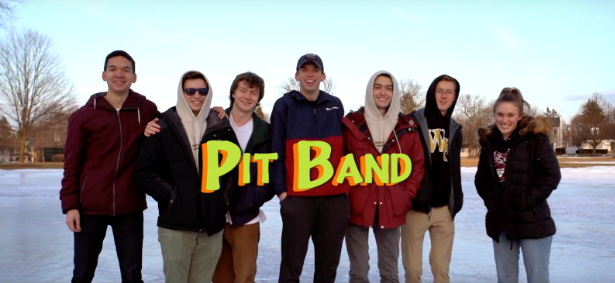 The 2020 Talent Show grows nearer by the day and the acts are getting prepared to showcase their incredible talents. From bands to Yo-Yo's, dancers, and comedy, the variety of the show is even better than past years. 
With every production, those on stage are just as important as the people behind the scenes and working to keep the show moving. From tech crew to committee and pit band, students have been working for months to put together the best show possible. The group of talented musicians involved in this year's Pit Band ironically sit upstage throughout the show and they carry the momentum throughout the production.
This year's Pit Band Director, junior Ryan McFadden, has been involved heavily in the show in past years and is ecstatic to be a part of the Talent Show family. 
"Pit is a great time. We're all really close and spend a lot of time together throughout rehearsal so it's just a really great time to hang out with people and play music," McFadden said.
Pit Band consists of energetic personalities that have carried enthusiasm throughout the month of rehearsals leading to this upcoming weekend. McFadden is leading the pit while on guitar alongside senior Luke Gerskovich. Junior Lucy Rubinstein is on keys, senior Jack LaVanway is on bass, and senior Luke Gulson will be found on the drums. 
Pit also features a brass section that adds another layer to every song they perform. The brass section is made up of seniors Danny McKiernan, Evan Jasica, and Mark Smirnov. The diversity of instruments allows for a diversity of music to be played in between acts, making pit an act in its own right.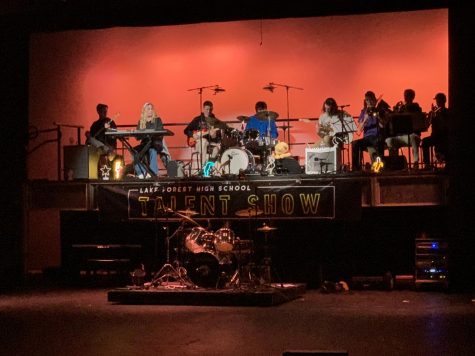 Pit Band also creates a unique opportunity to pull from more obscure cuts, including a unique track to be on the lookout for: Tyler, the Creator's "IGORS THEME."  
"One of the great things about pit is that it allows the opportunity to be able to play songs that you can't really do in a normal band set," McFadden said. "IGORS THEME is just a great song. It's really interesting instrumentally and it's something that I love to listen to, but wouldn't really be able to play in the context of a set." 
While Tyle, the Creator might not be an artist to span across wide age ranges, McFadden said the track is "something that kinda draws people's attention and gets people excited" 
"Plus, it's just really fun to play and sounds dope," McFadden said.
Another pull for the show this year specifically is that Pit Band, aside from its important role on the elevated stage throughout the show, will have their own on-stage performance. 
"Pit band being an act in the show is something that at least is new to me in the time I've been here so I think that it's something new and fun that could possibly become a tradition in the years to come," McFadden said. 
Pit Band will be performing on stage to close out the Talent Show, and with the amount of instruments involved, the act is a true culmination of the goal of the show; variety and community. 
"We have the capability to make the act a pretty big song and fill the stage," McFadden said. "I think that having that many people and instruments on stage wraps the show up well."
Make sure to look out for Pit Band upstage this weekend, as their energy and good tunes is an added pull for the show, and their on-stage act will bring forward the colorful vibes filling the RMA.
You can see the Pit Band and their acts alongside a spectrum of talent with three nights of shows from Thursday, Feb 27 to Saturday, Feb 29 in the RMA at 7pm. 
Tickets are available at bit.ly/LFHS-TS20, and are selling fast.
About the Contributors
Caroline Zeeman, Editor
LFHS Senior Caroline Zeeman is heavily involved in her school community. She is active in New Media as both a student and a TA, works as president of Student...
Joey Goodsir, Editor-In-Chief
Although Joey is astounded it is his senior year, he is excited to be writing and editing at The Forest Scout for a second year - this time as an Editor-in-Chief....