One Acts Return to LFHS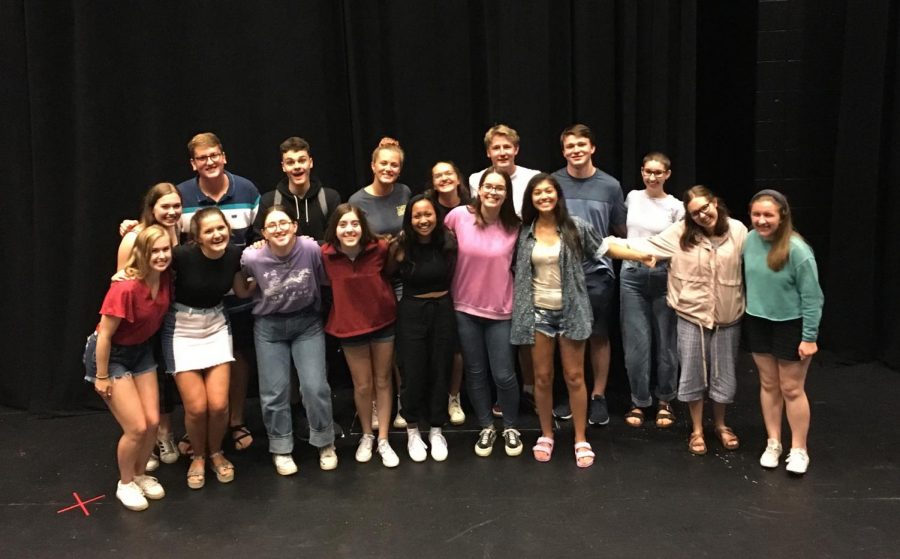 Lake Forest High School's theatre program is rich with traditions passed down through generations of students. Easily one of the most notable of these are the Student Directed One Acts — a multi-hour smorgasbord of hilarity where LFHS seniors take the lead in preparing, casting, and directing a myriad of single-act plays.
This year, the Senior-Directed One Acts are tonight at 7 p.m. in the RMA. Auditions were Aug. 21, which meant that after five hours of auditions and casting, the directors had just a week to have their productions show-ready, complete with sets, props, costumes, and fully-prepared actors. Junior Nicky Deitche, cast as Linda in the One Act Home for the Chalidays, said the challenge was nerve-wracking, but an exciting opportunity as well.
"I'm most excited about performing, but I'm also very nervous," said Deitche. "I'm new to all of this and didn't even know what blocking was before this week. I've only watched productions be performed and was shocked at how much work it takes."
Another first this year is that many of the directors have barely done theatre in their past years at the high school. Senior Caroline Zeeman, who directs film through the New Media program, said that the transition was somewhat jarring but deeply rewarding.
"Film and Theatre are kind of polar opposites," Zeeman said. "I am usually asking actors to perform for a small piece of glass, so they have to be more intimate and aware of the camera. Theatre is asking actors to project to the back row while still portraying a character in a non-stereotypical way. It is definitely a challenge for me but I like it, and my actors are incredible — and trust me, that's really helpful," she said.
The cast comprises a total of 59 people this year and is hence larger than any cast in at least the past four years. Junior Kailey Albus, who has been involved with the One Acts and theatre in general throughout her entire high school career, said she was amazed by the number of people who showed up for auditions this year.
"The size of this year's One Act ensemble is definitely a distinguishing factor from this year compared to previous years," Albus said. "When I first auditioned my freshman year, I was one of eight freshmen. This year, there were over 20 freshmen who auditioned, making this one of the biggest turnouts for any theatre event I've participated in."
One of those freshmen is Jack Taylor, cast as Tom in Founding Fathers (Mothers). Taylor said he was overjoyed to meet so many other people who love theatre through the event, and expressed interest in going further with theatre during the school year. 
"I really enjoyed starting off my high school experience getting involved in something. I think it has been a great way for me to become more familiar with the school, the atmosphere, and to meet some people with similar interests to mine," Taylor said. "I'm really excited to get more involved with the theatre community at LFHS and to meet some new people through the rest of the year in theatre," he said.
Senior Katie Finnegan has auditioned for One Acts every year since she came to LFHS and was incredibly excited to direct one this year. She co-directed her play, Director's Nightmare, with fellow senior Cara Page. The performance took many hours to put together and she couldn't be prouder of her cast.
"I'm excited to see all the hard work I've seen the students in my One Act put in get to be acknowledged in front of an audience," Finnegan said. "They've put a lot of effort into making our show the best it can be and I'm really excited to see the audience's reaction."
The Student Directed One Acts have always been a great experience for all participants, whether they continue in theatre or not, and The Forest Scout urges all readers to make their way to the Ronald Moore Auditorium and witness the hard work the 18 directors and 59 actors and actresses have put in. The cost of admission is $5 for students and $10 for adults, and donations to the theatre program are greatly appreciated. 
The full cast and crew are as follows, listed by role and in alphabetical order:
Senior Directors: Marie Atendido, Alec Boyd, Kiera Burns, Jack Clawson, Martha Clifford, Michael Daniels, Katie Finnegan, Laine Gamrath, Meghan Geraghty, Annabelle Lamb, Brooke MacDougal, Cara Page, Kevin Staunton, Foster Thomas, Isabel Wiesner, Abigail Wickman, Maliha Yousuf, Caroline Zeeman
Cast: Kailey Albus ('21), Emmeline Bae ('20), JP Best ('21), Rina Biancalana ('21), Sarah Borland ('20), Connor Boyle ('23), Ciara Carroll ('23), Fiona Carroll ('21), Mary Clayton ('21), Kay Clifford ('23), Addy Coleman ('23), Ella Coleman ('23), Brian Darnell ('21), Nicky Deitche ('21), Mia DiValerio ('23), Pierce Doherty ('21), Fox Duelli ('23), Sheila Falls ('23), Tally Feingold ('23), Tom Foley ('23), Emma Forman ('20), Adler Hermann ('23), Teddy Hill ('20), Grant Huebner ('21), Cole Joseph ('21), Saige Joseph ('23), Litsa Kapsalis ('20), Madeleine Kapsalis ('22), Grace Kellie ('20), Alex Kirages ('22), Abby Knipfer ('23), Cole Koefelda ('21), Sylvia Kollasch ('21), Ashwin Krishnaswamy ('22), Ricky Marchant ('22), Kenna McBean ('23), Will Meyer ('22), Elizabeth Miczuga ('22), Gabi Murphy ('21), Casey Murray ('20), Amelia Myers ('22), Brad Norkus ('21), Kaylin Potash ('22), Anna Randall ('21), Reece Robson ('23), Zach Rose ('20), Callan Shanahan ('21), Janel Sharman ('23), Natalie Snodgrass ('20), Caroline Speed ('21), Lyn Stanley ('22), Natalee Stepaniants ('23), Ruby Stockton ('22), Blake Talwar ('20), Jack Taylor ('23), Grace Thomas ('23), John Turelli ('23), Molly Walsh ('22), Shea Walsh ('23)
Tech Crew: Andrew Javier ('20), Celeste Tomaselli ('21), Adrian Ye ('22)
Staff Advisors: Sara Dreiling and Corey Holmer
About the Writer
Laine Gamrath, Staff Writer
Laine Gamrath is a senior at Lake Forest High School. She participates in all the school theatre productions as well as Madrigals and as a TA for the Foresters...