Scouts Win Sectional Championship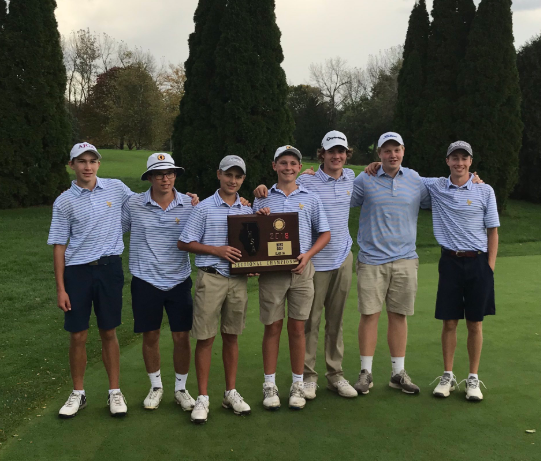 The Boys Varsity Golf team headed out to Palatine Hills Golf Club for the Sectional Championship, the penultimate tournament of the season. The Scouts needed to be one of the top three teams in the sectional to advance to the State Championship. Their competition at Palatine Hills GC included multiple strong teams such as Stevenson, Barrington, Dekalb, and Libertyville. By the end of the day, the Scouts finished with a total score of 296 which secured a 1st place finish and a trip to Bloomington for the State Championship. Stevenson finished with a score of 301 and Barrington took the last spot available from this section as they finished off with a final score of 305.
Senior Danny Fisher led the way for the Scouts yet again as he finished with a 72 (E) and an overall runner-up finish. The other counting scores included Colin Jasper with a 74 (+2) and Sam Davis, Patrick Moorhead, and Jack Marshall, each with 75 (+3).
The full scoreboard for the Scouts is below:
Erik Luedeking, a senior for the Scouts and the alternate during the Sectional Championship, had this to say about the team's overall play, "Everyone really stepped up and proved that we deserve to be one of teams to play for a State Championship." Luedeking has stepped into the role as alternate perfectly as although he wishes he could be out there playing he knows that motivating his teammates and pushing them through tough moments could lead to a State title.
The Scouts have already arrived at The Den Golf Course in Bloomington and have begun their practice round. The State Tournament will take place on Friday and Saturday. Go Scouts!