The Keepers of the Cage: Elsa Goldsberry and Heidi Richardson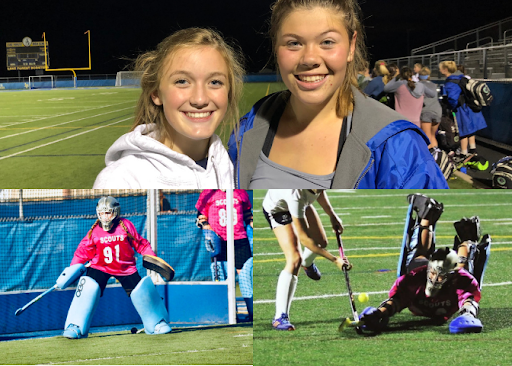 The Varsity Field Hockey team is gearing up for the season of a lifetime as they try to conquer their 14th state championship. However, a third state championship may just rest in the hands of the team's two younger players who remain in the cage.
"The thing the goalie needs, above else, is they need to be fearless, they can't be afraid. If you're not afraid and have good athletic ability, good footwork, good hand-eye coordination, you can make an amazing goalie," said Coach Catherine Catanzaro.
Despite their young ages, freshman goalie Heidi Richardson and sophomore goalie Elsa Goldsberry, continue to face these terrifying stakes of a third state championship as their season marches on towards the playoffs.
Richardson, the youngest member of the team, said she began her field hockey career outside of the cage and on the field. However in seventh grade, she saw a goalie at a camp she was attending and decided to give it a try, eventually falling in love with her new position.
On the contrary, Goldsberry said she had a better experience with being a field player, but after she volunteered to be goalie for middle school team in sixth grade, she never looked back
"I was actually pretty good at it. I was planning on trying out for travel for a field player pretty soon, and after I tried goalie I just kind of fell in love with it," said Goldsberry.
As evident through both of the Varsity Field Hockey goalies, it isn't common for a new player to pick goalie as their first position.
"Not many people start off thinking they want to be the goalie because it's just such a different position, but once you're in the field playing and it maybe isn't your strong suit and you want to try something new, then people will turn to see if they want to start playing goalie," Richardson said.
Their teams record of 12-1 has proven that both goalies are excelling in their vital position so far this season. However, what their record doesn't show is the mental development that they have gone through when becoming goalies for this varsity team.
Not only does a goalie have to be fearless, but "you need to be crazy. You're taking these sixty miles per hour shots at you with a layer of foam over your legs," Goldsberry said.
Being tough too and being maintaining the ability to "appreciate the fact that it's not on them," said Catanzaro is another necessary quality.
"The biggest difference is that a goalie's failures goes on a scoreboard where a field players failures don't," Catanzaro said. "If a field player misses a tackle, the game continues and nobody puts it on the board that you missed a tackle. But a goalie misses a save and it's for the whole world to see."
Moreover, Richardson emphasized that goalies have to be quick and focused. They have to be able to make decisions within seconds that could completely change the outcome of the game.
This quick decision making is exemplified during many cases, but one specific setting: One v. One's. As one can predict from the name, this part of the game, which takes place after an undecided overtime, is when there is only one player and one goalie in a 25 yard space. The goalie has to be able to read the incoming offender from the other team and decide how they're going to defend the cage during the eight seconds the offender has to score.
The Scouts suffered a loss against New Trier High School earlier in their season during a one v. one that Goldsberry was defending.
"One v. Ones are always the worst when we lose. The stress that comes with it just sucks. It was just one of those close games when everyone was fighting and giving it their all and to not come out on top, it hurts, it cuts deep and it's definitely going to push us," Goldsberry said.
However, Goldsberry and Richardson have learned how to shake off all the goals that have been scored on them and their team, while also using some of that aggression as a way to overcome and save the next goal.
Being one of the main reasons that Catanzaro chose to have two goalies on the team, Richardson and Goldsberry have learned to lean on each other for support, but still remain each others' biggest competition.
"When we're in the cage, we're giving each other motivation, but we compete against each other too. Even though we're such good friends, when it comes down to practice, it's good to have that competition to push each other," Goldsberry said.
Empty of fear, but full of drive and eagerness to play, Richardson and Goldsberry are continuing their training for the biggest day of their field hockey careers and preparing to defend the cage up until their last game.