Girls Field Hockey Season Ends in COVID Chaos
The Lake Forest Girls Field Hockey season has come to an end, and for the first time in years, they will not be playing for a state championship. Due to COVID-19, the state series was canceled, but that wasn't the only thing that COVID could have canceled for the team. 
On the morning of April 5, Lake Forest High School resumed in-person learning with more than 75% of students returning to the building. This included all 26 members of the varsity girls field hockey team. 
Student-athlete must be tested for COVID-19 at least twice a week. Around 10 a.m., with less than 20 minutes of first period left, NAVICA was notified that there had been a positive test. 
Later that day, players learned that a member of the team had tested positive for COVID-19. The field hockey girls were sent to the competition gym where they were told their season would be canceled until further notice and then sent home and told to quarantine. Shocked, the girls tried to wrap their heads around hanging up their jerseys.
From a senior standpoint, it was an absolute nightmare. 
"Going into the season, all of the seniors viewed it as one last hurrah with the girls we grew up playing the sport with, some dating back to when we were 8  and 9 years old," said senior captain Sophie Gambit.
However, this was not the first time the team has dealt with a positive test. Earlier in the season, there was a false positive test that delayed their season for two weeks.
"The first one was really bad because the beginning of the season is where we build chemistry and really get to know each other," said senior captain Julia LeClercq. "We were only able to get three practices in before our first game."
After their two-week quarantine, the team  played two games. Despite the chaos, they won both. 
"We all started crying immediately after we heard the second test was positive," continued LeClercq. "If we had to quarantine for two weeks that would take up the rest of the season. That would mean we would lose two seasons of field hockey to COVID."
However, the girls were not ready to let the season go. Coach Cat Catanzaro worked tirelessly with the LCHD as they started an investigation. After looking through hours of film,  13 girls were cleared on April 7. The next day, all but four girls were cleared to continue their season.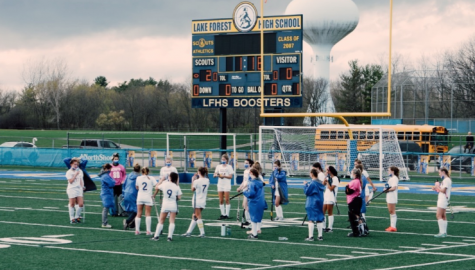 Junior Carly Kisselle was one of the four players not to return. "It was definitely hard for me to not be with my team but I knew by quarantining that I was doing what was best for the team and not just myself," she said. 
Gambit summed up the chemistry this team has in a nutshell, saying "This season took countless unexpected turns, but our tight-knit group never wavered. As we took the field on senior night, I looked to my right and left and saw all the girls that made me fall in love with the sport leaving to go their separate ways, but I don't doubt for a second that we will remain a family long after we graduate. Time and time again, we all agree there is something so special about playing in a Lake Forest jersey." 
Their season came to an end April 17 with a record of 6-1. And while it wasn't the fantasy season-ending, state championship, their resilience and dedication to the game is just as impressive as a state title.