The Forest Scout Friday Five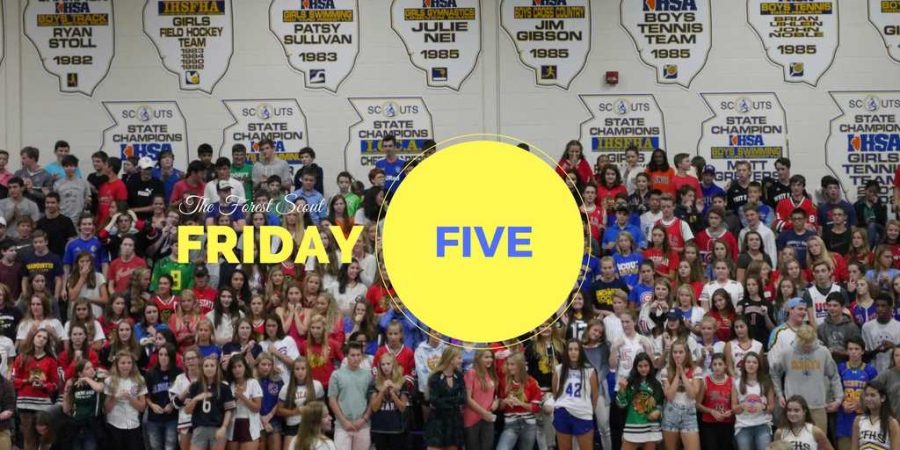 Freshman and budding artist George Erkenswick is one to watch in the newest class of fresh faces and bright minds at LFHS.
While at first glance Erkenswick may seem quiet or shy, his sweet and sarcastic demeanor make him a fantastic person to be around and an honor to be friends with.
In addition to his kindness and readiness to listen, he is an exceptional artist.
"He's very quiet, but he listens really well. And he's super artistic, so he'll just go with the flow and is just a super chill dude," said freshman Naomi Miles.
Erkenswick was featured as a Young Artist at the Deerpath Art League's annual Fair on the Square on Sept. 2 and 3 which included many talented young artists from the Lake Forest and Lake Bluff area.
Whether it be supporting friends, creating fantastic drawings and jewelry, or helping a friend unwrap her car after it was covered in Saran Wrap at 4 a.m., Erkenswick is always there to help a friend or family member who needs him.
You can hear junior Connor Clark every Friday night during the Varsity Football broadcast, when the blue and gold fight it out with rivals. "Cboy," which he is affectionately referred, is one of the more compassionate and selfless individuals that venture the halls at LFHS.
If you see start conversing sports with Connor , there is a good chance he will test your knowledge and make you more informed than you were minutes earlier.  His counterpart in the broadcasting booth, both in football and basketball, AJ Shaw, can attest that Connor  works hard at his craft.
"He brings great energy to the games and makes everyone's job less stressful," he said. "I am so grateful to have a tremendous partner every week, who not only puts up with me, but a guy who cares about not only the people around him, but a guy who is passionate about what he loves to do."
Connor balances his broadcasting aspirations with his recently established love for cross country. He has transitioned flawlessly to the cross country team and has caught the attention of his teammates.
"He has been a great addition to the cross country team this year. He has brought a lot of enthusiasm and grit to the team," said one of his teammates.
His friend junior Ryan Peters admires Connor's ability to balance his passions with his school work.
"I do not know how Cboy does it," junior Ryan Peters said. "With a rigorous class schedule, incorporated with cross country, and maintaining his devotion to broadcasting, he has handled it all incredibly."
If you're lucky, you've seen senior Jonathan Phalen's contagious smile, which can flip anyone's bad day upside down.
Jonathan is extremely dedicated to his studies and doing well in school. He has been a member of the National Honors Society since last year and hopes to attend Miami University in Ohio next fall to study education. His love for working with kids in the summer as a camp counselor has him thinking about being a teacher one day.
"He is really responsible and motivated- he can do anything he puts his mind to," said senior Mia Nedeau.
Jonathan's ambition is not only used in the classroom. His drive to succeed earned him the captain spot on the varsity track team.
"His sights were set on team captain since freshman year and he's always looking at ways to improve," close friend senior Ryan Ransom said.
Jonathan is appreciated by his friends, teammates, and family. Ryan added, "Jonathan always has great intentions. He loves all of his friends and family and always has your back."
He spends his free time hanging out with his friends at the beach, walking his dog JJ, and listening to Travis Scott's new album.
Jonathan is a hard worker, a great student, and a devoted friend. We can't wait to see what else he achieves in the future.
Senior Nick Wnuk contributes his talents to LFHS through a wide range of passions, from playing basketball to developing projects through New Media.
"Nick is the most driven and persistent person I know. I've never met anyone who is willing to do more to get the job done,"senior Andrew Rempala said. "He always does and thinks what he feels is right rather than what might be the easiest."
He is a very attentive and vocal student. In the classroom he asks a lot of good questions and generates interesting discussions. This thoughtfulness pushed Nick to create a presentation for the LFHS Ted Talk in the summer of 2017. He spoke about automation and technology. [TEDxLFHS ]
His friends say he is a very loyal friend who is always looking out for them.
"You can depend on him for anything, and he always has your back no matter what," said senior Eli Fietsam.
They describe Nick as persistent, funny, passionate, and generous.
"He's crazy, he's funny, but he's always the guy I come to with a new thought or idea," Rempala said.
Just this summer, Nick commuted to Chicago everyday during the week working with for a program called Chicago Summer Stories. [ Chicago Stories: Innovation ]
The program is a new innovative program influenced by Apple to bring top high school juniors and seniors together to produce a documentary video about young adults using technology and Apple devices to their benefit.  The video addresses how our generation's exposure to technology influences us.
Likely the most daunting task of high school can be the struggle to balance all aspects of your day, both inside and outside of school. Junior William Shen is one of few who takes down that task. And on top of that, he does it with a whole lot of success.
"Will Shen is the man," said junior Teddy Hill "[He] balances his schoolwork with socializing very effectively and is a pleasure to be around."
Considering the strength of Will's school schedule and the consistent mention on the high honor roll, this statement is even more meaningful.
Outside of school itself, Shen is a member of the math team, Science Olympiad, and swim team.
Although he dominates in those fields (and pools), by far the most prevalent thing he dominates is the ability to be a high-quality friend.
"Will Shen is a hard worker who always challenges himself with his schedule, and he is always a pleasure to work with and talk to in class," junior Ben Rosa said.
He may be a man of success, but people remember him for the smile, the laughs, and the conversations with him that have been a shining light of positivity in the many aspects of the school that he penetrates. He even shares that light outside of school, as he excitingly went to Trinidad and Tobago over the summer as part of a Short Term Missions trip.
If there is one thing for certain, Will Shen is not only a great member of the school, but a genuine person whose presence at Lake Forest High School can make any day just a little bit better.
About the Writer
Ghost, Author
Ghost is a section of The Forest Scout that chooses to publish material anonymously in order to increase the depth of their investigative reporting. Ghost...