Young Artists of LFHS Take the Stage at Annual Art Fair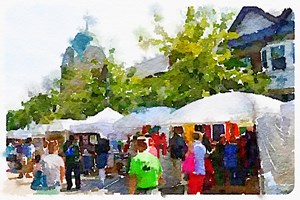 Every year on Labor Day weekend, Market Square is transformed into a sea of white tents for the Art Fair on the Square. According to the Deerpath Art League, the event has been run for 64 years now and typically brings a crowd of around 20,000 people.
Displayed under these tents are paintings, photographs, carvings, jewelry and more that have been created by artists from across the country. People are free to walk around the square and admire the unique art, but it is also an occasion for them to recognize the creative talent of younger generations.
The Young Artists section of the art fair features kids and students from the community who have great artistic ambitions. This year, senior Anna Aquino and junior Lindley Wiesner both had tables in the Young Artists section, where they were able to display and sell their work.
Lindley and Anna have both taken Carolyn Bielski's graphic design class at LFHS, and have a passion for designing graphic art with programs such as Photoshop and Illustrator. They each also have online stores where they sell their original designs as stickers or on products such as t-shirts, mugs, and notebooks.
While these online shops have been great opportunities for both artists to sell their work, Wiesner said that the Art Fair provided her with a unique opportunity to show the community her designs.
"It was so much fun to display and sell my artwork," she said. "and it was cool to see what it's like to have a small business!"
Many LFHS students also spent their weekend volunteering at the event, including junior Megan Wong. These volunteers helped the artists set up their booths, brought them water and "booth sat" when the artists needed breaks.  Wong said that volunteering at the fair was "a really fun experience," and that she would "definitely do it again next year."
She also thinks that the Young Artists section is "a great opportunity for younger artists, because it allows them to showcase their talents while also getting a bit of business experience."
Check out more of Anna's art!
https://www.redbubble.com/people/ashiepop67?ref=side-nav-account&asc=u
DM her on Instagram or email her for commissions!
@anna.journals
Visit Lindley's online store!